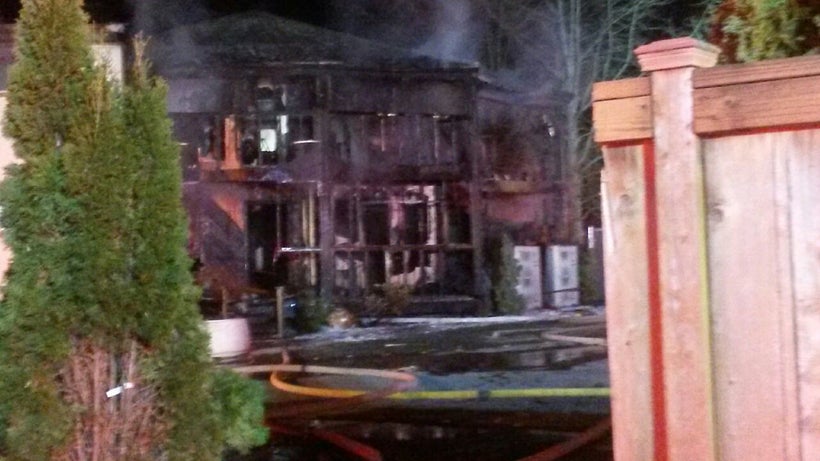 Updating this post due to further developments.
At 2 AM on January 14, 2017, the Islamic Center of Eastside in Bellevue, Washington was burned to the ground in an arson. The suspect, 37-year old Wayne Isaac Wilson was arrested at the scene. His motive is not yet entirely clear, but it appears that he was known to the members of the mosque, and preferred to be homeless. An investigation is still pending that will determine if this is a hate crime.
The mosque has been subject to numerous acts of vandalism over the past six months, but never anything this severe.
While Seattle does have a reputation as a progressive, open-minded city, and this specific arson is not confirmed to be a hate crime, the city is not immune to the wave of Islamophobia seen throughout much of the nation and the rest of the world in recent years. In December, the Muslim Association of Puget Sound sign was destroyed again after being rebuilt with support from the community. The Redmond Police say that this domestic terrorism was committed by a young adult white male, tall and thin, wearing dark clothing, but as of now no suspect has been apprehended.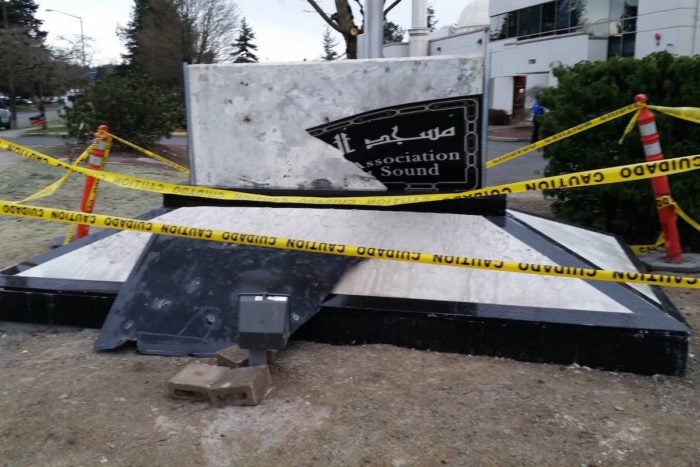 Video of the fire in the early morning was captured, and posted to Twitter, as seen below.
While the response has been overwhelmingly positive from the community, and tons of donations have come in to support ICOE, locally we have still had to deal with those celebrating the arson. Don't let hate win. Join in solidarity marches. Visit a local mosque and get to know local leaders in the Muslim American community. Report hate crimes if you see them. Be an ally even in small ways on a regular basis. We also need to signal to law enforcement that they must take these threats seriously. Even in a city with as liberal a reputation as Seattle, people of Middle Eastern descent fear for their lives simply because of their appearance and religion. I say people of Middle Eastern descent, because many people in the Middle Easter American community, such as Sikhs, are also victims of hate crimes stemming from the same prejudice and bigotry, and we must fight to protect all of them, or no one is safe.
In general, you can also help defend the civil rights of Muslims in the U.S. by supporting the Council on American Islamic Relations, a national network of nonprofit organizations that are dedicated to providing free legal services to Muslims in the US who have suffered some kind of discrimination, whether it is at work, at school, or on the street, or anywhere else. CAIR has local offices in major cities, including Seattle, where I am in charge of conducting donor relations. We are a part of the largest organization in the U.S. dedicated to protecting the civil rights of people in the Middle Eastern American community, and we will continue to do so no matter what happens. 2015 and 2016 have seen a dramatic rise in hate crimes reported to our Seattle office, and throughout the country. CAIR-WA and other chapters of the organization help educate community members by teaching them their legal rights and how to report hate crimes, arrange for speakers to improve community relations and conduct educational outreach, and provide legal services free of charge to those who have nowhere else to turn.
Please refer to the CAIR national website and local chapter websites for resources on how to be an ally and friend to the Muslim community in the U.S.
Calling all HuffPost superfans!
Sign up for membership to become a founding member and help shape HuffPost's next chapter
This post was published on the now-closed HuffPost Contributor platform. Contributors control their own work and posted freely to our site. If you need to flag this entry as abusive,
send us an email
.