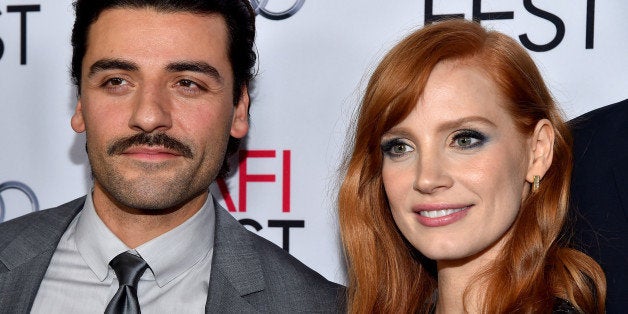 It's been an interesting year for films and as a Writers Guild member I see a lot of them, but I don't review too many. As a matter of fact, the last one I recommended was Boyhood way back in June, a month before it opened, and I'm delighted to say my thoughts proved prescient of what was to come as it remains one of the favorites to win the best picture Oscar.
Another movie which will no doubt be on the same list is A Most Violent Year, a film that just came out, and despite its title it is not nearly so violent as it sounds. It doesn't come close to what you might be used to in a, let's say, Martin Scorsese or Quentin Tarantino film, yet it is extremely absorbing and I urge one and all to see it.
First off, it's more of an anti-gangster film, in that, while talk of the mob is pervasive, our principal character, Abel Morales, played by the very gifted Oscar Isaac, recently seen in Inside Llewyn Davis, prefers to skirt around the lawless community, even as his wife Anna, played by an earthy, tough-minded Jessica Chastain grew up in their midst.
And what also makes it different is the setting of the feature, written and directed by J.C. Chandor, which takes place, not in the more typically illegal pursuits such as racketeering, drugs, prostitution and gambling, but in the more mundane world of those who disseminate heating oil. Who knew that heating oil might occupy the sphere of would-be Capones, but indeed it is with respect to territorial issues and cajoling customers from one enterprise to another.
Morales' problem, without giving too much away, is intertwined between his desire to expand by buying a parcel of land owned by a family of Hasidic Jews who also flirt with the mob and are apparently not in the diamond business on New York's 47th Street while he is also beleaguered by forces who are hijacking his oil trucks and stealing his product.
In the course of events, he is aided by his attorney Andrew Walsh, sleazily played by an excellent Albert Brooks, who ferries back and forth between Lawrence, a prosecutor determined to make an example of Morales, earnestly portrayed by Selma's David Oyelowo and bankers who appear willing to loan Morales enough money to buy the land he needs.
As the pressure mounts, our hero strives to remain true to his desire to make his way in life without unduly dirtying his hands, all the while struggling to stay legit. His wife, however, would like him to use her illicit family connections, and he is beset by various problems throughout that make the offer all too tempting. That's what makes the plot riveting and often surprising.
There are traces of The Godfather's young Michael Corleone, who tries to steer clear of his family's business at first, but ultimately becomes a Mafioso kingpin, and the film keeps us guessing as to the path Morales ultimately chooses and whether he will succeed or it will be his undoing.
That's all I'll say, except that there's a lot of action, some car chases, but not too much and some interesting New York City landscapes, but not too many with which you're probably too familiar.
It's a film that came upon us at the end of the year, but with word of mouth and lots of significant award nominations, including a recent win as Best Picture by the National Board of Review, it will probably attain the audience it deserves in the months ahead.
Popular in the Community