 In our device-charged, say-what-you-wish-behind-a-veil-of-anonymity virtual world, women can be cruel. And when it comes to opinions related to motherhood, we can be downright malicious. Look no further than the comments sections of recent articles like this one about the virtues or vices of hospitals providing new moms with formula samples.
But when we take a step back and examine our own lives, our personal experiences -- a lot of that divisiveness washes away. Many of us are moms, or women who want to be moms someday. Each of us is someone's daughter. At the end of the day, I believe that what we hope for ourselves and for all the moms in our lives that we care about is health and happiness for mothers and children both. And I think that's a shared wish whether you live in New York or Nairobi, Los Angeles or Lagos.
#GivingTuesday is the perfect occasion to redeem our digital selves. To go online and make a holiday gift in honor of a mom you love, and to use our collective voice on social media to unite around the importance of supporting maternal health initiatives around the world.
In my work at Action Against Hunger, I recently encountered a woman who embodies the spirit of connection and care that mothers and daughters owe to one other -- she's my inspiration for supporting maternal health on #GivingTuesday. Her name is Mama Sumeya ("Mama" in Swahili is a salutation of respect, like "Madam"), and she is a determined mother with a mission to change the attitudes of pregnant and lactating mothers living in Dagahaley camp, part of the world's largest refugee camp in Dadaab, Kenya.
Mama Sumeya arrived pregnant in Kenya from Kismayu, Somalia in the summer of 2008, fleeing armed conflict. Towards the end of 2008, when she was nearing the start of her third trimester, she started feeling sick. Blood tests revealed that Mama Sumeya's blood count was low, making her anemic. Ideally she would have been given a blood transfusion, but her blood type wasn't available in the hospital or readily among the refugee population.
Although weak, she successfully delivered in March 2009, giving birth to a baby girl she named Siham. After delivery, the medical staff tried to convince Mama Sumeya to breastfeed; in a humanitarian context where formula wasn't a viable option, and many women opted to feed babies with animal milk and water, breastfeeding was by far the most healthful choice available. At first Mama Sumeya refused -- her cultural beliefs denounced the practice, and she also felt too weak. But the staff persisted, and she began to nurse.
Six days later, mother and daughter were released from the hospital and taken to one of our health centers for counseling. Mama Sumeya had the opportunity to ask questions and learn best practices not only for feeding, but also for providing general care for her young child.
At six months, Siham was healthy and happy. She started walking at nine months by standing and holding onto people for support. Now Siham, an exceptionally bright little girl, is excelling in preschool.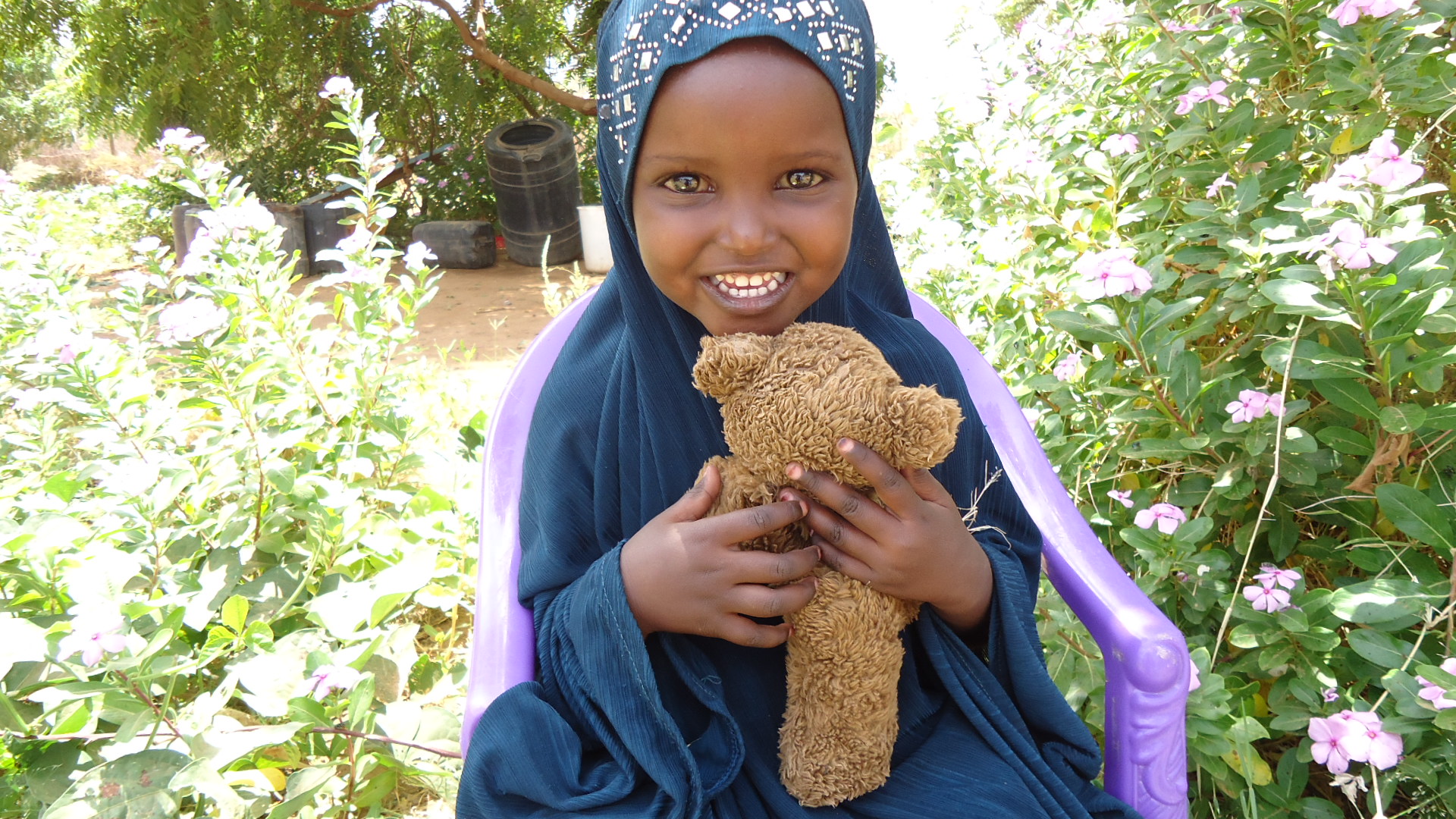 Mama Sumeya's daughter, Siham, is enjoying a healthy childhood thanks to her mother's proactive involvement in taking charge of her maternal health. Photo: ACF Kenya.
So inspired by the healthcare she received, Mama Sumeya spoke with the director of the Infant and Young Child Nutrition (IYCN) program that we are running in her section of the camp and offered to volunteer. She was then invited by the IYCN counselor to a Mother to Mother Support Group leader training session, which she attended. She has been mobilizing pregnant and lactating mothers ever since, helping them join the support group and take advantage of what it has to offer.
Mama Sumeya now leads her own support group with 20 members. She's spoken to various camp leaders as well as countless mothers and fathers living there about the benefits of her group and ones like it. "These meetings are so vital," Mama Sumeya explained recently. "They provide the perfect forum to share all my training as well as my personal experience being a mother."
On an August trip to Tana River, one of the poorest districts in Kenya and just a couple hours' drive from Dadaab, I met more women like Mama Sumeya -- members of a women's community health group in a small village. I was struck by the sense of empowerment they possessed from taking control of their own health and feeling like other women supported them. And I was touched by the way their love for their children transcended a need for translation -- a squeeze of a young son's hand, a stroke of a little girl's hair.
There is no emotion more universal than a mother's love, and no better way for a mother to love her child than by taking care of her health, both before and after giving birth. Let's think about that this #GivingTuesday, and give accordingly. Whether you help out Action Against Hunger or another NGO, know that a gift to maternal health is a gift to life.
Calling all HuffPost superfans!
Sign up for membership to become a founding member and help shape HuffPost's next chapter