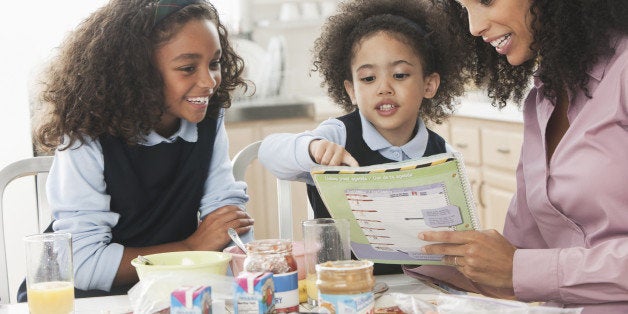 Today is your 12th birthday, my beautiful twin daughters, and I am thankful for 12 years of wonder.
As I reflect on this day, I cherish the memories of your elementary school years. It seems like just yesterday you were learning how to read, mastering your times tables, and creating art masterpieces that adorn our house. I am proud of how kind and loving you are to each other and to your family and friends. As you navigate middle school, I offer you both the following tips to help you avoid some of my mistakes and continue on the path of having a wonderful middle school experience:
1. Success is not popular. This is a lesson my father taught me at a very early age. I was often singled out in school for being academically gifted. I was called "Proper," "Oreo," "BlackWhite Girl," you name it. It bothered me for years, but at some point, it became old and my skin grew thick. "Yeah, yeah, yeah," I would say, "You keep focusing on how white I am and I will keep focusing on making good grades and stacking my coins." I stopped worrying about being popular.
Last year, Lean In partnered with the Girl Scouts of America to launch an initiative called Ban Bossy, citing a 2008 survey by the Girl Scouts of nearly 4,000 boys and girls showing that girls between the ages of 8 and 17 avoid leadership roles for fear that they will be labeled "bossy" or disliked by peers.
At times, being popular may seem like the most important thing. I know from experience and research shows that powerful and successful men are often well liked, but when women become powerful and successful, all of us -- both men and women -- tend to like them less. So be prepared. At some point, you will have to choose between success and popularity. Choose well.
2. Challenge yourself. You are capable of achieving great things. School is your number one priority. Stay organized and on top of your studies. Stretch yourselves by setting ambitious goals. As renowned yoga guru Baron Baptiste says, "If you Can, you Must."
3. Be a good friend. You are so fortunate to have a built-in best friend. But that doesn't mean you'll be immune from the mean girls. Try to steer clear of petty squabbles and mean-girl drama. Remember the golden role, especially when it comes to girlfriends: Treat others as you would like them to treat you. Support your fellow classmates and stand up for those who can't stand up for themselves.
4. Develop a practice of reflection. Your generation is under a lot more pressure than when I was growing up. Standardized tests and competitive learning environments are causing an increase in stress-related ailments in kids as young as kindergarten. It's never too early to start creating good habits to stay centered when the inevitable stressors of life occur. I am a big fan of yoga and meditation but whatever works for you is great. Tai-chi, for example, might be something you love.
5. Try new things. Now is the time to explore life and gather data about your likes and dislikes. What activities bring you joy? What piques your interest? Boxing? Do it. Volleyball. Go for it. Try the fencing or debate club. You never know what you might learn about a new hobby and more importantly about yourself.
6. Boys can wait. Enough said.