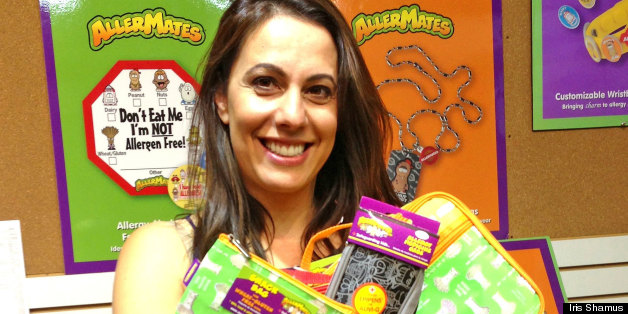 One of the reasons I started my website is that I wanted a place for women to come together and dream. We women need to know that we don't have to hang on to an old dream that has stopped nurturing us -- that there is always time to start a new dream. This week's story is about a woman whose son has a severe nut allergy. Iris worried constantly about Benjamin when he was at school -- what if someone fed him nut products by mistake? To ease her worries, she devised a fun solution that has raked in millions. Now Iris and parents everywhere can breathe a sigh of relief. -- Marlo, MarloThomas.com
By Lori Weiss
As a new Mom, Iris Shamus kept her eye on everything her young children put in their mouths. So when she saw her son, Benjamin, reach for a bowl of nuts, her first inclination was to move the tantalizing treats away from his outstretched arm.
"They say you shouldn't give babies or young children nuts," Iris explained, "because there's always the possibility that they'll have an allergic reaction. So, my husband, Kenny, pushed the bowl out of Benjamin's reach. But he kept reaching further for it and crying, and I thought, 'Well, my daughter doesn't have any allergies -- what's the chance he'll be one of those kids?' So we let him have one."
With a cashew firmly in the palm of his little hand, Benjamin was appeased and the crying stopped -- for about 30 seconds. At which point, he began crying for another reason. The one-year-old had turned beet red, broke out in hives and began throwing up. As it turned out, Benjamin was "one of those kids" and now Iris was "one of those Moms" that was going to be worried all the time about what someone might let her baby eat, when she wasn't there watching.
"When it was time to enroll him in pre-school," she continued, "I felt reassured that they asked me to fill out a form that indicated his allergies. They even hung up a little poster with the kid's names and their food allergies. But then barely a month later, I went to pick him up, and I could see the Moms standing around whispering and the teacher, who had been there 20 years, was gone."
"A child had been rushed to the hospital after she gave him Cheez-Its. He was allergic to dairy. Who knows how that happened? She had a class with twenty kids and she might have just had a moment where she forgot. But that's when it hit me -- no one was going to watch my child like me. And I thought there has to be something children can wear, that will remind teachers of the foods they can't have."
Article continues below slideshow.
PHOTO GALLERY
It Ain't Over: Iris Shamus
So Iris began to search online and what she found was startling. Despite the fact that one out of 13 children have food allergies, she couldn't find any sort of bracelet or necklace that a three-year-old would be happy to wear. And that's when the determined Mom sat down with a sketchbook.
She and Benjamin created a crazy character called Nutso -- a cartoon figure who would become the first of many to make its way onto dog tags, bracelets and an array of other products that could potentially save the lives of children around the world.
"My husband is in the toy business," Iris said, "and I was once an aspiring actress, so I thought, I'm going to create a character for the top eight food allergies and give them each a storyline. I sat down with Kenny and the kids and it wasn't long before we had seven more -- Eggie, P.Nutty, Pint, Soy Cool, Professor Wheatley, Detective Fin and Crabby.
Iris took her rough sketches to a cartoonist and then began experimenting at her kitchen table. She tried putting labels on dog tags and melting plastic figures in her oven. And then something interesting began to happen -- the neighborhood kids would come over and begin asking about the crafty characters.
"When I saw how fascinated they were and the way the kids remembered their names, I knew I was on to something!"
So the stay-at-home Mom did something that she admits was pretty risky. She dipped into the family savings, without having made as much as one sales call, and found a manufacturer. She invested $25,000 and waited for 16,000 dog tags and bracelets to appear at her front door.
To manufacturers, an order of 16,000, is nothing," the Mompreneur said, "and we weren't an established business, so while they agreed to do it for us, it was really a matter of fitting us in when they had the time. But I had some samples, so I started to show them to people. And when Benjamin's allergist saw them, he flipped out! He called his wife and said I can't believe I didn't do this myself!"
Soon, Iris and her cast of little characters were presenting at the annual convention of the American Academy of Allergy, Asthma and Immunology and she began sending samples to national retailers.
"Two weeks later I got a call from a buyer at Walgreens," she exclaimed. "They wanted to talk about rolling out a national program! But that's when I realized I wasn't ready. I had a product, but no business plan. They wanted 80,000 wristbands at a particular price point. And there was no way I could do that with the manufacturer I was using."
"So I had to take a step back, find a new factory and completely re-tool. I was digging a deeper and deeper hole. There were times that it got so stressful that I wasn't sure I could make this happen. I remember my husband saying, 'You gave it your best shot. If you want to walk away, it's okay.' I said, 'Are you crazy? Just because I'm frustrated doesn't mean I want to give up! I knew in my heart I was creating something people needed."
In the meantime, Iris began selling the cartoon-clad accessories, which she named AllerMates on a makeshift website and to smaller local stores.
"I remember the first time I saw them for sale by a cash register, there was a woman flipping out over a wristband. I just kept hoping she wouldn't say anything bad about it. And then she called out to her daughter and said, 'Gail, you have to see this. It's the cutest thing I've ever seen!' I was so relieved!"
And as word got out about the company she was trying to build, friends began to step up and offer their help. As it turned out, her daughter's soccer coach was a business consultant and another friend of the family had experience building sales teams.
"In the beginning I was afraid to talk about the idea. I was sure someone would steal it. But you're not going to get anywhere if you keep everything in your head. You just have to be sure everyone signs non-disclosure agreements."
So with a little bit of help, ten months later, the AllerMates were ready to take center stage and Walgreens signed on for a back-to-school program. Soon after, CVS and Kmart offered them a home on their shelves as well. And it wasn't long before parents started weighing in -- asking for products that warned of more than just allergies. They wanted wristbands for children with illnesses like diabetes, epilepsy and asthma.
Today, only one year from the time this lifesaving product line hit store shelves, it has already grown to include medicine bags, lunch bags and warning stickers that can be placed on foods in family cupboards. The company has a character licensing agreement with one of the largest pharmaceutical manufacturers in the world and the AllerMates are about to become the stars of an educational series. By the end of the year, Iris is projecting a minimum of two million dollars in sales.
"So often, people don't move forward because they're afraid. But I couldn't live with the idea that there was nothing out there for my child. I was afraid not to do something."
"There were times when this wasn't easy," she recalled. "But what I learned is that when things gets tough, you have to get tougher. And you have to surround yourself with people who know the things that you don't know. An idea is just an idea -- until you turn it into a business."
Add Marlo On Facebook:
Follow Marlo on Twitter:
Sign up to receive my email newsletter each week - It will keep you up-to-date on upcoming articles, Mondays with Marlo guests, videos, and more!