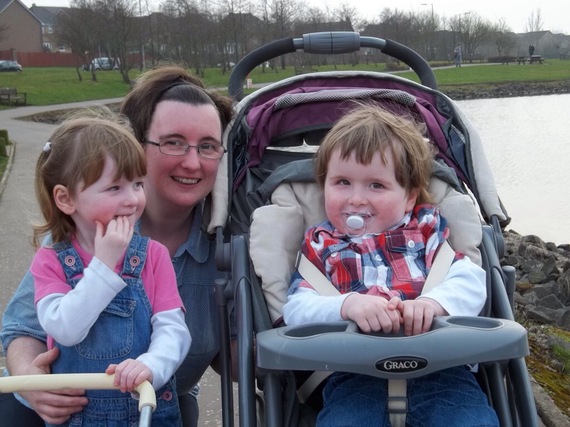 Firstly, I want to stress that I am blessed. But secondly I also want to say that I still struggle.
I struggle with everyday things like taking my children out, buying food when we need it, cooking a meal, juggling hospital appointments with picking up children from school and nursery, dealing with the piles of paperwork and phone calls that have to be made whist functioning on just a few hours sleep, and trying to give both my children the time and attention they need.
My children are both disabled and therefore my entire family is disabled. That may seem a strange thing to say so let me explain what I mean.
This week my children have had some time off again for a holiday weekend. Like parents around the world I want to spend time with my children and enjoy them while they are young. The weather was not in our favor one afternoon, so I thought I would do some basic baking with them. They are both five. One is at school and the other nursery. How hard can it possibly be to make some chocolate crispy cakes?
Nothing is easy when you have a disabled child. My daughter was super excited about baking. My son could see it was something to do with food when the cereal packet came out the cupboard, but that was all he understood. I explained the process to them using photographs (Google is my friend) and we filled a mixing bowl with some cereal. And then everything went rather crazy after that! My daughter had poured cereal into a mixing bowl and not a cereal bowl, she wasn't sitting at the table to eat breakfast like her brother expected from seeing the cereal out; and there was no milk. So he lashed out. He screamed; bit himself; banged his head on the floor; and threw everything about he could get his hands on.
What should have been an enjoyable family activity was now becoming yet another casualty of my sons disability. Once again his disability was spilling into the entire family. My daughter could not continue baking, I could no longer give her attention or help and my son was seriously struggling. In the end I made the quickest crispy cakes ever and my son sat and ate a bowl of cereal with some chocolate drops in. I made the mistake of trying to drop some melted chocolate in for him. Never again!
One disabled child not coping and the entire family struggles.
Then there was a 9 am appointment for one of the children. That is quite common for us. Appointments in general are so common it is rare to have a day without one. But certain times make negotiating the logistics of family life a real challenge. How do you get one to an appointment and back to school 13 miles away and the other to nursery a mile in the opposite direction at the same time? Any family having to juggle hospital, clinic and therapy appointments with other siblings, work commitments and family life knows this dilemma.
The disability of one child has a huge effect on the others children and the parents. So often parents of disabled children are unable to continue working because the level of commitment needed to attend these things impacts working life so much.
A disabled child becomes a disabled family.
Then there's the places you just can't go to because your child is disabled. Yes, more and more places are wheelchair accessible, but that doesn't make them autism accessible, or suitable to take an ill child or a child prone to seizures or public outbursts, or even make them safe for a child with developmental delays or the ability to escape within seconds. As my children grow, the list of places I can take them both to gets smaller. Holidays make that worse as everywhere is busy, noisy and unpredictable. Taking them to the local grocery store just to pick up basics takes military planning, praying the one disabled trolley (yes, you read that right, just one) is available, the music isn't too loud, the layout has not been changed and the checkouts are not too long. I can't just tell my children to follow me, or hold their hands or ask them to help. Picking up a pint of milk is as hard as an army assault course when nine months pregnant! It is exhausting.
One disabled child is all it takes for an entire family to be affected.
Emotionally disability affects everyone too. Parents worrying about test results, operations, high temperatures, infections, the next therapy sessions, the fight for the right services, the concerns about the future. Brothers and sisters torn between wanting time with their parents to support them whilst realizing that far more attention has to be on their sibling. Children often becoming young carers long before they should have any real responsibility. Young ears hearing things that no child should have to hear simply because there was no child care to go to and so once again they had to "tag along". Children seeing adults cry and not knowing how to cope with this weight. Brothers and sisters coping with their toys and valued possessions being destroyed by a sibling who never seems to get told off, or who doesn't seem to care. Children afraid to tell their parents they are being bullied because they don't want to add to the already heavy burden that their parents are coping with, or worried about asking for money for a school trip because they know money is tight, or even struggling with feelings of resentment towards all the attention the disabled sibling seems to get.
The balance is often impossible for parents of disabled children to get right. Whilst one child might be registered disabled, emotionally everyone in the family is disabled too.
One child wakes up screaming and often the whole family gets little sleep. One child is sick at the dinner table or throws the meal across the room and no-one gets to enjoy a meal. One child refuses to go to school or wear the uniform, every child is late as a result. It is a ripple effect.
We need to support disabled children. We need to continue to spread awareness of disability in all it's forms and continue to invest in services, therapies and medical equipment.
But we also need to remember the parents and brothers and sisters who live with disability on a daily basis. They might look fine, but remember a disabled child is in fact a disabled family. And they ALL need our prayers and support. Thank you!