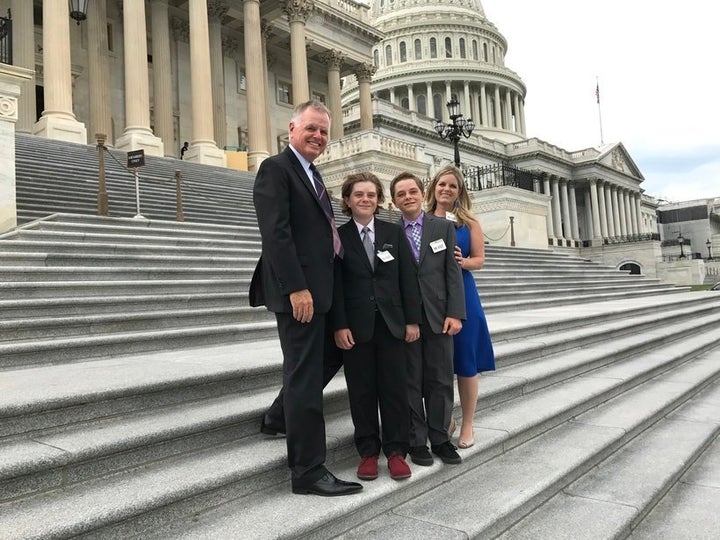 Earlier this month, when my family and I boarded a plane bound for Washington D.C., our goal was to convince members of Congress that children's health care is a bipartisan issue that needs a bipartisan solution.
With the Better Care Reconciliation Act (BCRA) in danger of failing this past week, President Trump first said the Senate should repeal Affordable Care Act (ACA) without a replacement. Then he urged Republicans to "let Obamacare fail." Then he asked Congress to go back to the drawing board and create a new replacement health care bill.
At this point, it seems that Senate leaders may try any or all of the above.
As a registered Republican, and as a mother of a child with a severe heart condition, I feel it's important to say that this push to rid the country of the ACA, no matter what, misses the point.
The focus should not be about weakening the ACA. It should not be on repealing it. And it definitely should not be on replacing it with a law that cripples a program like Medicaid, potentially leaving tens of millions of children without adequate health care coverage.
Republicans and Democrats need to come together to do the exact opposite; they need to come to the table to strengthen health care for children.
During our meetings earlier this month with nine members of Congress, I spent a good deal of time sharing what it's like to be parent of a child with a medically complex disease in the midst of a health care debate. I already live with dread and uncertainty, wondering if my child's next cough or fever is a prelude to a long hospital stay.
My son Max – you likely know him as the mini-Darth Vader from the 2011 Volkswagen Super Bowl commercial – has undergone a dozen grueling heart surgeries since birth. He was born with tetralogy of Fallot, and lives with a pacemaker and artificial pulmonary valve.
Before the Affordable Care Act, insurance companies dropped us or raised our premiums after each surgery. Now we pay a higher premium to have access to great care, but at least we no longer fear losing that coverage or facing exorbitant premium increases after Max's treatments.
Six years ago, I watched Max crisscross our nation's capital dressed as mini Darth Vader as reporters clamored for an interview. Wearing his costume in stifling heat, he gained a platform and used it to shine a light on children's health care.
Our recent trip was our sixth visit to Capitol Hill, and never were the stakes higher. There was pressure – doing media interviews and speaking to senators and congressmen – and I witnessed a young man bravely share how difficult it is to live his life and how he needs Congress to protect him and all the kids he represents.
Max said in a People.com interview that he wants to be the face of children's health care. Not what your average 12-year-old has to ponder. Pretty bold, I thought. He is after all living with a serious heart defect. He definitely dreams bigger than I.
Max is not alone. He was joined on Capitol Hill by 46 other children's hospitals' patients and their families from 28 states, canvassing the House and Senate buildings with their personal stories and heartfelt pleas to solve child health care. They were part of the Speak Now for Kids Family Advocacy Day hosted by the Children's Hospital Association.
Our visit was supported by Children's Hospital Los Angeles (CHLA), where Max has been treated since he was 3 months old. Our battle is ongoing, as it is for millions of families caring for kids with medically complex diseases like cancer, cystic fibrosis, diabetes and heart disease. We all came out to let lawmakers know that we would be in dire straits without government support for health care. I know firsthand how distressing this can be.
I'll be honest – we're an upper middle-class family and had never qualified for Medicaid or other assistance even though we have fought on behalf of those who do. But this year, after Max was airlifted for an unexpected emergency treatment for a severe heart infection culminating in a 32-day hospital stay at CHLA, our rainy day fund was depleted.
For the first time ever, our medical expenses exceeded 20 percent of our income, meaning that we qualified for supplemental insurance through a state program largely funded through Medicaid. I never thought in a million years we'd require something like that, but I'm so grateful it was there when we needed it.
As a regular citizen, I sometimes think – does voicing my opinion on Capitol Hill really matter? Will we change minds so entrenched in each side of the debate? Will we ever find compromise and cooperation between the parties?
I hope members of both sides can reach across the aisle and work together to improve health care for children. No matter who is in control of the White House, the House or the Senate – my son will still have severe heart disease, a condition that is not going away in his lifetime. Our current health care system shouldn't be abandoned, nor should any revisions cut coverage to children; it needs to be strengthened for millions of families like ours.
I spend untold hours worrying if Max will have access to affordable health insurance in the future. I pray lawmakers will protect him from being penalized for having a pre-existing condition.
And you know what I learned in Washington D.C.? This matters to Max.
He is learning to fight for his health care just as he fights for his life, with a strong spirit and a positive attitude. He is advocating to senators and representatives as eloquently as he advocates for himself with his medical team.
"I have a condition that will be with me the rest of my life and I just want to able to take care of myself without worrying about how I am going to pay for it," my son told California Senator Dianne Feinstein in a face¬-to-face meeting in her office. She listened and urged us to share our stories to help "win the war" for child health care.
We are asking everyone to act, and act now. It's time to work together on behalf of the millions of sick children in need. It's not welfare; millions of kids are stricken by diseases and chronic illnesses through no fault of their own and they are entitled to the best care.
"We were born like this," Max explained to Republicans and Democrats alike. "We didn't do anything to deserve this. It just happened."
Max learned that the ability to try, to speak out, and to count in the eyes of legislators – it matters. We urge families across the country to do the same. Don't let up, because much more work needs to be done. And to our elected leaders, Max and I ask this: Please don't just "let Obamacare fail," and please protect Medicaid and make it better for the millions of children dependent on it.
Max's final plea to both sides of the aisle – think of him and kids like him, and come up with a bipartisan solution to improve our health care system.