These days, I find consolation and relief from the craziness of politics, the woes of a hurting world, and an aching back - not to mention occasional intimations of mortality - in the new anthology of poems by my friend and fellow traveler, Jim Autry.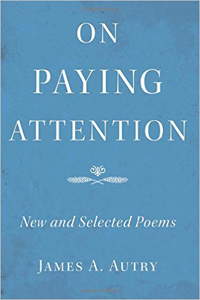 On Paying Attention contains many of his finest new and previous verse. Followers of my television work will recognize Jim from conversations like this one, where we talked about things that matter: Southern nights under a tin roof ("When the rain plays different notes... and the air whispers like God shushing everybody before the thunder."), relationships and work (including retirement parties to which "They all come/even the ones who think/he was a pain in the neck/They come and talk about how much he will be missed/most of whom never noticing he was there"), and love, gratitude, and death. Yes, we talk about death, although never in funereal tones; at our age and stage we simply acknowledge that the unopened door awaiting us at the end of the corridor is no broom closet.
I've been reading Jim's poems, and listening to him read them aloud, for 30 years now. They still snatch my breath with revelations of the man's great heart, his keen eye, his feeling for the experience of others. He grew up in a nest of good ol' boys in a God-soaked swath of Mississippi, became a fighter pilot, a journalist, a powerhouse of a magazine editor, the husband of a remarkable woman named Sally, and the father of an autistic child. He writes about these and so many other subjects in a way readers find comforting without always knowing why.
Perhaps it's because of the universality of his minute particulars. One of his own favorites -- "At the Air Force Reunion" -- shines a different light on what is usually described as collateral damage, reminding us that not all wounds are inflicted on the battlefield. "Death in the Family" is an intensely personal description of what those of us who grew up in small towns or rural communities never forget -- how men who rarely talked about "love" practiced it in the chores they did for grieving neighbors, and women expressed their love in the pies and cakes, fried chicken, pot roast and salads they brought to a mournful house. Two simple words are key to the poem: "They serve."
Those words describe my friend's life and work.
These days, Jim copes with Parkinson's:
My life has been around awhile
but, I can tell, is thinking about
moving on and taking me along.
I'd rather stay but know/I don't have a choice.
All I can do is drag my feet
finding reason after reason not to go.
Keep dragging those feet, Jim... and keep writing. You have much yet to share, and we have need of you. As for everyone else: Read these poems, slowly to yourself, aloud with others. Prepare to laugh and cry, to pause and reflect, and to feel immense gratitude for moments of illumination, longing, and remembrance. Jim Autry writes for thinking hearts.
Watch Bill Moyers's Interview with Poet James Autry
REAL LIFE. REAL NEWS. REAL VOICES.
Help us tell more of the stories that matter from voices that too often remain unheard.