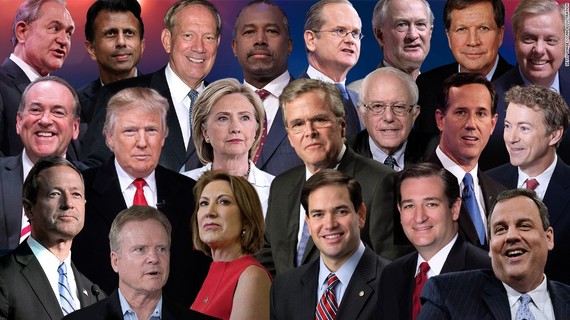 In preparation for the year's final presidential debates, we have a nationwide poll of our own that we're throwing into the mix. The North Poll -- which adds some much-needed levity and festivity to the presidential race -- reveals a completely new and spirited look at the 2016 presidential candidates. Following are the key results of our online poll of more than 1,600 men and women nationwide:
Which presidential candidate would you kiss under the mistletoe?
According to The North Poll, most Americans would peck Carly Fiorina (23%) under the mistletoe followed by Hillary Clinton (22%), Bernie Sanders (16%), Marco Rubio (10%), Donald Trump (8%), Ben Carson (6%), and Jeb Bush (4%). When filtered by gender, Fiorina was the overwhelming choice among men, garnering 42% of the male vote, while Sanders was the top mistletoe target for 23% of women followed by Rubio (17%), Clinton (14%) and Trump (10%). The least smoochable candidates, according to the poll, are John Kasich who received less than 1% of the vote along with Rand Paul, Chris Christie and Ted Cruz, each of whom would only need to pucker up for 3% of Americans.
Which candidate do you think would make the best Santa Claus?
According to the survey, Americans think Bernie Sanders, with 25% of the vote, would make the best Santa. Sanders was followed closely by Chris Christie (25%) and Donald Trump (23%). Carly Fiorina, Ted Cruz, and Marco Rubio came in last with less than 1% each.
Which presidential candidate do you wish would attend your holiday party?
Most Americans (26%) want Hillary Clinton to attend their holiday party followed by Bernie Sanders (22%) and Donald Trump (21%). However, Trump was the most popular choice among men with 26% of the male vote. The invitations most likely to get lost in the mail would be those addressed to Martin O'Malley and John Kasich, each of whom received just 1% of the vote.
Commissioned by The Salonniere, a leading and award-winning site dedicated exclusively to the art of party hosting, The North Poll was conducted by an independent national research firm between November 20 and December 4, 2015.
REAL LIFE. REAL NEWS. REAL VOICES.
Help us tell more of the stories that matter from voices that too often remain unheard.