At the Baczynsky Meat Market in Manhattan's East Village, specialty foods for loading the groaning board of Easter dinner are gathering: hams and sausages, mustards and stuffed cabbage, poppy-seed rolls and babkas, are offered to a diverse range of folks from native New Yorkers to immigrants from the many sectors of Eastern Europe. En masse, they crowd the tiny Second Avenue shop -- Poles, Czechs and Slovaks, as well as Ukrainians and Russians who will hopefully compete peacefully for the large, bone-in hams, keeping reconciliation and rebirth in mind.

J. Baczynsky, who arrived in New York as a kid from a region that has straddled both sides of the Polish/Ukraine border, opened his Meat Market in 1970. He wanted to recreate the meats of his childhood as well as serve the growing Eastern European neighborhood. As interpretation can be lacking from one language to another, the colloquial American nuances of 'meat market' were lost in translation, and up went the sign on the storefront and there it has stayed.
Andrew Ilnicki presides over the care and curing of hams at Baczynsky's. He is meticulous in following traditional methods, which he says are more faithful here than in Poland these days, due to the European Union's requirements for preservatives to retain salt and prolong shelf life. But on Second Avenue, Andrew continues the old world ways with tasty results, along with his trusty crew of hamsters, most of whom speak little English. In the back room, a huge stainless steel table covered with casings and meat fillings sparkles with their staccato language and laughter.

The ham curing process starts with raw Hatfield hams. The Hatfield company of Pennsylvania, family owned and operated since 1895, espouses a happy life for their livestock. Hogs are sourced from small farms from Pennsylvania to Indiana, which report they operate with the highest levels of animal welfare, including health and nutrition. Some Hatfield farms use fencing designed by Dr. Temple Grandin, the famed autistic designer of humane livestock pens, who was also the subject of the 2010 biopic, Temple Grandin.

Andrew pulls out a ham and shows me what he looks for to see that the animal has had a good upbringing. He points to a half-inch layer of fat -- not too much -- covering lean and pale meat. He says the light color and lack of gristle indicate good diet and exercise, and that the higher price is worth the quality ham. If we are going to eat meat, why not from an animal that's had a good life, with one only bad day?

Andrew shows me the multiple steps of the curing process. Each process takes place in a different room, one after another, moving back from the Avenue into the bowels of the building.

Newly arrived hams are treated to a long soak in dark drums- for a week to ten days they sit in a brine of water, salt, sugar, and bay leaf. They emerge a lovely shade of pink. Andrew and his crew rotate the drums -- in the months leading up to Easter they brine hundreds of hams.
Out of the brine, the shining hams are hung by nets on sticks, then into the smokehouse they go. The smokehouse doors are large, imposing, blackened steel and look like they might be the entrance to Hades. Hung high next to them, a thermostat reads close to 200 degrees and climbing.

The butcher swings the heavy door open and roiling smoke billows out the top, carrying the aroma of burning hickory and roasting meat. Inside, above a fire of smoldering hickory chips, hang sausages: skinny Kabanosy in one oven, fat Krakowska in the other. From the street side, you'd never guess that deep within, fiery furnaces are smoking a medley of meats, old-world-style.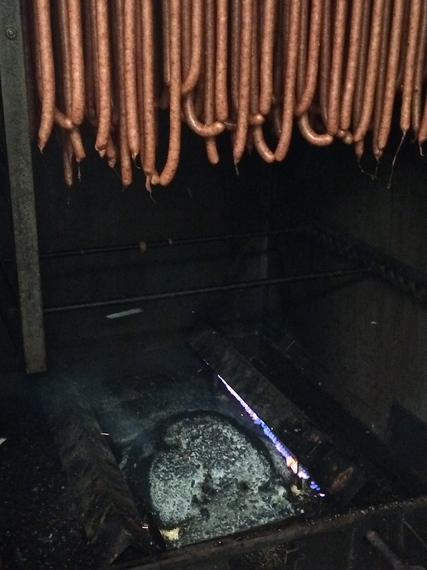 Hams are smoked between four to eight hours, depending on their size. The great bone-in ham takes the longest, the petite sirloin, city ham needs the least. When they are ready for sale, hams are glazed with a thick, caramelized sugar (a high-protein Easter egg) that lends them a lovely copper color.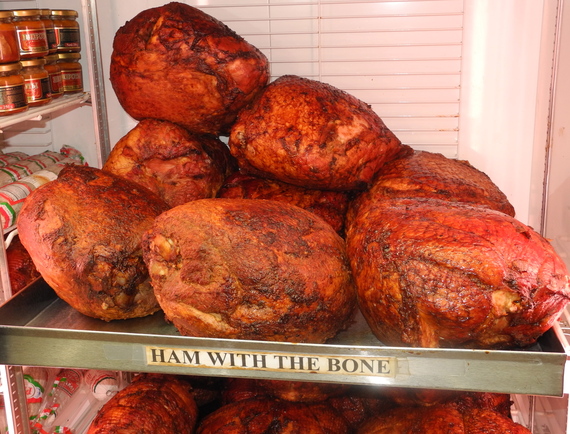 This year, competition for Eastern hams will be especially keen because Easter falls on the same Sunday for both the Roman and the Eastern Orthodox churches, which it usually doesn't. Like Passover, these holiday dates are based on astronomical movements and different ancient calendars. For the Western Church that uses the Gregorian calendar, Easter falls on the first Sunday after the full moon following the March equinox, which this year just happens to be in sync with the Eastern Orthodox Julian calendar. In this mechanized world of ours, it's nice to know some human events are still calculated according to the moon.

So this spring, Eastern Orthodox and Church of Rome ham enthusiasts will descend on Baczynsky Meats at the same time. The shop has been very busy. At the end of the weekend, its staff will no doubt sit down to a ham sandwich of Lithuanian rye bread with house-made extra-strong mustard and be most thankful for the new life that will greet them after the holiday.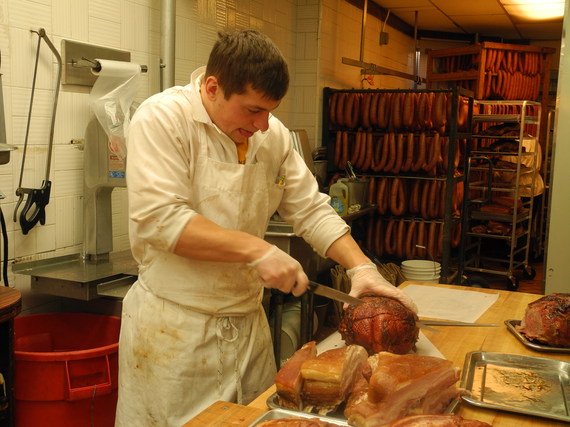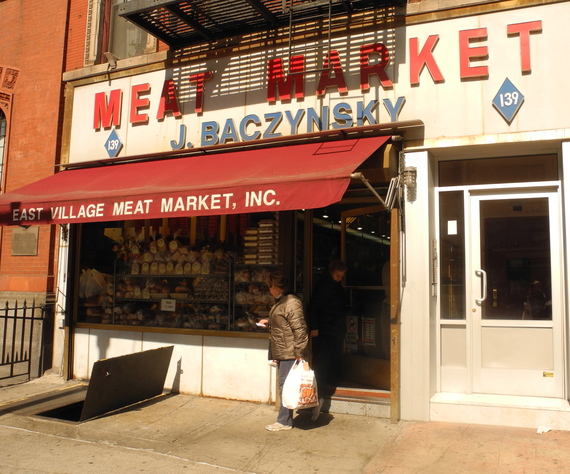 Related
Popular in the Community