It was formal night on the Celebrity Mercury, a cruise ship bound from Seward, Alaska to Vancouver, Canada. I looked around our dining room table for ten occupied by spiffed up family members, including my husband, Steve; our two teenage sons (ages 13 and 16); my 70-something parents; an 84 year old family friend; and my sisters-in-law, fellow baby boomers. Someone was missing.
Nona was Steve's 90 year old grandmother. Steve set off to find her. He knew where to look and soon reappeared with an only slightly repentant nonagenarian--all four feet, eight inches of her. Sure enough, he had rousted her from a black jack table in the ship's casino.
We had been on cruises before, but never with an entourage whose ages spanned 77 years. Despite sometimes feeling like I was herding cats, my verdict on this seven day multigenerational Alaska cruise experience is that it was a great way to spend quality travel time with family members of diverse ages and interests.
Given the vagaries of air travel and the real possibility of missing the boat (literally) if a flight to a cruise departure port is cancelled or delayed, I arranged for us to fly into Anchorage two days early.This gave us the chance to explore the largest city in Alaska. We started with a bus tour of the city and environs during which we actually saw a grazing moose---a "Toto, I don't think we're in Philadelphia anymore," experience. Remembering that I had been mesmerized by a National Geographic magazine cover story about the great Alaska earthquake of 1964, I insisted on a visit to the Earthquake Museum. After exhausting our teenagers' tolerance for sustained parental interaction, Steve and I deposited them in front of a television, rented bikes and enjoyed a ride along the paved Tony Knowles Coastal Trail.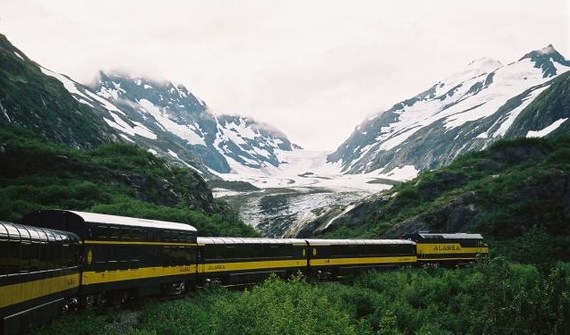 [Photo Credit: Luis Sanchez, www.alaska.org]
We were told Celebrity was busing passengers from Anchorage to the port of Seward, but on departure day we were transported in a panoramic train because another cruise line rented all the available buses. (Thank you other cruise line!). The over four-hour train ride took us through some of Alaska's most spectacular coastal, mountain and glacial scenery.
As we walked from the train to the waiting ship with our sons, a smiling young woman with a clip board approached us. She was signing up those under age 18 for the ship's youth program. One look at Ben and Jeremy's stricken faces told me they would not be participating in "ship camp". They made friends with their teenage peers anyway and keeping them entertained was never an issue.
The ship provided a range of excursions at each port, so there was always a suitable option for everyone in our group. The beauty of a multigenerational Alaska cruise vacation is that everyone can convene each night at dinner to share the day's adventures and then disperse to age-appropriate entertainment, ranging from the teen disco, to a song and dance review or to watch Nona charm everyone at her blackjack table.
Our first port of call was Sitka, the former Russian capital of Alaska. Everyone over 70 in our group went on a bus tour, while the rest of us boarded a boat for a wildlife cruise. We were not disappointed. We came upon breaching humpback whales, sea lions and very cute sea otters floating on their backs enjoying a shellfish repast.
Sitka was followed by a day at sea during which our ship entered an ice strewn bay for a close up view of the Hubbard Glacier. Our visit was spectacular and uneventful even as my maternal instincts were conjuring up visions of the Titanic.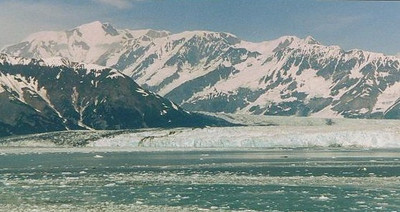 The Hubbard Glacier [Photo Credit: Suzanne Fluhr, Boomeresque]
My favorite port of call was Juneau, the somewhat inconvenient capital of Alaska, accessible only by sea or air, making for a complicated ballet of boat and float plane traffic in the harbor. At this stop, the grandparents and great grandparent went on another bus tour. The boys and their aunts went white water rafting, while I went on a heart pounding guided hike next to the Mendenhall Glacier. Steve went all out (price-wise) for a helicopter ride to the Juneau Ice Field for dog sled mushing.
At our next port, we all enjoyed the vintage train ride from the old Yukon Gold Rush town of Skagway up to Whitehorse, British Colombia. Despite a history of marital discord involving tandem canoeing, Steve and I tacked on an exhilarating kayaking excursion on a pristine, turquoise mountain lake.
When our cruise ship arrived in Ketchican, a southeastern Alaskan town largely built on wooden stilts and walkways, Steve and I opted for a tour to visit a native totem pole carver complete with bald eagle sightings, while Ben and Jeremy's aunts took them deep sea salmon fishing. They donated their catch to another happy fisherman.
We all enjoyed each other's company on the restful last day as we sailed down the river-like Inside Passage, complete with cavorting orcas. (Who knew that killer whales cavort?). Our final destination, Vancouver, Canada, is a visit worthy city in its own right.
My last task as trip coordinator was to make sure everyone made it back to their respective homes in the Lower 48. Even though the extra responsibility was a little exhausting, our multigenerational cruise ranks as one of our most memorable family vacations --- in a good way.