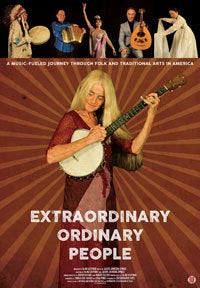 At a time when the existence of the National Endowment for the Arts has never been more threatened, Alan Govenar's documentary, Extraordinary Ordinary People, out Sept 15, focuses on one of its least known and most enduring programs: the National Heritage Fellowship, awarded annually since 1982. Featuring a breathtaking array of men and women who have been awarded the fellowship, including musicians, dancers, quilters, woodcarvers and more, the film demonstrates the importance of the folk and traditional arts in shaping the fabric of America.
Govenar began documenting the artists more than 35 years ago. The enormous breadth of his project, which also includes two 52-part radio series for NPR and three books, allowed him to explore in great detail the intersection of disparate cultures – many brought to our shores by immigrants over hundreds of years – with America itself. His film gives insights into how cultures endure, and how cultural expressions evolve but at the same time remain true to their roots in our 21st century connected world. I talked to him about his film.

What was it like journeying into all these different and talented peoples worlds for your film? My work over the last 35 years has been an amazing journey across America through inner city neighborhoods, sprawling suburbs, and back country roads. The United States is a crazy quilt of the cultures of the world – structured and improvised, radical and conservative — the juxtaposition of everything I thought I knew with all that I didn't understand. In just about every community across this vast nation, there are individuals who bring order to the chaos, artists whose means of expression are as varied as the people around them.
How do you think traditions not only shape people but communities? Traditions define who we are. At the core of culture is tradition. Traditions help us to clarify our sense of right and wrong and imbue the world with meaning, and in this way traditions shape the people who carry them on and the communities in which we live, work and play.

What does the National Heritage Fellowship stand for? To honor and preserve our nation's diverse cultural heritage, the National Endowment for the Arts (NEA) annually awards National Heritage Fellowships to master folk and traditional artists. These fellowships recognize lifetime achievement, artistic excellence, and contributions to our nation's traditional arts heritage. Since the program's inception in 1982, more than 400 master artists have received a fellowship. In addition, one fellowship, named after noted folklorist and former NEA Folk & Traditional Arts Director Bess Lomax Hawes, is presented to those who have made a major contribution to the excellence, vitality, and public appreciation of the folk and traditional arts through teaching, collecting, advocacy, or preservation work.
What are the stories your film tells and why is the telling of these stories so important? These artists are innovators and teachers, eager to share their skills and knowledge. They are dedicated to traditions that demonstrate the diversity of their contributions to the cultural fabric of American life. But most of all, the stories are intensely human, fraught with emotion and sometimes conflict, and the struggle to get by against all odds. Most of the artists are unknown and under the radar of mainstream media.
What surprised you the most filming these stories over the years? What surprised me the most were the unexpected ways in which time-honored traditions are passing on to the next generation — whether it is through family and community interactions, chance-meetings, or in today's world through the internet and social media.

Do you think a lot of these traditional arts will vanish? Is that why you have been documenting them? While many of these traditions are celebrated, they are also fragile. They are part of the cultural wetlands that will die unless they are cared for. Folk and traditional Arts are organic, and as they are carried on from one generation to the next, they must evolve to survive and flourish. I've always been interested in how these art forms grow and change, how artists build upon the work of others, not only for the sake of preservation, but because of their passion and commitment to create something new – and relevant to the world in which we live.
What takeaways do you want viewers to come away with after watching your film? I hope that viewers will be able to appreciate how the folk and traditional arts have touched their lives – how we all part of the process — how these art forms are the roots of popular culture today – whether in music – R&B, Hip Hop or in the imagery of tattoos and street art. Hopefully, the film will inspire the next generation to become collectors of the traditions in their lives and lineage.
Why does stuff like this need to continue to be funded and recognized? At a time when the existence of the National Endowment for the Arts has never been more threatened, this documentary focuses on one of its least known and most enduring programs: the National Heritage Fellowship. Art and culture are the soul of American life. If we don't support efforts to recognize and perpetuate these traditions, we are giving in to the forces that are trying to destroy them.
Books, radio shows and now the film, why? I founded the non-profit Documentary Arts in 1985 to broaden public knowledge and appreciation of the arts of different cultures in all media. For me, each medium connects to a different way of seeing, hearing, and experiencing the world. Reality is multifaceted – and each medium can create and reveal new facets – the process of making is iterative. Each medium presents a unique challenge. For example, radio is relatively inexpensive to produce but layered and sometimes complicated in the way it edits what people say with what they do and perform. With books the challenge is words; with film, it's moving images; with exhibitions, it's curating and installing artworks; with interactive media, it's user experience.
How did you decide what went into the film and what was left on the cutting room floor and how long were you involved making this film? The film was 35 years in the making. My ongoing documentary work on folk and traditional arts in general, and the National Heritage Fellows, in specific, parallels, and at the same time, offers a poignant counterpoint, to the growth of my work as an artist – as a photographer, filmmaker, playwright, and author of 29 books. For the film, in addition to shooting new footage in California, North Carolina, Maryland, New Mexico, Texas, and New York over the last two years, we sifted through hundreds of hours of film, video, and audio, and had to also, make sense of thousands of archival photographs. We did our best to feature a cross-section of people, art forms, and the vast landscape of human experience.
Related
Popular in the Community