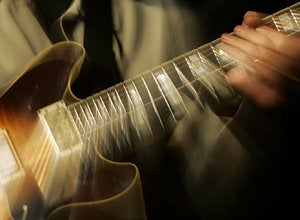 I confess: I'm a music junkie. From Led Zeppelin to Lady Gaga, I'm simply crave rich rhythm, melody and a good old-fashioned story weaved into the mix.
Just last week, I picked up guitar lessons again. I connected with a new teacher who taught me the chords to Creedence Clearwater Revival's "Have You Ever Seen the Rain." Readers likely know it well.
I stumbled a bit while quickly transferring from one chord to another, but eventually got my groove on.
At the end of the hour, I told my coach I would practice rigorously to perfect it. He said I had it wrong -- that I needed to learn how to "play" -- strum along when I feel the groove, get into the habit of it all and the learning should flow from there. And, from his view, that's how the authentic singer/songwriter comes to be.
It's no coincidence that I recently connected with Emily Zuzik, an already accomplished singer/songwriter in her own right, who's releasing her new album next week. She's already been 'playing' her own story, featured with Moby on his records and sings the theme song to the NBC TV show Love Bites. She pops up in the corners of our worlds in her own, not pre-determined way, but in a style that had me rooting for her and finding inspiration in her approach and her voice. Luckily, she'll be playing in NYC soon and am thrilled to be able to see her in action.
Why I love her: she believes in the power of intuition to guide her, adoring her inspirations, but not a slave to the rules of what must define a songwriter. Emily and I had a chance to connect and talk more about the world behind her story. I'm thrilled to share it with you and hope that aspiring musicians -- and writers -- can visualize the vibrancy in the template she's created for herself, a true lesson for me in what creativity can look like.
Laura Cococcia: Was there a particular moment you realized you wanted to be a singer / songwriter or did it evolve over time?
Emily Zuzik: Where I grew up, there wasn't a job category for "singer-songwriter" on any of the standardized tests or in any guidance counselor's office. I didn't know any singer-songwriters, let alone anyone who played music professionally, so I guess you could say it was an evolving idea. I had been writing music since I was 12 and rediscovered a guitar around the same time. I started taking lessons and wrote all the time. I still have the cassette demos, which is quite a trip! Over years, I started getting attention from fellow students in high school or college and eventually fought against my parents' best wishes to pursue this calling. It was something I found I had to do, much like breathing.
LC: What are some of the most satisfying aspects of songwriting for you? The most challenging or difficult?
EZ: I like to talk about universal themes from an honest place. I'm pretty biographical in my songwriting, so it reads like a diary. What I've learned though is that most people have similar diaries. At some point, everyone falls in love. Everyone breaks their heart. Someone close to you dies. Someone sees new life. It's what draws us together as humans. I love being able to sing about those things and have an instant connection with someone I have never met and may never see again. It gives me hope that people can do that in other areas of society too.
The most challenging side of songwriting for me is finishing the song. I'm not saying I get writer's block a lot, but when I do, it's torture! I get anxious, and sometimes I'll write some ending that just doesn't support the work. That is so disappointing. Ruined potential.
In the bigger picture, songwriters also have a tough lot. It's not exactly a profession that brings you instant fortune or high lifestyle -- not to say that some songwriters aren't very successful -- but it's not a guarantee. I think anyone who's driven to do this sort of work, knows that and goes blindly. Or leaves it and gets a proper job.
LC: Where do you get most of your inspiration for your lyrics?
EZ: As I said before, I am a very biographical writer, and the main character is normally me, or some version of myself. I'm not of the folk tradition where I create stories with other characters. I don't usually write political lyrics. I write about love, heartache, attraction, sexuality and hope. I used to write a little darker a few years ago, but looking back on that, I was going through some darker personal stuff. Maybe I had to write it out to get through it.
Sometimes I get inspired by a scene between people, a difficult decision, or a memory. What I love most is when I don't think about the process. Those are the lovely moments. I call them channeling, i.e. You don't write the song. You're just around to write it down. It comes from somewhere else. Call it the divine. Call it a universal narrative, but you tap into for a brief moment and hope like hell you get it all down on paper or recording, because it's not coming back.
LC: What advice can you offer other aspiring songwriters/singers -- or even other writers -- as they start their artistic journey?
EZ: I hate to give advice to other people, but if pressed, I'd tell anyone to do what took me nearly 15 years to figure out for myself, which is trust your gut. Take risks. Don't think you can't do it just because that's what someone told you. Work at it. Throw away your ego. Be nice to people who support you over the long haul. Don't be fooled by the "scene" into thinking you're any better than you are. Keep writing! Make deadlines and see them through. Stay grounded. Enjoy every minute of it, because as my grandmother said to me toward the end of her life, "You're lucky, Emily. You have something you've found that you really love and you get to do it."
LC: What's next for you? And, of course, where can we come see you?
EZ: May and June have been particularly busy months for me with a lot of great music coming out! I have a song on Moby's new record Destroyed called "The Low Hum." I'm releasing my new album, "The Wild Joys of Living," later in June. I have some electronica collaborations with the UK producers REFIX coming out soon. And quite randomly, I sing the theme song to the new NBC show Love Bites that began airing June 2.
Besides all the recorded stuff, I'm playing a Rockethub feature at Brooklyn's Spike Hill, a NY SongCircle showcase at The Bitter End and my CD release party at The Living Room on June 25th, at 11 PM, which will be recorded live for Sirius/XM Radio's "From the Living Room to the Loft."

You can find out more about Emily on her site or follow her on Twitter.
REAL LIFE. REAL NEWS. REAL VOICES.
Help us tell more of the stories that matter from voices that too often remain unheard.