Imagine having to improvise a musical score for a full length silent film lasting nearly two hours. Imagine having to do that for four films, one of which you've never seen before. Now, imagine having to play for those films one after another for a period of more than eight hours. And imagine being allowed only the shortest of breaks in between each film.
Both challenging and celebratory, Mortilla's extra-ordinary performance is a noteworthy send-off to this remarkable LACMA exhibit, which closes the following day. It is also a fitting send-off, as music (think Kurt Weill, Otto Stenzel, etc...) was a key part of the cultural ferment of the Weimar era.
The Weimar Republic marked a period of uneasy transition. Tucked between the end of WWI and Nazi rise to power, Germany experienced economic, political and social turmoil along with an explosion of art and culture. As the country came to endure yet another upheaval, many artists came to reject florid Expressionism (The Cabinet of Dr. Caligari) in favor of a sober, skeptical, always unsentimental and sometimes even brutal "realism."
Video walk through of "New Objectivity: Modern German Art from the
Weimar Republic, 1919–1933." Be sure to notice the fleeting image of
film star Gloria Swanson.
Dubbed Neue Sachlichkeit, or New Objectivity, Weimar artists turned a cold eye toward society. Mirroring many of the themes and motifs found in the exhibit, the films Mortilla will accompany depict the social realities of the German Republic. These range from the misery of the lower class--as portrayed in Gerhard Lamprecht's Slums of Berlin (1925)--to new forms of consumer culture and a fascination with new technologies and architecture, as brilliantly assembled and edited in Walter Ruttmann's non-narrative Berlin: Symphony of a Great City (1927).
A renewed interest in the everyday is depicted in Robert Siodmak's tender People on Sunday (1930 - with contributions from Edgar Ulmer, Fred Zinnemann, and Billy Wilder, among others), while G. W. Pabst's Pandora's Box (1929) reflects a shift away from traditional societal roles; in the latter film, directed by the one cinema artist most associated with New Objectivity, Louise Brooks plays Lulu, a personification of the era's New Woman.
Mortilla's accompaniment to these moving pictures provides an audio landscape, or a kind-of soundtrack, to the still images on display. According to Mortilla, "LACMA wanted to do something special for the last weekend of the exhibition," and the musician "enthusiastically embraced the challenge." It is a challenge, Mortilla remarked, that he has been preparing for all his life as a musician.
"As I always do when playing as a soloist, I will be completely improvising. Improvisation in classical styles has been my primary focus for over four decades, and I use it as a method of developing more formal compositions. When I was a dance accompanist in New York City, I would sometimes play from 8 am to 9 pm, so I am prepared for that kind of a workout. The real challenge is to stay within a musical sensibility that supports the exhibit and, of course, the films."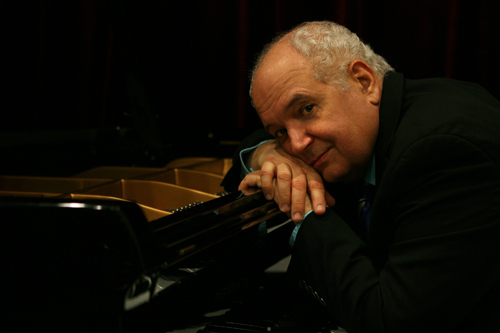 Michael Mortilla - photo credit: Lon Casler Bixby
"I accompanied Pandora's Box several times, most recently in early December of last year at UC Santa Barbara. I've played People on Sunday a few times, and I've played Berlin: Symphony of a Great City once before "cold" (not having seen it beforehand) and have not seen it since. Slums of Berlin is completely unknown to me. I hope to spend an entire day in the exhibit and watch all the films prior to the performance. If not, I'll play that film cold as well."
Mortilla added "Artistically, the best preparation for this kind of event is knowing the plot, characters and their motivations, the action, and director's intent in the films. These won't be watered down performances. I'll play each film full out."
Mortilla also noted that he's spoken with fellow accompanists and none are aware of anyone having played as long in a silent marathon. His performance, and attempted marathon accompaniment, has even drawn the interest of those who keep the Guinness World Records.
At this time, the film schedule begins with Berlin: Symphony of a Great City from 10:30 - 11:38 am, followed by Slums of Berlin from 11:45 am - 1:40 pm, People on Sunday from 1:50 - 3 pm, Pandora's Box from 3:15 - 5:30 pm, and following the conceit of the film, closes with Berlin: Symphony of a Great City from 5:40 - 6:50 pm.
Thomas Gladysz is an arts and entertainment writer. He is also the founding director of the Louise Brooks Society, an online archive and international fan club which went online 20 years ago. Most recently, he contributed the audio commentary to the just released Kino Lorber DVD & Blu-ray of G.W. Pabst's other 1929 film in the New Objectivity style, Diary of a Lost Girl.
REAL LIFE. REAL NEWS. REAL VOICES.
Help us tell more of the stories that matter from voices that too often remain unheard.