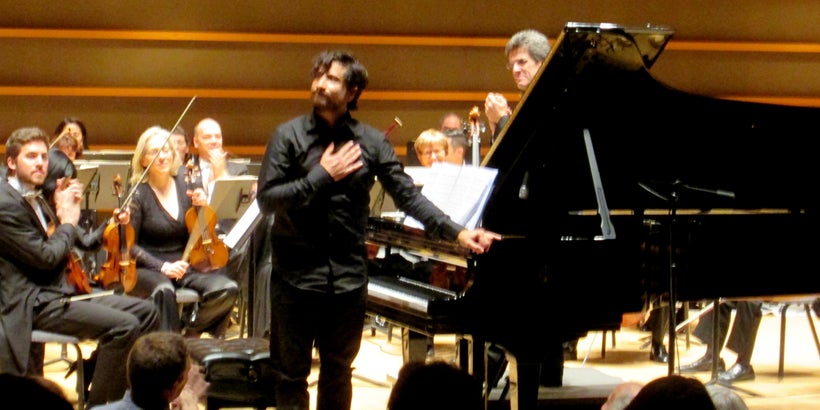 composer pianist Rami Khalifé with members of COP after his premiere (photoLJW)
Chamber Orchestra of Philadelphia musical director Dirk Brosse has packed their current season with premieres by contemporary composers on programs with chamber classics. Brosse is a composer himself in many genres, symphonic, film scoring, concerti and chamber works, as a conductor he is not only a vibrant interpreter of classical repertoire he is an advocate for new music and experimentation. COP's December program was a vibrantly mixed bill that utilized the full roster of over 30 Chamber Orchestra musicians.
The concert opener, Rossini's Overture to 'L'Italiana in Algeri' a symphonic reduction from what audiences would hear in the opera house, but engulfing the concert hall nonetheless. Brosse's tempos are measured, with chamber translucence and rhythm tension not disappearing behind the theatrical thrusts of Rossini's orchestral gallops.
Composer Charles Gounoud composed Symphony no. 1 in 1853, in the middle of the Romantic period, in a form rare among French composers. Brosse elicits a textbook reading, in its lustrous chamber dynamic, but strike as a bit underpowered. What Brosse does so well with the romantic classicism. Oboist Geoffrey Deemer stellar in both the Rossini and this piece.
The first half of the concert concluded with Raphael Fusco's 'Alternate Routes' originally a saxophone concerto written for Branford Marsalis. Fusco easily fusing compositional structures and ideas from both classical and jazz templates. Brosse commission Fusco to transcribe into a three movement work. The contours of the Adagio cantabile-Allegro has a stylized, cinematic surface, but Fusco's deeper compositional voice comes through in the 2nd movement Andante-larghetto. The lead lines in silky handoffs between solos, duets and trios. Among the standouts oboist Jeffrey Deemer (oboist), David DiGiacobbe (flute), Doris Hall-Gulati (clarinet), Rodney Marsalis (trumpet) and lead violists (Stephen Tavani (concertmaster) and Melchen Liao Bares (associate concertmaster). Rouse was in attendance and this work was warmly received with a standing extended ovation.
Brosse told the audience that he first heard pianist-composer Rami Khalifé perform at a concert he gave in Belgium where his father, an oud virtuoso was performing with the asked Brosse if his son Rami could perform on the piano and Brosse agreed and after hearing Rami play, Brosse asked the pianist if he would consider writing a work for Chamber Orchestra. Khalifé's "Stories for Piano and Orchestra" earlier this year at Qatar Philharmonic Orchestra earlier this year and has its US premiere with Chamber Orchestra of Philadelphia, followed up with performances in New York.
The opening movement 'The Resistance' with Rami splitting atoms on the keyboard that command attention beyond expected musical norms. I heard a man behind me commented that it sounded like a ballet score, perhaps referring to 'Le Sacre du Printemps' because of its concussive rhythmic energy, but this was a very different composition, the fiery musical anarchy carving new territory, Khalifé's architecture a porous sonic wall.
Its percussive dimension achieved by timpanist Martha Hitchins and percussionist Harvey Price at the other end of the stage with a supersonic drum kit. The horns- Brian Kuszyk, Rodney Marsalis, Karen Schubert and Lyndsie Wilson- on a different track, careening a measure behind the orchestral drive with commanding and unleashed modernist heralds, reminiscent of radical jazz fusion of the 60s.
Meanwhile, Khalifé is riveting to watch, he looks like pioneering rocker Jerry Lee Lewis playing standing over the keyboard, at one point Rami was inside the piano, bongo-ing on the strings, and his body knocked the charts off the piano lid and when he dropped back down to the keys, he just kicked them out of the way as he spidered over the keyboard continuing the passage. His dense chords released in clamorous accelerations and disappearing in off- the- cliff arrests.
Among the other stories 'Club Romantik' and 'The Aftermath' with serene and disquieted chansons, burnished with electronic effects achieved acoustically by Rami placing square plates on the piano strings/action and amplifying the sound. ' Steps on the Dancefloor' a fevered piano riff from three repeated notes that careens into its volcanic orchestral finale. This longform work will stand as one of this orchestra's crowning premieres, as well as a touchstone of Brosse's directorship on a musical night to remember.
REAL LIFE. REAL NEWS. REAL VOICES.
Help us tell more of the stories that matter from voices that too often remain unheard.
This post was published on the now-closed HuffPost Contributor platform. Contributors control their own work and posted freely to our site. If you need to flag this entry as abusive,
send us an email
.