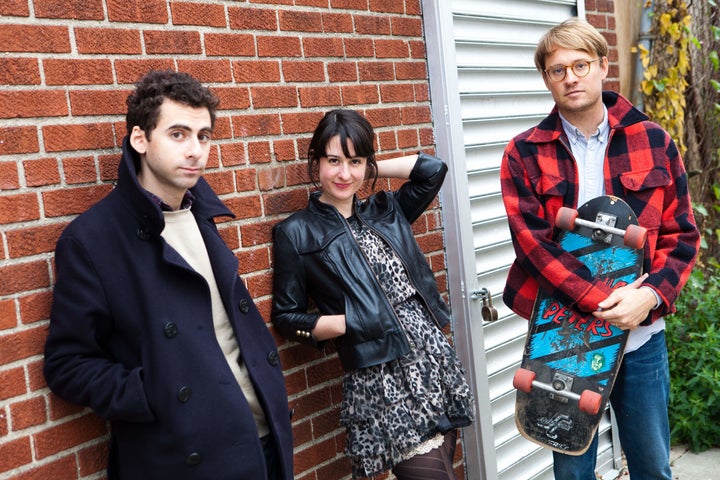 Most of the songs on Hospitality were written in the first few years of my move to New York. There is a New York theme to some of them, and journalists have described the record as an ode to the city. I think since I'm not from New York, I see it in an exotic light. I feel like an alien or an outsider in most situations. I'm usually observing instead of interacting. Since there are so many people here, it's easy to disappear -- I feel most comfortable being a fly on the wall, rather than the center of attention. The song Eighth Avenue, for example, is based on a disappointing night out that I had with a group of young college grads who I didn't know very well. The whole night I felt out of place. We went to some art openings in Chelsea and then walked to somebody's parent's town house. The house was completely dark, no one was home and all the furniture was white. I felt really old and completely out of place. I wanted to write about that night as well as all the other regrettable night outs I had in my past.
Nathan Michel, Brian Betancourt and I recorded Hospitality during a four-day session in October of 2010 at Tree Fort Studios with Shane Stoneback. The days were busy, and we didn't have a lot of time, so we recorded all the instruments live. I made turkey sandwiches and popcorn so we could eat throughout the day without leaving the studio or spending money. With limited amount of time we weren't able to add more instruments at Tree Fort, so many of the tracks were brought to life by Nathan at his studio in Red Hook, Brooklyn. He added layers of gorgeous synths, guitars and strings, playing around for the four months between recording and mixing.
Hospitality has been a band for over five years, but we never toured until this record, well, except for the time my sister, Gia (who used to play in the band) booked us a week-long tour of Williamsburg, Brooklyn. We played five different tiny venues around Williamsburg in seven days, with a couple of friends in the audience at each show.
This fall we went on a few small tours supporting The Rosebuds and Caveman, and we are getting ready to go out on a bigger tour with Tennis in March. Later in the month we meet up with the Love Language and then Wild Flag! Now that the record is out we can't wait to start playing shows for people who have already heard our music. We are used to playing for crowds that have never heard us and so most of the live experiences we have are ones where we are trying to win the audience over. We sort of like the challenge, but now we are excited to play for a few people who know us!
----
Amber Papini is the singer of Hospitality. Their self-titled debut is out on Merge Records.
Popular in the Community