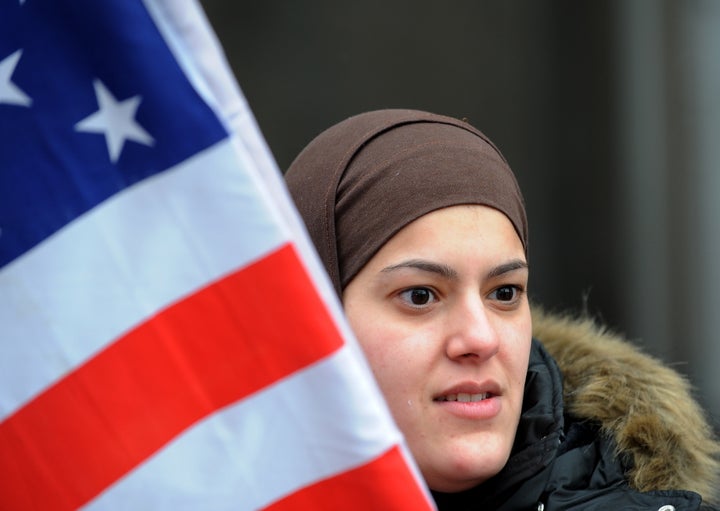 We are Muslim Americans. We are American Muslims. We live as your neighbors, friends, doctors, lawyers, police officers, soldiers, cab drivers, newspaper vendors, teammates, co-workers, and family -- seamlessly and without conflict. We are fully immersed in the American mosaic, and we are proud.
Our Muslims forefathers have been here since the founding of this country and we proudly continue upholding our legacy of investing in and contributing to America's successes from culture to politics, medicine to business, law enforcement to philanthropy.
As Muslims, we believe there is only one God, the God of Adam, Abraham, Isaac, Ishmael, Noah, Moses, Joseph, Jesus and Muhammad (God's peace be on them all).
There is no country on earth that can boast as wide a variety of Jews, Christians, Muslims, Hindus, Buddhists, Sikhs, Jains, Zoroastrians and Atheists as America can. As citizens of this country we feel truly blessed to be able to worship as we please, whatever our beliefs. The diversity of the American landscape is mirrored within each of its faith communities; our individual uniqueness, talent and energy make us stronger as one nation.
As Muslim Americans we also share a cultural and spiritual DNA with our fellow citizens and proudly celebrate our common values and ideals.
Our faith teaches us to be honest, hard-working, productive members of society. Compassion and ethical living are core foundations of our beliefs and an integral part of American character. We ask of ourselves what we ask of others, we seek the good in and for everyone and strive to be well-intentioned in our endeavors.
We are loyal to our country and our faith and rely strongly on God's gift of intellect and reason to guide us toward moral and ethical standards of behavior. We look to the wisdom of our past to benefit the present and future of all mankind.
Regardless of whether we were born in this nation or have recently adopted it as our home, we are committed to working with our fellow Americans to create a more perfect union for we, too, want a better life for ourselves, our children and our communities. In order to achieve these standards, we must all strive to understand and cherish the freedoms expressed in our Constitution and ensure none are denied these privileges.
Our respect for the Constitution allows us to appreciate the range of opinions that come with our freedoms. We welcome the ensuing debates, disagreements, and exchange of ideas because we believe this is the best way to understand one another and truly grow together as a community.
While these exchanges have the potential to uncover difficult and complicated subjects, we recognize that all Americans, regardless of their religious backgrounds or otherwise, have as much a right to participate and express their opinions in the name of making our country better. It is our responsibility as citizens to be educated, engaged and civic-minded.
We are today's Muslim Americans. We are striving toward building a better and more just society for all Americans and trust our collective action will result in the greater good: by us, for us all.

Current Signatories
1. Wajahat Ali, Playwright ("The Domestic Crusaders"), Essayist and Attorney
2. Hussein Rashid, Contributing Editor of Religion Dispatches and Professor at Hofstra University
3. Reza Aslan, Scholar and Author ("No God but God")
4. Zeba Iqbal, Executive Director, CAMP (Council for the Advancement of Muslim Professionals)
5. Imam Plemon T. El-Amin, Resident Imam of the Atlanta Masjid of Al-Islam
6. Shaikh Faraz Rabbani, Educational Director and Instructor at Seekers Guidance
7. Mona Eltahawy, Journalist and Public Speaker
8. Honorable Mayor Mohammed Hameeduddin of Teaneck, New Jersey
9. Sarah Sayeed, Program Associate at Interfaith Center of New York
10. Linda Sarsour, Director of The Arab American Association of New York
11. Aziz H. Poonawalla, Ph.D., and Blogger at City of Brass
12. Imam Faheem Shuaibe, Resident Imam/CEO of Waritheen Mosque & Director of the Clara Mhammed Schools & Warith Deen Mohammed high school in Oakland, California
13. Randa Kuziez, Faiths Act Fellow at Interfaith Youth Core
14. Irfan Rydhan, Public Relations Director, ILLUME Magazine
15. Haroon Moghul, Executive Director of The Maydan Institute
16. Anisa Mehdi, Journalist and Fulbright Scholar
17. Fatemeh Fakhraie, Founder and Editor of Muslimah Media Watch
18. Haris Tarin, Director of Muslim Public Affairs Council, Washington D.C.
19. Imam Johari Abdul-Mailk, Director of Community Outreach for the Dar Al-Hijrah Islamic Center
20. Dilshad Ali, Editor at Patheos.com
21. Willow Wilson, Novelist (Alif) and Journalist
22. Svend White, Writer
23. Debbie Almontasser, Founding and Former Prinipal of the Khalil Gibran International Academy
24. Ayesha Mattu, Blogger
25. Azeem Ibrahim, Research Fellow at Harvard Kennedy School's International Security Program and a World Fellow at Yale University
26. Zahra Suratwala, Co-editor of "I Speak For Myself: American Women on Being Muslim"
27. Khalil Abdur Rashid, Muslim Religious Life Advisor for Columbia University
28. Imam Tahir Anwar, Islamic Center of San Jose
29. Megan Putney, Program Director, Muslim Consultative Network
30. Zaheer Ali, Writer and Doctoral student in history at Columbia University
31. Aman Ali, Writer and Comedian
32. Bassam Tariq, Filmmaker
33. Zahra Somani, Writer and Editor
34. Zahed Amanullah, Editor of Altmuslim.com
Calling all HuffPost superfans!
Sign up for membership to become a founding member and help shape HuffPost's next chapter