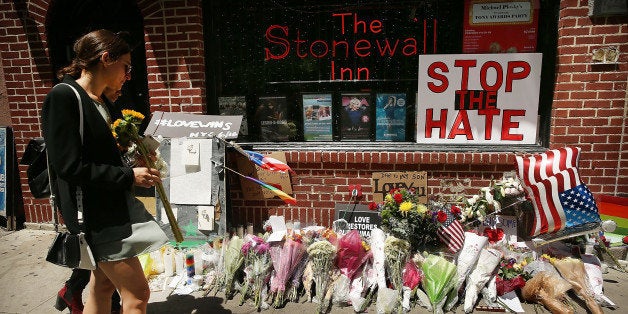 When I received news regarding the shootings in the LGBTQ club in Orlando, Florida, I was fasting, waking up, and trying to comprehend the gravity of what had occurred. Knowing full well that the LGBTQ community experiences tremendous amounts of discrimination and inflicted pain through racist and bigoted parties, I feel that I am still processing how this act could be done by a Muslim.
The incident is even worse that it takes place during the Holy Month of Ramaḍān, where Muslims are supposed to become closer to our Creator (Qurʾān 2:183). As a student of Islamic knowledge for many years, nationally and internationally, I can unequivocally state Islam prohibits vigilante acts, and prohibits imposing religious beliefs on non-Muslims, especially as minorities (Qurʾān 2:256). Additionally, a core tenant of Islam is to protect the public benefit (Maslahah). Furthermore, Islamic ethos and theology calls for the protection of minorities as was evidenced by the Prophet Muhammad (May God's Peace and Blessings be upon him), the pact of Umar, historical accounts and other Qur'anic understandings. These acts deeply sadden and frankly anger me because injustice should always anger a Muslim, but how we react to injustice displays our true character. I feel compelled to highlight that there are Muslims who identify with both communities, and they are my brothers and sisters in faith, and I love them and pray for them as well.
We as Americans must locate multiple avenues to convey love and support for our brothers, sisters, and family members in humanity from the LGBTQ community. It is my strong conviction and belief that LGBTQ members are part of our society in America, and no one Muslim, Non-Muslim, regardless of culture, background, race, or religion, has any right to ridicule, abuse, or create precarious environments for LGBTQ members. The LGBTQ community has been one of the foremost allies with Muslims in almost every sector: academic, media, civil rights, including international issues such as the Palestinian cause. In some ways, we are indebted to their bravery and solidarity, and if we cannot speak to this support, then we truly become part of the injustice. Being just is what our country was founded on, and what we should aspire to be. We have reached the ends of our emotional capacity, we can no longer tolerate this intolerance, we must drown the bigotry, erase the torture, and eliminate the hate. Minority groups must stand united, unity must become part and parcel of our communal ethics.
In regards to the L.A. pride incident or the Orlando incident, we have to take mental health issues into the equation in terms of motivation. Many times Muslims are not given the possibility of suffering from a mental illness, rather the assumption or motive must have solely been on based upon a distorted religious worldview, which is also an injustice that needs to be addressed. An additional double-standard that we must highlight, is that almost every time a Muslim commits an act, religiously motivated or not, it is headline news labeled "radical Islam" or "Islamic terrorism" but the same treatment is not given to people of other faiths. Marginalizing, bullying, or hate crimes in retaliation will only spread more hate among one another.
I call on all Muslims and people of faith to pray for the families of the deceased, I call on law enforcement to act ethically and wisely, and I call on all Americans to focus on what makes this country great, it is not bigotry, it is not racism, it is the hope that we can as a people move forward together with our hands, hearts, souls, and minds united for a more peaceful and just society. We need to actualize the hope to be able to achieve the American dream for ourselves and our families. What we can do to help is to donate to support the families, pray for them, attend vigils, and utilize our voice on social media. We need to model a different America, an America moving forward but also a return to our original ideals of freedom and justice for all. As I have said many times, we have spent too long demonizing the "other," we need to step back, reflect, and re-humanize each other.
Calling all HuffPost superfans!
Sign up for membership to become a founding member and help shape HuffPost's next chapter