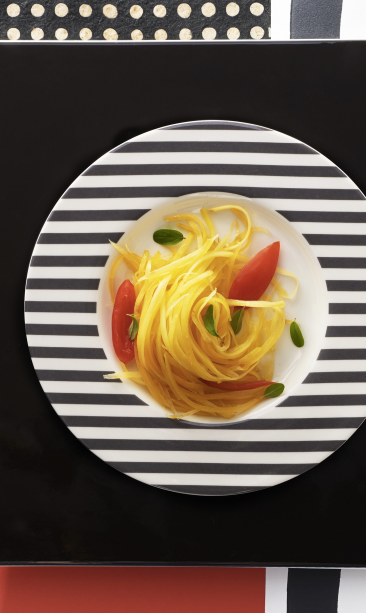 CARROT LINGUINE WITH GARLIC AND ANCHOVIES (Serves 4)
1 small piece grated ginger
120 g (4.2 oz) cherry tomatoes
Wash the cherry tomatoes, quarter them and remove the seeds. In a bowl, toss the tomatoes with 3 tablespoons of olive oil, the chopped basil, salt and pepper. Set aside for the flavors to blend. Peel and julienne the carrots, and then boil them in lightly salted water for 1 minute. Drain well. Sauté the crushed garlic in a large skillet until golden with 3 tablespoons of olive oil and the ginger. Add the anchovies and mash them with a fork. Add the carrots, toss to coat, and garnish with the marinated tomatoes.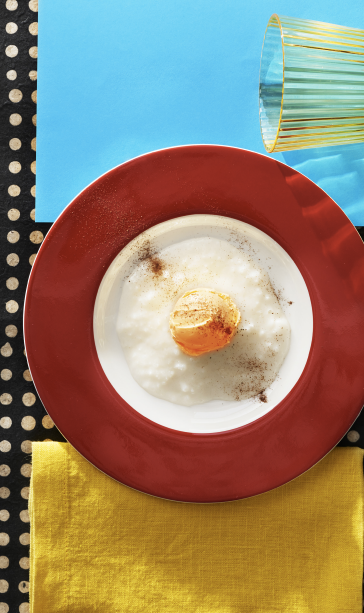 RICE PUDDING WITH MANGO MOUSSE (Serves 4)
1 liter (1 quart) whole milk
300 g (10.5 oz) ripe mango pulp
1.5 dl (0.6 fl. oz) heavy cream
Blend the mango with a stick blender and put it in a bowl. Whip the cream and add it to the mango. Whisk together and then freeze for at least two hours. In a tall pot, boil the milk with the sugar, lemon zest, cinnamon and salt. Add the rice and cook for 30 minutes. It should be creamy but not dry (add more hot milk if necessary). Cool and serve with balls of the frozen mango mousse.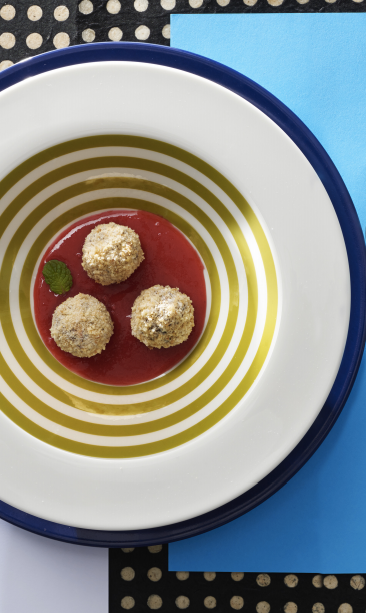 CHOCOLATE TRUFFLES WITH RED SAUCE (Serves 4-6)
350 g (12.3 oz) bittersweet chocolate
125 g (5/8 cup) heavy cream
1 tbsp confectioner's sugar
1 tbsp rum or limoncello liqueur
1 tbsp dried grated coconut
300 g (10.5 oz) raspberries
Chop the chocolate and put it in a bowl. Heat the cream with the confectioner's sugar until it comes to a boil and immediately pour it over the chocolate. Whisk until the chocolate is melted. Add the liqueur and refrigerate for at least 8 hours (it should become solid). In a food processor, blend the cookies with the coconut to the consistency of breadcrumbs. Using a spoon, scoop the ganache to make balls. Coat the balls with the cookie mixture and refrigerate until serving. Blend the raspberries with the honey and mint, and press the mixture through a sieve. Serve the chocolate truffles with the red sauce and garnish with mint leaves.