Recently, I opened my mailbox (my tactile one) and found an envelope with my name on it. I recognized the handwriting immediately and couldn't help but smile as I opened the letter, which, by the way, had no return address.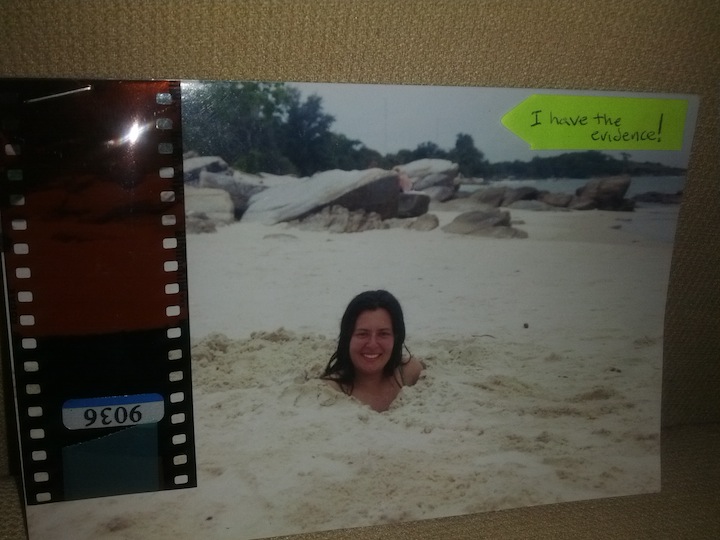 In case you were wondering, yes, that's me buried in the sand. And the stapled alien object on the left is what the ancient romans used to call a "photo negative." The writing on the top right is what people nowadays call "blackmail."
The photo in question, the one that is currently keeping me up at night, was snapped on my just-graduated-from-college-whirlwind trip to Asia, the summer of... well, that's not important.
This brisk dip in the sand was on the island of Ko Samet off the coast of Thailand, one of the last stops on my 11-week odyssey. The person behind the lens is Denny, my friend and travel companion. Not only does he have a soft spot for cellulose, but he also holds cold-hard evidence of my exploits in his possession. What were those exploits again?
And that's the beauty of travel. You get to ask that kind of question and then search your own memory banks -- and your travel partner's -- for the answer. So much happened in that two-and-a-half month trip that started in Hong Kong, peaked in Tibet, regrouped in Nepal and ended with a sand-splash in Thailand. The details and memories of the journey bring a smile to my face. But the journey as whole brought a new face to my identity.
Travel itself is ephemeral, slipping through your fingers with every beach visited, every monument ogled, every church stepped into, every smell inhaled, every taste savored. I'm probably not the only one who tries so hard to enjoy each minute of her vacations that I don't always fully take in the experience. And while I'm not busy straining my brain to take it all in, I'm calculating how I can move to said country and get a work visa because everyone here just seems so much happier than they do back home.
What I've learned in my various treks through the United States, Asia, Europe, Israel, Russian, the Mediterranean and Central America is that happiness is relative.
What I bring back with me after the days and nights of the voyage is just as valuable as the vacation itself. Sometimes I strengthen bonds with those I share the experience with, or those at home whom I miss. Other times it helps me understand a culture more than I did before, thus adding knowledge or sympathy to how I interact with people. Many a time, it puts me in touch with my own needs and desires, which are so easy to betray in the every day hustle where I am meeting so many different people's expectations.
Travel can beautifully enhance the life you already have, if you let it.
The smile on my face in that photo doesn't let on to the many challenges I faced that summer, though. Of note: Altitude sickness at Everest base camp, Giardia on a six-day car-ride through Tibet, getting robbed of all my cash and traveler's checks in my sleep at my $2-per-night hotel in Nepal, getting a wisdom tooth pulled in Bangkok and a friendship almost ruined by the time my plane touched back down in Boston that August. Yes, Denny, the guy who made me smile from behind the film camera, didn't make me smile through most of our trip -- nor did I make him smile. You would never know it from that picture, but our friendship was highly tested in our travels and it took almost a year to repair it.
But because I took that time in my life to open myself to a new world, a new me emerged. Not only have I experienced cultures, people, provocations and lands that most around me haven't, I also know that I am capable of seeing the best in people and strengthening my own relationships when they're at their most delicate.
My adventures across the Easter continent were several years ago and I definitely don't think about them every day. But right now I am enlightened, happy, fulfilled and deep in the joy of nostalgia, staring at a photo of myself as I try to remember what evidence could be contained on that photo negative.
I may just wait a few more years to find out. Who knows what other fun surprises I'll uncover deep in my memories.