The stunning music and architecture of Slovenia, magnificent in its heyday and brought to ruin through centuries of war, is now emerging in the 21st century as an integral part of a proud nation's reconstruction initiative. One of Slovenia's proudest cultural contributors is the Maribor Festival, located in the country's second city. With Australian violinist Richard Tognetti at the helm, the 2011 version provided edgy classical music thrills ranging from a naked soprano singing Handel to deconstructionist Marino Formenti playing after hours in an undeground pub.
It was not all fun and games.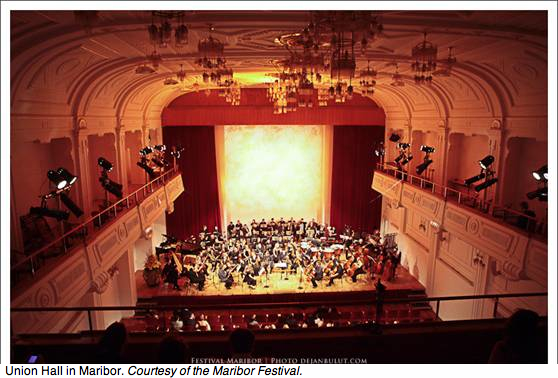 In the comfortable confines of Maribor's Union Hall, Tognetti let loose musical hounds of hell in Gyoergy Ligeti's Violin Concerto of 1992, a sophisticated blend of Liszt's Mephisto Waltz and Saint-Saens' Danse Macabre. With bouts of thunder and lightning pelting the hall, aided and abetted by a Festival Orchestra led heroically by Marko Letonja, Tognetti took hold of the massive piece and brought it to its knees in the unique concluding cadenza. Their performance of Bartok's Concerto for Orchestra after intermission was no less virtuosic, and for once caught the strains of rural Eastern Europe where the composer spent his formative years.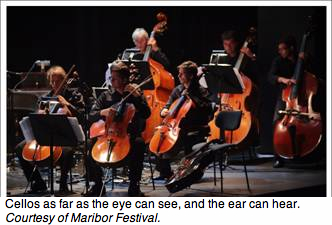 The most sensational concert of the sensational week was called Boundless Creativity. It was YouTube superstar Giovanni Sollima's challenge to all who think the cello is for the faint of heart.
Enlisting Vivaldi, Alfredo Piatti, Nirvana and many in between in his ambitious scheme, Sollima, his loose Mick Jagger lips giving voice to Edvard Munch-like soundless screams and howls, led eight world-class cellists and the Festival Orchestra on a classical music rock 'n roll experience that inspired a brilliant poem by a young musicologist from Ljubljana (click here) and a pilgrimage by an incomparable young beauty. The encore, which Sollima played four hands one cello with his partner Monika Leskovar, was a circus trick as high art.
The pilgrim was a young Belgian student (history, not music), a Sollima fan through his YouTube shenanigans, who had hitch-hiked her way from Brussels for this one concert. Her shining eyes and rapturous applause underlined the appeal of Sollima's art to the young, as well as to the young at heart and classical music adventures of the open road.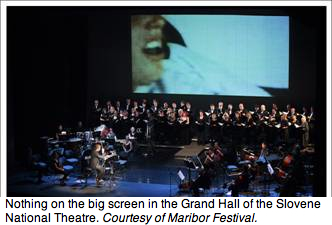 The ultimate expression of Tognetti's efforts to break classical music free from its traditional bounds was an exercise in abstract concert planning and rich in dames, called Nothing. In the Grand Hall of the Slovene National Theatre, where the country's great actors play, a multimedia barrage of video and music assaulted and inflamed a nearly three-hour long concert with music ranging from Handel and Beethoven to Cage, Feldman, Scelsi and Tognetti.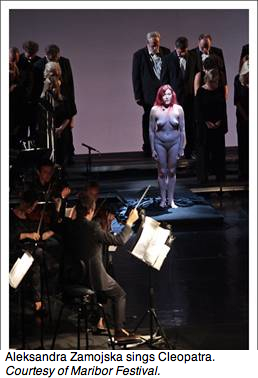 There were grumblings in the audience about the length and impenetrability of the evening's entertainment, not to mention Jon Frank's melange of grim and absurd realities projected onto the screen -- "sublime bullshit" was opined in impeccable French by an especially grand grande dame -- but any concert that features a naked soprano and Barry Humphries of Dame Edna fame can't be all bad.
The naked soprano was Aleksandra Zamojska singing Handel's great aria from Giulio Cesare, "Piangero la sorte mia," topless in her underwear. Resisting the efforts by female members of the chorus to cover her nudity, Zamojska wielded a voice of velvety beauty and impeccable intonation that would have been sensationally sufficient had she been fully clothed. The exhibitionist coup de theatre, with lights transforming Zamojska's body into a anti-puerilistic cubist fantasy, gave it that little extra oomph that festival goers, eager to tell the folks back home what they missed, always appreciate. Not to be outdone, Marino Formenti -- who has performed nude himself -- ventured his first performance ever of John Cage's iconic 4:33 and made it a thing of casual, exquisite beauty.
On an evening that was "curioser and curioser" from the get go, it was fitting that Humphries, in a voice rich with the music of poetry, bookended the concert with two excerpts from Walton's Facade. His recitation of Dame Edith Sitwell's poetry about eternally beautiful Ganymede singing and drinking, and cowbells "drowned in waiters dreams," made the evening's sublime bullshit perfectly complete. It was an Alice in Wonderland complement to Tognetti's Nothing theme. Whether it was totally out of control, or planned that, no one will ever know.
Calling all HuffPost superfans!
Sign up for membership to become a founding member and help shape HuffPost's next chapter