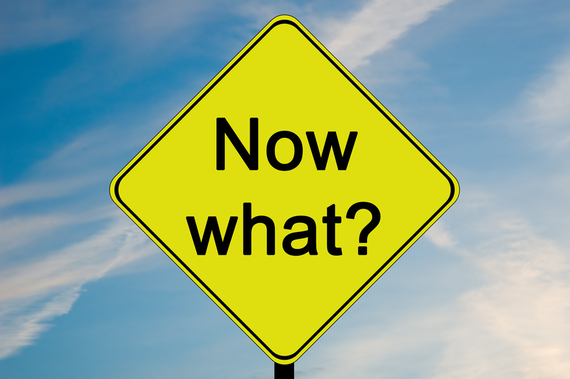 Photo credit: John Eisenschenk via Flickr Creative Commons
This week my Facebook page has been flooded by posts from friends memorializing the departure of the Obamas from the White House, taking stock of his legacy (for better and for worse) and commenting on the incoming administration.
The clash of images and ideologies could not be more pronounced.
On the one hand, the nation's first African American President, surrounded by a diverse administration, working hard to make a dignified departure. On the other, an incoming President who is vulgar, unrepentant in his bigoted views and shamelessly dishonest.
Americans are increasingly showing deep concerns over the president-elect's temperament and the direction his presidency will lead the country.
As a woman who is black and Latina, I am reeling at how the country whiplashed so quickly from the hope of equality to the fear of exclusion. Just as the election of Barack Obama brought opportunities for communities of color to thrive, the election of Donald Trump brings the panic that we will be cut off from basic resources and jobs and targeted as "others."
And an invisible but notable wall that was already slow in coming down is building back up between the races.
I remember heading to the gym the day after the elections, feeling shock, numbness and anxiety over the fate that awaits Muslims, immigrants and people of color under the new Administration. As I waited for the elevator, three other people joined me. Two were African American women, one was an older white man. The two women turned to me and gently asked how I was doing. As we exchanged words registering our shock over how radically the world had changed over the course of just one Presidential election, the man stayed silent. He and I got off on the same floor, and I braced myself for some sign of hostility, some negative reaction to me and to our comments. He followed me to the weight room and as we got to the door, he quickly stepped in front of me - and opened it.
I was both grateful and relieved.
But also startled by the realization that just as our nation changed, I too had changed with it.
Since the elections, people of color have talked about this new way of being. The increasing weariness that comes from engaging with unknown white folks in public settings. Wondering if the person sitting next to you on a plane or the train is "one of those" who voted for Trump because they support his racist views. The anxiety of venturing to a new neighborhood or restaurant or other public setting for fear that you will be treated in a hostile way. The fear that immigrant and Muslim parents have that their children will be the subject of bullying or racial incidents at school.
These feelings are not unfounded. Since the election, incidents of hate and bias have been on the rise. According to the Southern Poverty Law Center, there was an uptick in the total number of hateful incidents in the week following the elections, with anti-immigrant incidents being the most common (206), and anti-black incidents coming in second (151 incidents).
An estimated 40% of these occurrences were reported to have taken place in educational institutions. The stories are heartbreaking - kids in Wisconsin being told that they would need to go back to Mexico now that Trump was President. White students in Michigan harassing students in the hallways on the day after the elections - with the teacher reporting that: "[o]ne student went around asking, 'Are you legal?' to each student he passed. Another student told his black classmate to 'Go back to Haiti because this is our country now.'"
Even in my hometown of New Haven, known as a progressive, racially diverse and pro-immigrant city - hate has come to visit. Swastikas were spray painted in the sports facilities of a public high school during the same week that chants of "Build that Wall" were heard at another high school cafeteria.
Recently, my brother wrote on his Facebook page about an encounter he recently had at a dog park in Glastonbury, Con., where he was told that "we best bring back the no negroes allowed signs."
What is happening to our country?
Why is there so much hatred in the hearts and minds of so many white folks? How did we come to this? And how do we move past this?
No doubt, things will get worse before they get better.
We should expect that after the inauguration, the new administration will promptly begin its well-publicized efforts to normalize hate by way of creating a Muslim registry, deporting millions of immigrants and ramping up a police state in communities of color, just to name a few.
Eighteenth-century Irish philosopher Edmund Burke said, "The only thing necessary for the triumph of evil is for good men to do nothing."
In this new world, it will take all of us who believe in an America that strives to live up to the ideals of equality and justice to stand up against hate and to fight to protect the most vulnerable in our communities. It will require all of us to step up and become active. And it will require white folks to push past their comfort zones to engage in courageous conversations - and be in community -- with those they are unfamiliar with, including Muslims, immigrants and people of color.
Already we are seeing signs of this. In New York City, thousands of people have signed up to join the Accompany My Neighbor Initiative aimed at recruiting volunteers to accompany people of color and Muslims afraid of walking alone for fear of harassment.
Many white Americans have also started wearing safety pins on their clothing to show solidarity and support for people of color (an initiative started in the aftermath of Brexit in the United Kingdom). And in a growing number of places nationwide, signs are going up in homes, churches and other institutions, with a simple message written in English, Spanish and Arabic: "No matter where you are from, we're glad you're our neighbor."
This is not enough to tear down that growing wall between the races, but it's a start. Let us all commit - in acts big and small, public and private - to doing everything we can to sustain the mosaic that has taken decades to create and to protect our increasingly fragile democracy.
Kica Matos is the director of Immigrant Rights and Racial Justice for the Center for Community Change.
Calling all HuffPost superfans!
Sign up for membership to become a founding member and help shape HuffPost's next chapter