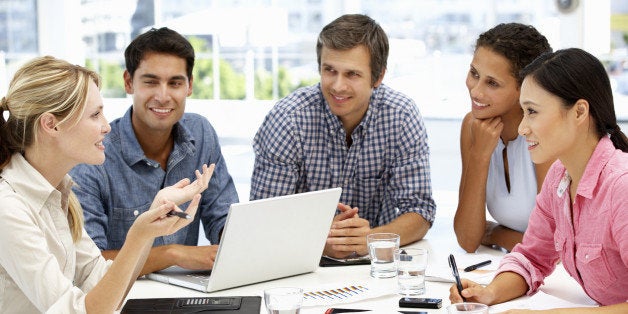 The national skills gap conversation is changing. While working in the midst of supply and demand day in and day out, our organization as well as many of our partner organizations believe that there is significant change creeping in...with an awareness of the changing education to employment system pushing for behavior change. Behavior change from federal government, higher education, K-12 education to workforce and finally, to hiring. There seems to be acknowledgement and consensus around "out with the old, in with the new" as the only way to really close the so-called skills gap in the U.S. A nation no longer pointing fingers or looking the other way; a nation no longer on repeat.
The Harvard Business School just released their 2013-2014 survey on competitiveness. The findings are strong and have a focus on the role that business can provide. Key is the impact that business makes with their investments and strategies as findings include "... business is mostly involved in fragmented, subscale efforts that alleviate weaknesses in the education system without strengthening the system for the long run" and "...tendencies in firms to hire in ways that discourage skills investments; poor information flows along the "supply chain" for talent; and inadequate collaboration among companies, educational institutions, and government."
America is changing. More jobs are requiring middle skills and two-year degrees than before. Skills vs degree is becoming a key discussion point as a study last April revealed students graduate from college with heavy debts, and many aren't reaping the benefits of that education -- a poll shows recent grads often find jobs that don't require a college degree. More than 40 percent are unemployed, and 16 percent are in part-time positions.
We are an innovative country with young people choosing their own pathways that make sense to them as the cost of the four-year degree is on the rise with less proof of return on investment. In addition, fewer young people have "four years of time and four years of money" at the same time. Young people are choosing pathways such as coding in eight weeks in a New York boot camp that gets them a job with a big bank in the City. Companies like Google are changing their hiring to focus on cognitive skills. In an interview with the Times, Lazlo Bock, the Senior VP of People Operation for Google stated, "G.P.A.'s are worthless as a criteria for hiring, and test scores are worthless. ...We found that they don't predict anything." For every job...the No. 1 thing we look for is general cognitive ability, and it's not I.Q. It's learning ability. It's the ability to process on the fly. It's the ability to pull together disparate bits of information. We assess that using structured behavioral interviews that we validate to make sure they're predictive." Bock goes on to say that a degrees and good test scores aren't negative, they just don't predict anything.
In our own research, funded by the W. K. Kellogg Foundation New Options Project we have shown that the highest predictability of job success is a composite of cognitive skills, as much as 5X more predictive than education or academic achievement and 2.5X more than experience. The most predictive other than cognitive skills is a job tryout, which is similar to an apprenticeship or internship (John E. Hunter and Rhonda F. Hunter, "Validity and Utility of Alternative Predictors of Job Performance").
The Harvard Survey on Competitiveness also raises the issue of the so-called "skills gap" in the American labor market. As Innovate+Educate continues to work with companies across the U.S. we hear that the workforce doesn't have the appropriate skills necessary for the jobs, costing large companies millions of dollars annually in additional training costs. The small businesses don't have the resources for the training and therefore have high turnover in hiring. As we work with hundreds of companies, we validate what Harvard iterated in the report...that the skills businesses need are very specific to region and industry. There is not one big U.S. labor market but thousands of regional labor markets seeking solutions to align education and training to workforce needs of businesses.
This scenario that we face as a nation requires behavior change in a big way. Businesses must change the way they hire, look at specific skills requirements for the jobs and open jobs based on skills. Education partners must not be so focused on the degree but getting their students a job at the end of the degree/credential. And government funded workforce entities must be held accountable for the training they provide to assure that it does indeed skill up the jobseeker and not continue to place them in the endless cycle of unemployed. This requires a nation in which supply meets demand and demand meets supply. A nation no longer on repeat.
This post is part of a series produced by The Huffington Post and The Close It Summit, in conjunction with the Close It Summit (October 26-28, 2014, in Washington, D.C.). The series will address issues critical to building new pathways from education to employment for young adults, veterans, transitioning workers, low-skilled workers and recent graduates. To learn more about the summit, read here.
REAL LIFE. REAL NEWS. REAL VOICES.
Help us tell more of the stories that matter from voices that too often remain unheard.