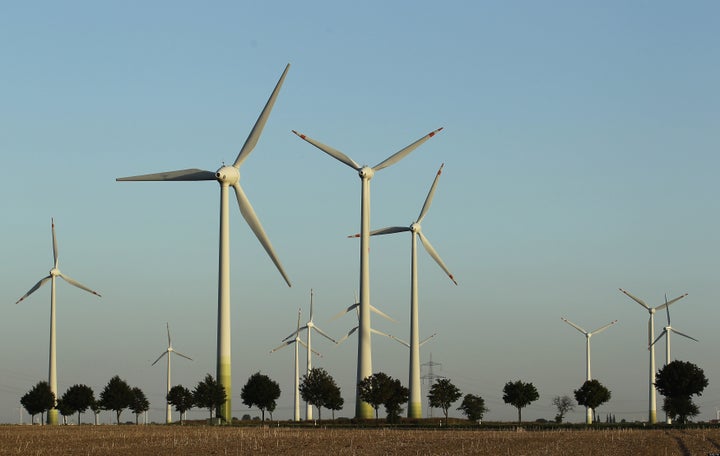 With the arrival of Chinese President Hu this week in Washington, there can be no better time for the U.S. to make clear its unqualified commitment to winning the global race for clean energy jobs.
This is not just an international issue; it's an urgent domestic one. While the employment situation shows some glimmer of hope, there are still more than 14 million people unemployed and many more so discouraged they've left the job market. And the progress we have made on clean energy is at risk. Evergreen Solar, a Massachusetts company, recently announced it would lay off 800 workers and move production to China.
The U.S. needs a comprehensive strategy for creating jobs, and a long-term, dedicated investment in clean energy is one of the quickest and most effective ways to get millions of Americans back to work and to position the United States as a global leader in the production of clean energy technologies.
But if we are going to win this race, we have to get moving. Pew Charitable Trusts reported that in 2009, China won the race for overall finance and investment in clean energy at $34.6 billion, nearly twice that of the U.S. with $18.6 billion. In fact, U.S. investment fell by 40 percent from the previous year.
Unfortunately, the lack of a long-term market structure in the U.S. has resulted in uncertainty for producers of renewable energy. Evergreen Solar is just one example. The American Wind Energy Association reported that third quarter of 2010 was the slowest for the U.S. wind industry since 2007. The trade association expects, after all the calculations are made, that "China installed approximately three times as much wind-powered electricity as the U.S. in 2010, and Europe twice as much, as U.S. installations fell to just over half of 2009."
In order to compete with China for those clean energy jobs, we need a level playing field globally. Just before the New Year, the U.S. Trade Representative requested consultations with China under the World Trade Organization's dispute settlement provisions regarding some of China's clean energy policies. While many of their policies are laudable, such as a national Renewable Electricity Standard, we must ensure that they, and everyone, plays fairly. Domestically, we need to immediately put the necessary market structures and investment tools in place to ensure that clean energy companies are investing in U.S. clean technology production, not investing in building those same technologies elsewhere.
In December, the U.S. did move forward with the extension of the Treasury Department's 1603 production tax credit, extending it for another year. But this action is not even close to the scale necessary to launch the U.S. into the lead in the global clean energy economy, or to create the number of clean energy jobs that are there for the taking.
Accomplishing the kind of job gains that clean energy presents requires key measures by Congress to protect the gains we have already made and to jump start new ones. Although putting a price on global warming pollution may not be feasible in the 112th Congress, we should enact a federal Renewable Electricity Standard that will drive demand for U.S.-made clean energy products and send a clear market signal to the rest of the world that the U.S. is open for clean energy business. Enacting the IMPACT Act would provide loans to small and medium-sized manufacturers so that they can retool for clean energy products. Energy efficiency incentives through programs like Home Star and Building Star will jump start the weatherization and retrofit of homes and commercial buildings in the United States -- and create construction jobs. And investment in our national infrastructure, from high-speed rail to roads and bridges, to smart grid and broadband internet access, will create jobs, reduce emissions and put America on track to lead the world in clean energy infrastructure.
Californians understand the benefits of committing to a clean energy economy. With the nation's first referendum on clean energy policies, in 2010, voters overwhelmingly rejected an effort to repeal that state's Global Warming Solutions' Act. According to the "No on 23" campaign, from 2005-2009, California's clean technology sector saw a $9 billion cumulative venture capital investment, and the state now boasts 12,000 clean tech companies and more than 500,000 people working in clean technology or green jobs.
Without action soon, the U.S. risks losing out to other countries -- like China -- in the race for clean energy jobs.
For years, the U.S. pursued a trade policy that resulted in the loss of millions of jobs and decimated the manufacturing base in this country. Now, we have an opportunity to rebuild that base and create good jobs in all sectors of the American economy.
We need action now. We can't settle for second place.
David Foster is the Executive Director of the BlueGreen Alliance.
Calling all HuffPost superfans!
Sign up for membership to become a founding member and help shape HuffPost's next chapter