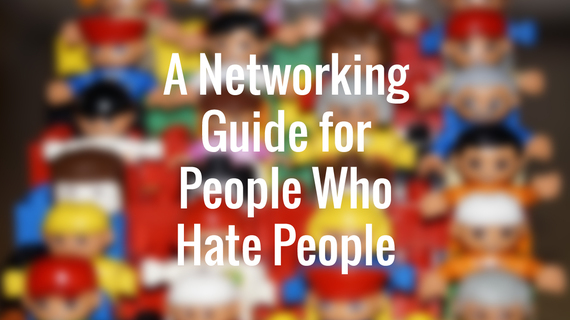 Effective networking is a skill that every professional should attempt to improve on. Talking with strangers and making quick connections may come easily to some people but prove to be quite difficult for others.
Unfortunately, I fall into that 'other' category...
I will be the first to admit that I have a hard time talking to people when I first meet them. No, I don't necessarily hate people, it's just that I would rather sit back and observe the scene first. Although this type of behavior might be acceptable at social gatherings, business functions are not the place to be a wallflower.
I found this article by Dorie Clark during my MBA course research and it resonated with my inner introvert. She listed four suggestions when it comes to networking for introverts, but I'd like to add a few more.
Don't automatically say No.
Email: "Hello Jamison, you're invited to XYZ event!"

Me: "Hmm, I bet there's going to be a lot of people at this event.."

*Clicks delete*
Nine times out of 10, introverts have one of two reactions when they arrive to a function. They either think "This may not be so bad," or "I would like to die, please." Realizing that there are more people there than we thought usually tends to push most of us into the second thought bubble. Personally, this is why I used to never show up to half of the events I got invited to.
I don't want to take the chance!
In the professional realm, however, this is not an option. Networking plays an essential role in the world of getting ahead. The saying "It's not what you know, but who you know" wasn't created out of thin air, after all.
As a result, I constantly have to remind myself that "This will be good for my career" as I click "Plans to attend."
Plan to be uncomfortable.
I'm not quite referring to the "cushioned" chairs that you may or may not be confined to for the next few hours. You have to get over yourself for a minute and just accept the fact that you'll be uncomfortable in a personal way. Many of the best experiences and life changes occur after you step outside of your comfort zone. As an introvert, networking makes me want to pass out. So, while I'm calmly explaining my future endeavors and career goals, just know that I am quietly dying on the inside.
Prepare for the worst.
I tend to take organization to a higher level whenever I do actually plan to attend a networking event. If I'm going to go, I have to be completely sure that I am prepared for everything. I recently purchased a really nice briefcase for professional events. Honestly, I feel as if it is more of a post-apocalyptic disaster preparedness kit. It holds business cards, resumes, pens, highlighters, BUSINESS CARDS, and my trusty Kindle e-reader.
I'm prepared for long conversations and the inevitable exchange of information that typically follows. I'm prepared to hand out a resume or two to the select few people who are actually
looking
for people with my skill set. I'm also prepared to escape to a corner and read a few pages on my Kindle. Sometimes I have to do that during the breaks to decompress from all the
people time
I've just had.
Take time to recover.
Relax.
That's it. After everything is over, and you're flying home or at home already - relax.
For me, significant amounts of time interacting with a lot of people is draining. When I finish participating in big events, I have to be diligent and take the necessary time to recharge.
Find out what works best for you. Do something like cooking, taking a trip, exercising, or even sitting in a small corner underneath a blanket with a flashlight and your Kindle.
Luckily, I've gotten this whole introverted aversion to networking situation under control. I'm a voracious reader so I'm always finding material to help me feel comfortable.
Practice makes perfect, though. Catch me at a conference or networking event near you! I'll be the guy hiding out by the snack bar...
Sorry, I'll be the guy putting his best foot forward and making connections!
This article originally appeared on JamisonVann.com, a site that details Jamison's thoughts and tips from his professional life. Check out his site and connect with him on Twitter!
Related
Popular in the Community