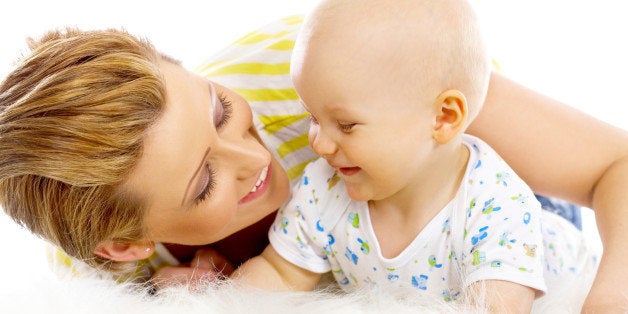 When I had my first baby, there was a lot of joy, but a lot of worry too. Was she gaining enough weight? (She was.) Will I ever get the hang of breast-feeding? (I did.) Will anyone ever get any sleep ever again? (Eventually, yes.) But among the constant changes, feedings, and cleaning spit-up out of my hair, there was one thing I never had to worry about: the opportunity to make sure both my baby and I were healthy. Our health insurance made sure all her early pediatrician visits and my postnatal visits were covered so I could focus on learning how to be the best mom I could to this new person in my life.
Not every family is so fortunate, however. Of the 4 million babies born in America every year, hundreds of thousands face the uncertainty of someone in the household being uninsured. There's nothing more important than ensuring the health of your new baby, yourself, and everyone in your household during the first few critical weeks and months of life. The good news is that for families who have lacked health insurance in the past, having a baby can mean a new opportunity to find quality, affordable health care.
Under the Affordable Care Act, having or adopting a baby can now qualify you for a special enrollment period in the Health Insurance Marketplace, where you can compare plans side by side to find the one that best meets the needs of your growing family. According to a new analysis by Enroll America, approximately 471,000 people who don't have insurance will experience this life change during the special enrollment timeframe, providing a valuable opportunity for many families to get coverage. This special enrollment period applies to all members of the household, so not only can you and your new baby get the best of care, but you can make sure other family members are covered too, preventing illness from spreading to your little one. Best of all, financial help is available to help pay for the cost of insurance--and with all the new expenses you'll be adding for your bundle of joy, those cost savings can be a huge relief.
You only have 60 days after the birth or adoption of the child to enroll in health coverage. And knowing you're going to have your hands full in those first 60 days, there are steps you can take now to help prepare you and your family for this opportunity:
Research your options and see how much you can save.

On the Health Insurance Marketplace, you can see what plans are available in your area, make sure they cover the doctors and health care you need, and see how much financial help you qualify for. Visit www.GetCoveredAmerica.org to get started.
Begin your application.

Once connected to the marketplace, you can go ahead and start your application -- one less thing to worry about while you are rocking, shushing, or feeding.
Designate a point person to help.

Ask your spouse, partner or other close family member to help complete the enrollment. You can also make an appointment with an enrollment expert who will provide free in-person help before and after the baby arrives; check out our Locator tool to find someone near you.
Remember you only have 60 days to enroll.

All plans offered in the Health Insurance Marketplace are required to cover essential services for you and your new baby like immunizations and breast-feeding support, so don't delay.
No family -- especially one that is welcoming a new member -- should have to worry about being able to see a doctor and get the health care they need. Now thanks to these new coverage options, you can have the security and relief that comes with health insurance and go to sleep with peace of mind... for a few hours, at least.
Related
Popular in the Community