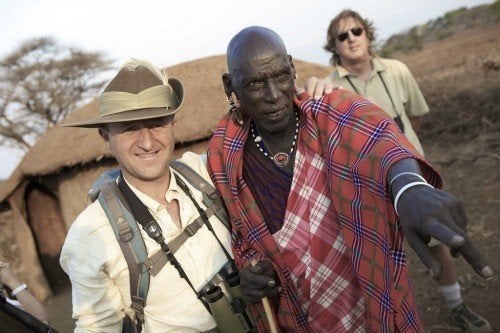 While many journalists, philosophers, scientists and lay people debated the significance of the Mayan calendar finishing last December 21, one fact that was consistently overlooked was that the Mayans celebrated the end of their calendar as it was regarded as a new beginning.
For example, the last time the Mayan calendar started over, a little more than 5,100 years ago, it coincided with the creation of the written word as well as the development of the first cities and nations. Ideas flourished and, along with them, debate became more commonplace as well.
If we extend the idea of a new cycle to the present day, are we perhaps all witnesses to a new sequence of events that will usher some great advancement to the world? Perhaps, those advancements will include a greater awareness and respect toward all cultures, religions, children, oceans and seas, natural wonders and wildlife.
Conceivably, these notions could be championed today with new paradigm for travel. As Maya Angelou once wrote "Perhaps travel cannot prevent bigotry, but by demonstrating that all peoples cry, laugh, eat, worry and die, it can introduce the idea that if we try and understand each other, we may even become friends."
Maybe part of our new beginning will be the rise of a new shade of green travel.
Somewhere along the way -- possibly between high-rise green hotels on one end and wilderness camping sites with no facilities on the other -- the concept of green travel became associated with skepticism. A lack of definition and transparency about the criteria for green travel did not help either and resulted in consumer guilt, confusion and, in some cases, a lack of authenticity.
But genuine green travel that incorporates the values of S.E.E. (namely social empowerment, economic viability and environmental responsibility) helps travelers have more meaningful journeys and enables communities to achieve on their own where charities and international loans do not.
Imagine a shade of travel where:
Social empowerment simply protects against the homogenization of tourism. People, landmarks, ecosystems and wildlife are not the same all over the world, so why should vacation experiences be the same? Legitimate green travel incorporates decision-making by the entire community without the marginalization of certain groups for the sake of time, money and ease. When a cohesive community embarks to offer tourism services, the result is a unique travel experience that envelopes the visitor with opportunities for authentic cultural immersion as well as enlightening history, vistas, architecture, and art.
Economic viability signifies collective pride of ownership as well as a tool for alleviating poverty. It is no secret that for many developing countries, tourism represents the biggest source of revenue. As countries compete for their share in the trillion-dollar tourism market, local ownership and management of tourism businesses as well as a system that links natural resource capital with financial capital becomes more important. The result for the visitor is more opportunities for valuing communities including staying in remarkable lodges, trying locally-sourced delicacies, purchasing unique artwork, sharing in music and dance performances and participating in guided educational activities.
Environmental responsibility helps to preserve ecosystems for generations. Green travel that supports the creation of a citizenship that feels rooted to the region so they proudly participate in thousands of small education, restoration, productive diversification and conservation tasks is the goal. The resulting experiences for visitors is observing practical uses of innovative technologies, the destructive role of invasive or exotic plant species in protected habitats and a greater understanding of the tie between land and cultural values.
Fun travel destinations that enable you to S.E.E. are increasing.
The intent is not to bring up any feeling of frustration or guilt for traveling. Rather, it's choosing to travel with purpose, mindfulness and dignity when making your well-deserved vacation plans. For example, two fun travel destination examples that enable you to S.E.E. are:
Peruvian Amazon Rainforest Family Program - This trip focuses on education and relaxation. In this case, the local Native Community of the Infierno, which manages their own eco-lodge, partnered with an educational NGO to set up two trails based on the story of a six-year-old girl, Ania, who lives in the rainforest. Kids are encouraged to be part of the story by solving riddles, seeking out birds and wildlife, meeting Don Manuel from the neighboring Community of Condenado and participating in interpretive walks where they learn how to value their relationship with the Earth. Parents can join in the fun as well or choose to do other conservation-based activities such as kayaking and hiking.
Kenyan Maasai Conservation Safari - This trip involves a stay in the only lodge located in a pristine area within the Amboseli-Tsavo ecosystem. Built, owned and managed as a community project with the local Maasai on their Group Ranch of 400-square-miles, families that are in search of a unique safari experience that incorporates authentic cultural encounters with the Maasai (i.e. visits to their homes, schools and medical clinics) as well as a new respect for the "Big 5" as you are led by your personal Maasai scout, will appreciate the emphasis on S.E.E.
This new shade of green travelers can establish deeper, longer-lasting connections with the regions they are visiting, thereby not only learning more about themselves but about how they can S.E.E. and make a more positive impact on the world.
So, what would you S.E.E. first?
Photos by Campi ya Kanzi and Jeff Cremer
Related