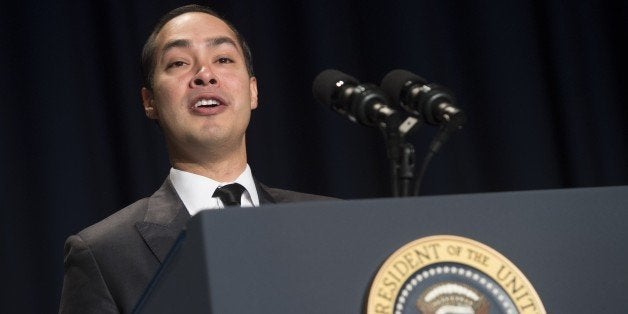 Even as South Carolinians were celebrating the removal of the Confederate flag from their capitol's grounds, a more far-reaching struggle over race relations was heating up in Washington, D.C. While this one appears less contentious on the surface, it has proven much harder to win.
The U.S. Department of Housing and Urban Development (HUD) opened a new front in its long-running battle with local governments about discrimination in housing in the same week as the flag's removal.
HUD issued a new rule explaining the detailed steps local governments must take to ensure equal access to housing for people of all races and ethnicities as a condition of receiving federal grants for housing and community development.
The rule represents an important step to enforce the Fair Housing Act of 1968. But while some news outlets treated the new rule like a breakthrough, it's only a new chapter in a struggle that isn't going to end anytime soon. That's because, while taking down a flag can happen quickly once public opinion demands it, ending discrimination in housing has proven to be remarkably difficult.
The main goal of the Fair Housing Act was to stop individual instances of housing discrimination. But it also contained language that empowered HUD to use its grant programs to "affirmatively further" fair housing. HUD uses the billions of dollars in government grants it disburses as leverage to get local governments to work at reducing concentrations of people by poverty and race. The key way to do this is to remove regulatory obstacles to creation of affordable housing.
The new rule creates a detailed methodology for how localities should further fair housing. There's only one problem: Governments leaders in many suburban communities and exurban towns know that most of their constituents want nothing to do with such efforts.
These officials know they will be voted out of office or even recalled from office if they show any interest in helping facilitate development of affordable housing within their borders.
The Fair Housing Act was passed 47 years ago, and for most of that time, HUD has faced a daunting struggle to make sure that housing in safe, healthy communities with good schools is available to all Americans.
In the 1960s, when the Fair Housing Act was being debated and was finally passed, discrimination in housing was an everyday occurrence. It often took a virulent form, with whites attacking African Americans who dared to move into to white areas of northern cities.
Meanwhile, the suburbs were being developed as almost exclusively white communities where African Americans were not allowed to live.
While there is less blatant racial discrimination in housing now than there was 47 years ago, we still have a very long way to go before we can say we achieved the "open communities" that Martin Luther King Jr. and the authors of the Fair Housing Act sought.
As I document in my book, Masters of Inequality, elected officials and citizen activists have perfected a system that perpetuates discrimination in housing without leaving what I'll call "racist fingerprints." They don't talk about race, let alone fly a flag from a racist government.
Thanks to a complicated system of land use regulation, zoning restrictions, and complex building codes, most new housing is simply too expensive for any more than a small number of African American households to afford.
The real test of wills over housing opportunity comes when a housing developer proposes to use government subsidies to build housing for the poor in an affluent community. Suddenly, opponents mobilize to raise every possible objection to the construction. They generally don't mention race, but the impact of such exclusionary policies and politics is still discriminatory, no matter how loudly they deny it.
Attempts by HUD or the courts to use the Fair Housing Act to compel localities to accept new housing are met with furious legal and political opposition. Westchester County, N.Y., home of Hillary Clinton, is only the latest example of such tenacious opposition. New Jersey Gov. Chris Christie has campaigned against enforcement of fair housing principles in his state.
HUD hopes its new rule will help localities reduce barriers to affordable housing construction. It's good timing to try again. In August, we will reach the 50th anniversary of the start of a three year period of intense riots in our northern cities, violence that many experts believe was the direct result of intense housing discrimination and the economic exploitation that went with it.
The stakes are high after nearly 50 years of half-hearted effort to achieve the full vision of what the Fair Housing Act could achieve.
The more that affluent areas succeed in excluding lower-income folks and forcing them to remain in places of concentrated poverty, the more the gaps between groups will widen, with all the fear, distrust, and anger that brings. Integration of housing by race and income cannot ensure racial harmony, but housing segregation is guaranteed to make misunderstanding, mistrust, anger, and hostility much worse.
Martin Luther King, Jr., expressed it best. Speaking at Cornell College in Mt. Vernon, Iowa, in 1962, he said: "I am convinced that men hate each other because they fear each other. They fear each other because they don't know each other, and they don't know each other because they don't communicate with each other, and they don't communicate with each other because they are separated from each other."
Depending on who wins the 2016 elections, the new occupants of the White House and Congress could easily let the new HUD regulation gather dust. Even with a powerful fair housing advocate in Washington, many local elected officials will fight HUD rather than cooperate with it.
It's easy to condemn die-hard supporters of the Confederate flag's display, but for fair housing to become a reality, people who believe in equal access to housing in good communities must stand up and say so. And it can't be just theoretical. The true test is the willingness of Americans to accept affordable housing in our own neighborhoods.
Andre Shashaty is president of the Partnership for Sustainable Communities (PSC), a national nonprofit group based in the San Rafael, CA, and an award-winning writer, editor and publisher with 35 years of in-depth journalistic work on the subjects. He is author of Masters of Inequality: 50 years after our cities burned, why
American society is still so divided, and what we must do now to avoid chronic conflict. For information on the book, go to www.p4sc.org/MOI
Popular in the Community