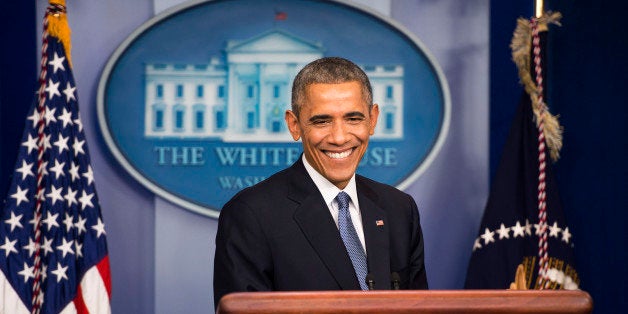 In 1975, a report released by a special Senate Committee found "concrete evidence of at least eight plots involving the CIA (Central Intelligence Agency) to assassinate Fidel Castro." The report detailed the various plans hatched during the 1960s to assassinate the Communist leader using poison pills and cigars, a ball-point pen outfitted with a deadly hypodermic needle, an exotic seashell rigged to explode, and a contaminated diving suit.
Of course, these efforts -- just like the disastrous Bay of Pigs invasion -- failed to remove the Cuban leader from power and led to President Ford's 1976 ban on political assassinations.
Earlier this month, President Obama took steps to end another failed U.S. policy -- the trade and travel embargoes against Cuba that have been in place since the early 1960s. As the president noted, this sanctions policy "has had little effect beyond providing the Cuban government with a rationale for restrictions on its people."
By isolating Cuba, America hoped to undermine the Castro regime and promote democratic reform. But after more than 50 years and 10 U.S. presidents, it is clear that this policy hasn't worked.
Today, Cuba is still a one-party state ruled by the Castros and the Communist Party. Cuba's 11 million citizens lack basic rights such as freedom of expression and association. The Castro regime suppresses all forms of dissent and has a record of human rights abuses including arbitrary arrest and detention, harassment and intimidation.
It is time to reject the failed policies of the past and chart a new course that will better serve America's interests and improve the lives of Cubans and their families. And President Obama's decision to normalize relations with Cuba is the right approach.
Instead of punishing Cuban citizens by restricting trade, travel and remittances, we will help empower them. The president's new policy will support entrepreneurship, the private sector and civil society in Cuba, and expand Cubans' access to new sources of information. Supporting and engaging the Cuban people is the best way to promote American values and ideals.
Instead of alienating regional and international partners with our unilateral sanctions policy against Cuba, we will reinvigorate America's leadership role in improving the future for all Cubans. This means continued strong support for democratic reforms and universal human rights.
Instead of stifling trade and investment in Cuba, we will expand export opportunities for American businesses. These changes will give more Cubans access to U.S. goods including building materials, farm equipment and communications devices and services -- improving living standards and encouraging economic independence.
But our economy won't see the full benefits of this new policy until Congress lifts the embargo against Cuba.
I had a chance to see some of those potential benefits firsthand when I traveled to Cuba in 2002 with a delegation from California's agricultural community. What I said at the time remains true today: "Current U.S. policies of trade and travel restrictions have not worked. By opening trade and travel, we can begin to bring positive change to the Cuban people and enhance our economy at home."
That is why I will urge the Senate to take this issue up next year.
This is the beginning of a new chapter in U.S.-Cuba relations. We have finally turned the page on the past. Now let's make the most of the future for the American people and the Cuban people.
This post is part of a Huffington Post blog series called "90 Miles: Rethinking the Future of U.S.-Cuba Relations." The series puts the spotlight on the emerging relations between two long-standing Western Hemisphere foes and will feature pre-eminent thought leaders from the public and private sectors, academia, the NGO community, and prominent observers from both countries. Read all the other posts in the series here.
If you'd like to contribute your own blog on this topic, send a 500-850-word post to impactblogs@huffingtonpost.com (subject line: "90 Miles").