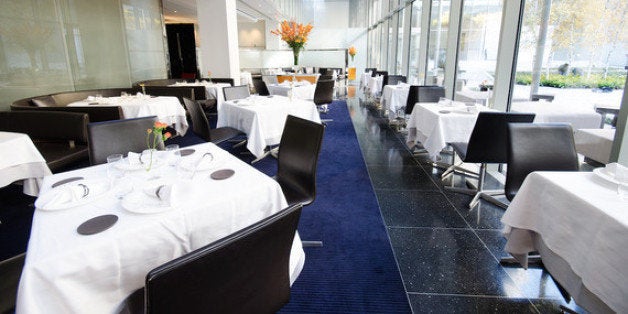 Back in 2005 when The Modern opened adjacent to the newly designed Museum of Modern Art, I named it the Best New Restaurant of the Year. Ten years ago I described The Modern as restaurateur Danny Meyer's masterpiece, with a glass-rich décor by Peter Bentel, a bar dining area packed from lunch through dinner, and a main dining room so distinctive that it will endure as a classic of New York sophistication and urbanism, overlooking, as it does, the museum's glorious sculpture garden. Now, after a visit last week, I can say that, if The Modern had opened in 2015, I might well award it the same honor today.
The restaurant has worn those ten years well. Last week both dining rooms were packed, and I, in the main section, was again amazed at the striking beauty of it all, with its huge flower displays (which must cost a small fortune), the fine linens and stemware, the leather banquettes that you slide smoothly across, and a wait staff, now under manager Simon King, formerly of The Fat Duck in England, that proves that dining at this level demands a specialized style of highly informed servers whose respect for the guest is mutual.
Lighting is soft and complementary to everyone, though it seems darker than it used to be at night, and the boom of a bass line from the bar intrudes into the room after 9 p.m. Most men wear jackets and ties, and women dress up with pleasure.
For eight years Executive Chef Gabriel Kreuther defined The Modern's style of cuisine, which epitomized the very name of the restaurant: progressive cooking based on a long history of classic excellence and rigorous adherence to consistency. As Mr. Kreuther said, "The idea of modernism opens a door to creation, but also a more sleek and streamlined presentation with a more purist side. You take things off instead of adding them in."
Mr. Kreuther left The Modern a year ago (he's opening his own place soon), and one of his former cooks, Abram Bissell, took over the kitchen in 2014, after service as chef de cuisine at The NoMad restaurant; before that he had been at Eleven Madison Park (which Danny Meyer used to own); earlier, after moving from his home state of Florida, Mr. Bissell worked at Boston's L'Éspalier and the Sierra Mar Restaurant at Post Ranch Inn in Big Sur.
The transition at The Modern has been seamless. Not only is Mr. Bissell's cuisine every bit as good as Mr. Kreuther's, but he has performed the uncanny triumph of maintaining the style of The Modern since its inception while bringing it very much into a new era. Just about every dish showed a refined taste level for which The Modern is justly known and of a kind that proves indisputably that this kind of cuisine lives and thrives.
Can one find dishes like this in Brooklyn or in the Lower East Side or Bowery storefronts cooked up in cramped, noisy, barebones kitchens with three cooks behind the stoves? Occasionally, yes. But not with The Modern's degree of consistency or elegance---the kitchen brigade is very large and the space itself huge--so when I hear the drumbeats of our current food media about how people don't want to dine in places like The Modern anymore, I would show them the sea of customers that filled both rooms the night I was there, as well as at Le Bernardin, Daniel, Gotham Bar & Grill, Gramercy Tavern and so many more.
Our meal began with a lovely foie gras and orange tart in a sweet fennel vinaigrette, the flavors subtle and wholly pleasing as a starter. Fresh roasted foie gras was superb, linked with bitter red endive and sweet-tangy quince, while a potage of scallops and langoustine with leeks and frisée lettuce might be a signature dish at any three-star restaurant in Paris charging thrice the price. As an appetizer, a good portion of lobster was marinated with truffles (though they were barely evident), radishes and herbs.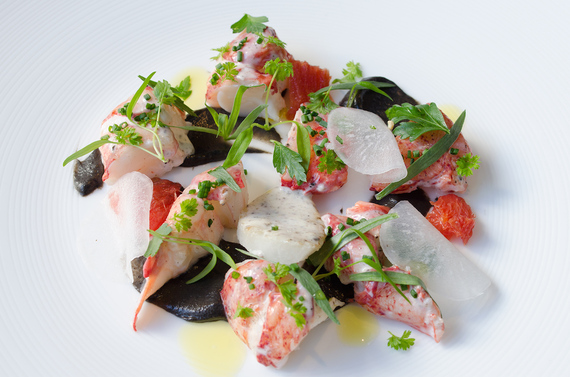 The winemaker from Washington state with whom I was dining insisted on ordering salmon (I thought he'd prefer to try another species in New York) and was rewarded with a silky slice of nonpareil wild salmon with a classic sorrel sauce, creamy potatoes and lettuce. Mr. Bissell learned well his lessons from Mr. Kreuther about roasting suckling pig, for it was perfect, its spices enhancing the flesh and crisp skin, with dried plums and onions sweetening the dish to wonderful, succulent effect. Another classic, duck en chartreuse, with apples and green peppercorns, showed the precision with which this kitchen works in spicing, forming, and slowly cooking a dish suffused with flavor.
I suppose a chicken dish is inevitable anywhere, but Mr. Bissell has borrowed from a signature item at The NoMad, stuffing pistachios and foie gras under the skin, so that when it is sliced, you get this steamy, swoon-worthy aroma and crisp skin, along with acorn squash and chanterelles.
As you walk into the dining room you may notice a splendid cheese cart, but you'll have to ask for it because they don't wheel it through for each table to see. If you do order some selections, you will be thoroughly informed of the cart's offerings, though, as is the bafflingly case in American restaurants, the cart is wheeled away and the cheeses plated somewhere out of sight, rather than, as in Europe, plated in front of you, which saves time and increases the gustatory anticipation.
Pastry chef Jiho Kim, Korean-born, is wholly in step with The Modern's commitment to elegant presentations, as evident in his green apple panna cotta on almond layer cake with lemon verbena ice cream, and in his rich and sensuous gianduja crèmeux with wafer streusel and Nutella ice cream.
The Modern's wine list has always been distinguished among the finest in the world, and Master Sommelier Michaël Engelmann has made sure there is nothing on that list that does not have good cause to be there.
The fear of becoming jaded after forty years of writing about restaurants might well occur, were I based in any other city but New York. Even in Paris there is little but French cuisine, however fine it may be. In Hong Kong, too many Chinese restaurants can dull the palate. In Rome, a thousand wonderful pasta dishes can make one long for something else. In NYC, however, that is simply not possible, and restaurants like The Modern, refreshed and infused with eager, young talents like Mr. Bissell and maintained with a very specific and very genteel NYC character by Mr. Meyer only mean that I could never ever lose my appetite for dining out in a city that has always been the stewpot of culinary culture.
THE MODERN
9 West 53rd Street
212-333-1220
themodernnyc.com

The Modern is open at the Bar for lunch and dinner daily, with the main dining room open for lunch Mon.-Fri. and dinner Mon.-Sat. Fixed price dinner menu $98 for three courses, $108 for four, $128 for seven.
Popular in the Community