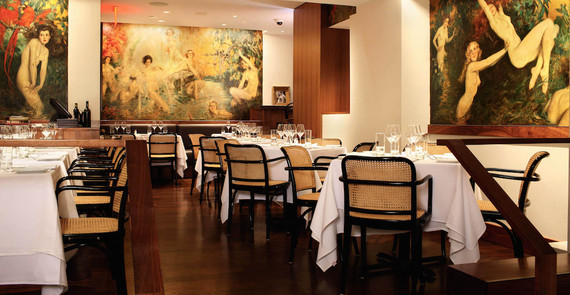 The rich cultural and gastronomic history of the dining room space within the Gothic-Tudor-style Hôtel des Artistes (actually a residence), began when it was first an artists' studio, then continued as the Café des Artistes, on whose walls Howard Chandler Christy painted his 1930s murals of 36 naked young women romping in woods that look a lot like Central Park.
Risqué in their time, they look every bit as risqué in ours, and while their continuing precence in the dining space has never been secure, they are still there. The happily naked girls--who look like New York debutantes, or models for the artist's more demure "Christy Girl" magazine covers--swing on vines, dance rapturously, and shower under a waterfall, all managing to look both shyly innocent and tantalizingly seductive at the same time, as if we onlookers are Peeping Toms. The murals are as inseparable from the city's popular culture as the New York Public Library lions or Maxfield Parrish's "Old King Cole" mural at the King Cole Bar in the St. Régis Hotel.
For decades the Café des Artistes was a favorite hang-out for artists, actors, opera stars and musicians--Lincoln Center is a block away--but, when the lease ran out six years ago, it seemed time had run out on the space as a restaurant. Fortunately, veteran restaurateurs Gianfranco and Paula Sorrentino, who also own Il Gattopardo and Mozzarella & Vino across from the MOMA, turned the space into The Leopard at des Artistes four years ago, and it has again assumed its rightful place as a classic New York dining venue. Not to dine here upon visiting NYC is like missing tea at the Palm Court at the Plaza or not having a drink at the bar at `21' Club.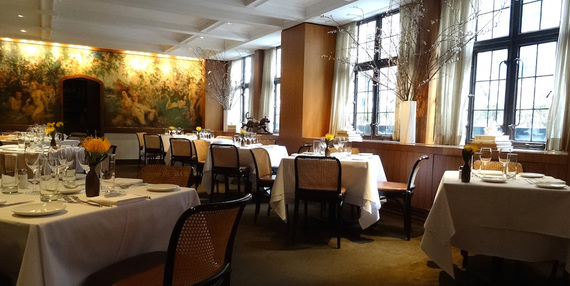 The dining room is as lovely as ever, though when I dined there last month the lights had been lowered and the murals showed less of their vivacity in the dimness. (I've been told that this is being or has been remedied since then.)
The Sorrentinos are usually at one or the other of their restaurants each day, and maître d' Alessandro Giardiello adds a European amiability to the evening's proceedings.
The wine list is excellent, especially with Italian small estate bottlings, and the wines by the glass ($12-$29) judiciously chosen. The white selections are particularly interesting with rarely seen wines like Poggio dei Gorlei Pigato "Albium" 2010 and Trebbiano D'Abruzzo "Altare" Marramiero 2010. By the way, on Sunday evenings the restaurant has a"BYOB Sunday Supper," with no corkage fees.
There is a fine new executive chef aboard, Michele Brogioni (left), with 20 years experience that includes winning a Michelin star while at Il Falconiere in Cortona, Italy, and his cooking shows more finesse than the menus here previously had. Every dish is carefully composed from the finest ingredients, and there is a delicate balance of sweet, sour, salty and bitter impeccable throughout (throw in some umami, if you like), whether it's combining housemade friselle with Swiss chard, anchovies and tomato ($14) or tortelloni (below) filled with three meats and prosciutto and dressed with a veal sauce, mascarpone and thyme ($24).
Many Italian restaurants these days offer a cutting board of charcuterie and cheeses, though they are not always top-notch examples. Brogioni chooses wisely and serves them with fruits, mustard fruits and a rustic Neapolitan spiced bread called casatiello ($25).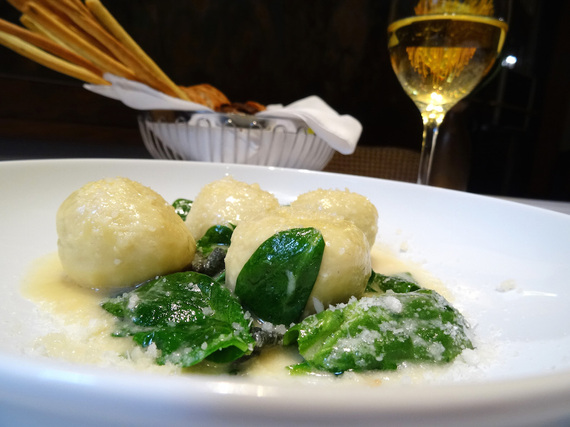 His pastas easily rank with the best in the city, not because they are novelties but because they are all based on the Italian rule of simplicity, heightened with refinement and beauty. The gnudi (above) of buffalo milk gnocchi come bathed in nothing more than butter and Parmigano atop organic spinach ($16), and they will make you swoon. The spaghetti alla chitarra comes with a rich rabbit ragôut, Taggiasca olives and wild arugula ($24), and escarole-stuffed ravioli of wondrous delicacy are dressed with pine nuts, raisins, Gaeta olives and a Genovese-style sauce ($19). There is a risotto special each night, and our table lapped up the version with woodsy funghi porcini ($24).
Again, main courses are kept simple in order to manifest the prime ingredient's own flavor, so that red snapper is quickly pan-seared then scented with fennel, capers, and a tangy lemon sauce ($37). Equally as delicious is the veal chop alla milanese with arugula, oven-dried cherry tomatoes and pickled onions ($48), a variation of the usually quite plain pounded, breaded veal chop; here the sweet and sour flavors of the tomatoes and onions add measurably to the dish.
A delightful Sicilian item is the seasoned, breaded pork on skewers ($38), an excellent choice for summer--they should sell them out on the sidewalk! Pan-seared duck breast is done "in porchetta" style, that is as a roulade, with aromatic of wild fennel, sour onions and potato frittata ($39). It was a good dish but lacked the heft of flavor of the other dishes.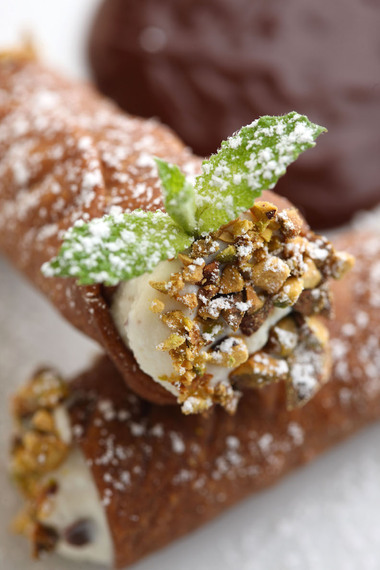 It is no longer accurate to say Italian restaurants neglect desserts--though most offer disappointing clichés--and The Leopard proves its kitchen is as serious in that department as in what precedes them. What a joy to crunch into a just-made cannoli (above) of creamy sheep's milk ricotta and chocolate chips ($12); a classic babà soaked with rum and topped with whipped cream and summer berries ($12); almond semi-freddo with apricot sorbet and plum sauce ($12); and a rich lemon-verbena panna cotta with blueberry compote ($12).
As at the Sorrentinos' other ristorante, Il Gattopardo (which means "the leopard" in Italian, named after the great Sicilian novel by Giuseppe di Lampedusa), The Leopard at des Artistes embodies la finezza, which takes a long time to develop and a longer time for a chef to leave his personal stamp on without betraying tradition. Like those not-so-innocent girls in the murals, there's a secret story behind every dish at The Leopard that reveals itself in every morsel.
The Leopard at Des Artistes is open for dinner nightly and brunch Sat. & Sun. There is a pre- and post-theater fixed price three-course dinner at $35.
The Leopard at des Artistes
1 W 67th Street (near Central Park West)
212-787-8767
theleopardnyc.com
Popular in the Community