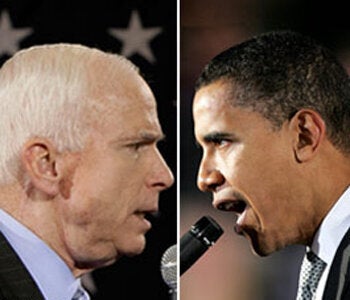 In Wednesday's presidential debate, the first steps were taken toward a new national conversation about abortion. For too many years, the old one hadn't changed very much. It came up every four years during elections and seldom in between. The Republicans repeated that they think abortion should just be completely illegal; and the Democrats repeated their only mantra of a "woman's right to choose." And the number of abortions remained mostly unchanged.
"Pro-life" battled "pro-choice" when neither party was really either one. Those positions were more like postures, and they didn't lead to solutions. What if "pro-life" really meant policies that would protect the precious gift of life wherever it is threatened and aim at dramatically reducing the number of abortions in America? And what if "pro-choice" meant extending the range of real choices available to women -- not only to terminate a pregnancy, but also to make the decision to have a child with the necessary economic support, health care, and adoption services?
Last evening, both Barack Obama and John McCain took steps toward finding some possible common ground.
Both said that they would not use Roe v. Wade as a litmus test for appointing Supreme Court Justices in the future.
And both suggested some cultural commitments and policy directions that could be most effective in dramatically reducing abortion. Last night's debate got that conversation started.
I think that abortion is a very difficult issue, and it is a moral issue and one that I think good people on both sides can disagree on.... This is an issue that -- look, it divides us. And in some ways, it may be difficult to -- to reconcile the two views. But there surely is some common ground when both those who believe in choice and those who are opposed to abortion can come together and say, "We should try to prevent unintended pregnancies by providing appropriate education to our youth, communicating that sexuality is sacred and that they should not be engaged in cavalier activity, and providing options for adoption, and helping single mothers if they want to choose to keep the baby." Those are all things that we put in the Democratic platform for the first time this year, and I think that's where we can find some common ground, because nobody's pro-abortion. I think it's always a tragic situation. We should try to reduce these circumstances.
We have to change the culture of America. Those of us who are proudly pro-life understand that. And it's got to be courage and compassion that we show to a young woman who's facing this terribly difficult decision. ... But that does not mean that we will cease to protect the rights of the unborn. Of course, we have to come together. Of course, we have to work together, and, of course, it's vital that we do so and help these young women who are facing such a difficult decision, with a compassion, that we'll help them with the adoptive services, with the courage to bring that child into this world and we'll help take care of it.
There are indeed profound moral issues involved in the decisions to have or not to have an abortion, and most Americans believe that. Most also believe the abortion rate in America is far too high but are hesitant to completely deny the difficult choice to have one.
Abortion reduction is the clear common ground that could unite the pro-choice and pro-life polarities and bring us together to find some real solutions and finally see some results. John McCain and Barack Obama last evening opened up the possibility of finding some new common ground in reducing abortions, reflecting the 2008 Democratic and Republican platforms. There is also now some movement in the Congress with pro-life and pro-choice members looking for common ground solutions for reducing the number of abortions that are proven to work. New and compelling studies make the clear connection between abortion and poverty, with fully three-fourths of the women who have abortions saying that they just couldn't afford to have the child. It will be a great day when both poverty reduction and abortion reduction become non-partisan issues and bipartisan causes.
Life is precious. John McCain believes that, Barack Obama believes that, Sarah Palin believes that, and so does Joe Biden. In fact, I'm not sure I have ever met a person who believes otherwise.
Freedom is fundamental. John McCain believes that, Barack Obama believes that, Sarah Palin believes that, and so does Joe Biden. Again, I'm not sure I have ever met a person who believes otherwise.
Americans are for life. Americans are for choice. The challenge for our political leaders, our religious leaders, and every American is to hold freedom and life together even when they seem to collide. We should do all we can to make sure we have as much of both as possible. And we can start by having a better conversation about abortion in this election and beyond. Thankfully, the first steps toward that conversation were taken last evening.
Calling all HuffPost superfans!
Sign up for membership to become a founding member and help shape HuffPost's next chapter