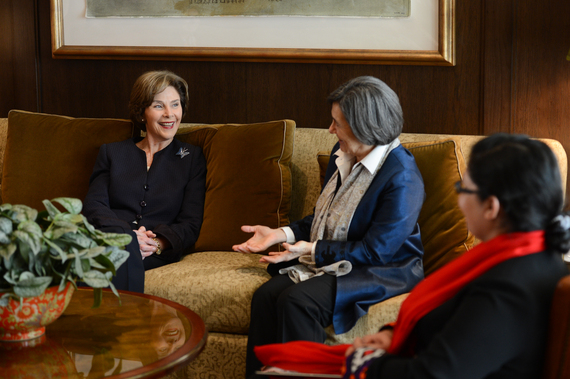 Mrs. Laura Bush visits with Mrs. Rula Ghani, the First Lady of Afghanistan, before a meeting of the U.S.-Afghan Women's Council on Wednesday, February 11, at the George W. Bush Institute."
"I come to you in peace." Those were the opening words spoken by Mrs. Rula Ghani, the First Lady of Afghanistan, as she joined Mrs. Laura Bush for a meeting of the U.S.-Afghan Women's Council Wednesday, February 11, at the Bush Institute. Mrs. Ghani has just been installed as an honorary co-chair of the Council, along with Mrs. Bush and the Honorable Hillary Rodham Clinton. The visit marked Mrs. Ghani's first official trip to the United States since becoming First Lady of Afghanistan.
At the Bush Institute, Mrs. Ghani stressed the start of a new day in Afghanistan. While keenly aware of Afghanistan's ongoing challenges, she said too many news reports reaching the West focus on failures, rather than the many successes taking place inside a country that only 13 years ago began to emerge from years of occupation, war, and the harsh rule of the Taliban. Mrs. Ghani described this moment in Afghanistan as being one of "positive change," adding that the rest of the world should not give so much import to warnings of "imminent disasters." She noted, wryly, that news reports bemoaned the fact that it took her husband's new government three months to form a working coalition. And then she asked, how long did it take Germany's Angela Merkel to form her coalition government? Four months.

Mrs. Ghani cited gains in security and improvements to the banking system to allow business to function better as two positive changes underway. "I am part of that change," she added. While the previous first lady, Zenad Kharzi, spent most of her time raising her young children, Mrs. Ghani noted that her children are grown, and this allows her to take a more active role, adding, "I meet with 2-3 delegations a day from all over the country."
Mrs. Ghani also noted that only 40 years ago, the people of Afghanistan lived in relative harmony and women were respected. Children, she said, "could entertain big dreams." Today, women are beginning to regain some of that respect, being represented as poets, doctors, parliamentarians, teachers, and business owners. "The women of Afghanistan are articulate, savvy, and resourceful," she explained, adding, "We have a long history of strong women."
Mrs. Ghani also stressed the "keen empathy" that American women have shown for the fate of Afghan women. She said the greatest need is now in the provinces, as more urban middle and upper middle class Afghans pursue education and participate in the economy. Mrs. Ghani told the story of an old woman who began to learn to read via a mobile phone literacy program. "She said that she wanted to reach twelfth grade and then go to university."
She added that Afghans want to become self-sufficient and not rely so heavily on foreign humanitarian assistance. She noted that one of her visitors told her, in the Dari language, "We need less fish and more fishing lessons."
Just how much progress has already been made was on display Wednesday evening as Mrs. Ghani joined with the American University of Afghanistan, including University President Mark English and Board of Trustees Vice Chair Leslie Schweitzer in honoring Mrs. Laura Bush with a Doctorate in Humane Letters. Mrs. Bush helped launch AUAF during her ground-breaking 2005 visit to Afghanistan. From its beginnings in a war-torn building with 53 students, 52 men and one woman, it has grown to more than 2,000 students. Its incoming class is 52 percent women, and 12 percent of its graduates have been awarded prestigious Fullbright Scholarships. Students learn in the same style and environment as an American college campus; 2/3 of the professors are full Ph.D.s. The students have established everything from a co-ed basketball team to a program to work with Afghan children living in shelters to teach them how to read.
In her remarks, Mrs. Ghani said of Mrs. Bush's efforts on behalf of Afghan women and the Afghan people, "She is someone who knows what the word commitment means." Describing Mrs. Bush as "relentless and resourceful," Mrs. Ghani added, "You don't appreciate her power until faced with her achievements." With her support of AUAF, Mrs. Bush has helped "introduce new systems of thought" to students while still allowing them to "enjoy their own culture. Introducing knowledge is always better done in a familiar setting."
Onaba Payab, the female valedictorian of the class of 2014, presented the award to Mrs. Bush on behalf of all the students of AUAF, saying, "Thank you, Mrs. Bush, for caring about us. You have not forgotten us, and we have not forgotten you."
During a question and answer session with AUAF Dinner Chair Heather Washburne after the award presentation, now-Dr. Bush said that the U.S. and Afghanistan face many of the same overall issues, noting that in any nation, "You never get to rub your hands together and say, 'Well, we did that,'" when it comes to key issues like economics or education, "because there is always a new class of first graders coming in." Mrs. Bush reminded the audience that even though the U.S. started with the Constitution and the Bill of Rights, it took us a very long time to end slavery and have civil rights. "Building a democracy is slow." And many of the institutions that support democracy, like freedom of assembly, freedom of the press, and rule of law, which we take for granted, take years to establish. She recalled a visit from a delegation of Afghan women just before she left the White House. "They told me, 'Don't feel sorry for us, just be with us.'"
Charity Wallace is Vice President of Global Women's Initiatives at the George W. Bush Institute.
Related
Popular in the Community