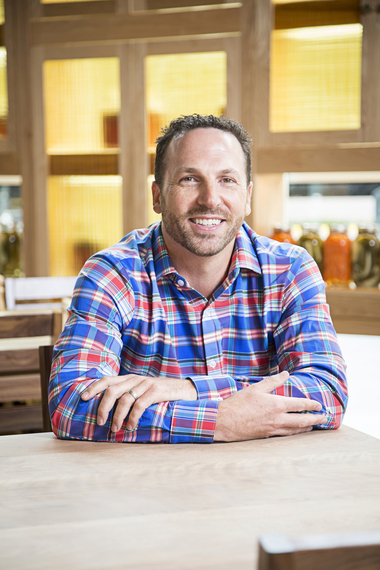 Farming represents the backbone of America's food machine. There are 3.2 million farmers in the United States, and this aging group has been getting a raw deal for some time. It's all down to the way farmers do their business. But Founding Farmers is one startup looking to change that.
I spoke to Dan Simons of Founding Farmers to find out more about what this startup hopes to achieve and how it's going to go about it.
AJ: Thank you for joining me today. First of all, could you tell me a bit more about the Founding Farmers concept and where it came from in the first place?
Simons: The idea came from the North Dakota Farmers Union. The union was focused on three main goals; finding ways for farmers to participate in a larger share of the food dollar, increasing overall demand for family-farmed product, and educating on the message of family farming versus corporate farms industries. For example, if a farmer can cut out some of the middle-men like brokers and layers of distributors, they win. If a farmer can have an equity stake in a restaurant, they create a new revenue stream for themselves and their family.
So it was these forward-thinking farmers that partnered with Michael Vucurevich and I so that we could create Farmers Restaurant Group. They continue be amazing partners today, as owners, investors and suppliers.
AJ: Are there any other places you would like to spread this idea to?
Simons: Our goal is not to be a rapidly growing restaurant chain, nor to be a huge company. We hope to grow at a sensible pace, nurturing the talent needed to run this level of complex, from scratch, restaurant. If we continue to find success in the mid-Atlantic, and Pennsylvania, we'll move up the east coast to Boston. We get emails from all over the US asking us if we'll come to their city, and maybe one day the answer will be yes, but for now, we're focusing on being great, not large.
AJ: What is the best-selling item in the restaurants that these farmers are dealing directly with?
Simons: Our best-selling item is grilled cheese and tomato soup. Our guests love our fried chicken and waffles. In terms of appetizers, the most popular is easily bacon lolli's, followed by our straight out of the oven cornbread.
AJ: What happens to the food left behind at the end of the day?
Simons: What I think is really wonderful about our restaurants is that we have very little leftover food. Our kitchens and bakery operate a fractional cooking system, so what we cook, in small batches, depends on how many customers we have that day, and our systems for predicting and planning are incredibly accurate. Furthermore, our menu is designed for effective cross utilization of fresh product, so we waste very little food. Whenever we do have leftovers, such as in the case of bread, we look for a food charity that would be happy to pick up our 1-day old bread.
AJ: Why do you think it's so important to have restaurants that farmers have a share in?
Simons: I believe that farmers are the backbone of America. It's unfortunate that many of them are taken advantage of by suppliers who will only offer them pennies on the dollar in exchange for their product, and the family farmers need to battle and compete with the corporate monster farms which can be a tough fight. A common complaint from family farmers relates to dealing with Monsanto and some of the other corporate giants that control chemicals and seed, or a commodity market, in an almost monopolistic way.
Founding Farmers gives farmers substantial influence in what ends up on the plate. They're getting a fair deal and they know their product is being put to good use in a restaurant that values quality and the guest experience over profits.
I also think it's better for the quality of the food--you can see it, taste it, and honestly, just feel it. Corporations add chemicals and who knows what to their food, because their number one goal is profit; that means shelf life, stability and resilience. Their yield goes up with their profits, but nowhere in their equation is the long-term impact on the consumer or the farmer. American family farmers live on their land and eat what they grow and raise, so they inherently care of the quality of the food and the long term impact on their land of their farming methods. With Founding Farmers we're increasing demand for product from producers who are individuals instead of public corporations. The farmers love knowing what we do with the food and because they're investors in the restaurants they know exactly what's going on at all times, and they share in the profits.
Ultimately, this is better for consumers because they know they're supporting farmers and they know exactly what's going into their food. While it isn't possible at our scale to enforce this with 100% of what we buy, we've found we can do it with the majority of what we buy, and we get more effective each year we're in business.
It's better for the country and it's better for individuals. That's why I believe in what we're doing here.
AJ: Do you believe it will be an idea that catches on?
Simons: I think that this is an idea that will catch on because people will see farmers getting a good deal and consumers getting an improved product. By cutting out pointless layers of middlemen it increases the quality of the product and there's no increase in price. Farmers will have more options to avoid mono-cropping, and a stable demand for high quality products at a fair price.
I believe more and more farming unions and agricultural co-ops across the country will see the benefits that this business model can bring. In additional the NDFU, we have several other farmer unions and agricultural entities participating our enterprise. Being farmer-centric also inspires us to design to LEED standards and pay our employees well above average; we see the business world through the eyes of the farmer, and that's a view that never abandons its principles under the stress of quarterly financial reporting.
AJ: Thank you for joining me today to discuss Founding Farmers with me.
Support HuffPost
The Stakes Have Never Been Higher
Related
Popular in the Community