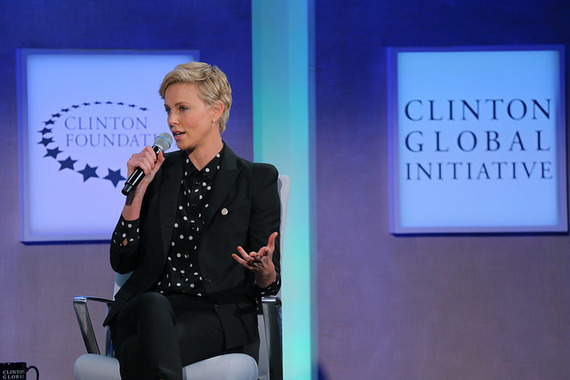 The Clinton Global Initiative (CGI) marked its 10th anniversary this September in New York and brought together more than a thousand leaders in philanthropy, business and government to explore global challenges and solution that will shape the future. The founders of CGI are also personally focusing on the future -- Chelsea Clinton is taking a more active role in the Clinton Foundation and the annual meeting and Hillary Clinton is absent this year and is currently the leading Democratic candidate for president of the United States. Under this election spotlight, the Clintons are preparing for a new era but this week it's all about CGI.
The annual meeting is a marketplace for ideas and more importantly, it's a catalyst for meaningful Commitments to Action. The commitments are concrete plans for a new approach to the world's most pressing problems in the environment, global health, technology access and female inequality.
Throughout the week there was plenty of star power and financial might on the agenda to discuss these issues including, Jessica Biel, Richard Branson, Bill Gates, Edward Norton, George Soros, Charlize Theron, to top executives from Chinese internet giant Alibaba, Barclays, Cisco, and Xerox. Kailash Satyarthi, the 2014 Nobel Peace Prize Laureate was on hand to keep the topic of child slavery and trafficking in the spotlight.
The 10-year-old initiative has facilitated programs that aided more than 430 million people in 180 countries, with government, private and civil-society entities working together in 90 percent of the programs, former President Bill Clinton said Sunday.
Each day during the four day meeting new commitments are announced and partners are brought to the stage. However, this is more than a photo opp because next year they will be back to report on their progress. New pledges announced this week include plans to help Nepal rebuild after the April 2015 earthquake and make critical infrastructure investments in the country. And, in Egypt, CGI commitment makers are deploying a groundbreaking program to address sexual violence against girls. Another pledge has led to financial education for more than 1.2 million poor women and youths, and scholarships for more than 10,000 students in Kenya.
Charlize Theron spoke on the second day of CGI about the important of investing in AIDS prevention and resilient health systems. The actress founded the Charlize Theron Africa Outreach Project in 2007 to support African youth in the battle against HIV/AIDS. "We need to educate young g people to take care of their health. Together, we can actually be the generation that stops AIDS," Charlize said. Participants on the panel emphasized incentives for businesses and countries to make long-term investments in health infrastructure and human resources. A one-on-one conversation between Bill Gates and Michael Gerson, The ONE Campaign followed with Bill stating, "If I had one wand that I could wave for a medical condition, I'd use it on nutrition. I've witnessed severe malnutrition in Africa. Children are growing up undernourished and that leads to undeveloped brains.
It's hard to see how they could catch up" he stressed.
Underscoring the importance of using technology to bring people together, President Clinton announced the premiere of "Inside Impact: East Africa," a live action virtual reality film that allows people around the world to join him and Chelsea on their trip to East Africa in spring 2015 - and see how Commitments to Action like the Solar Sisters project are working. A panoramic video version was also unveiled as one of the first 360 videos on Facebook.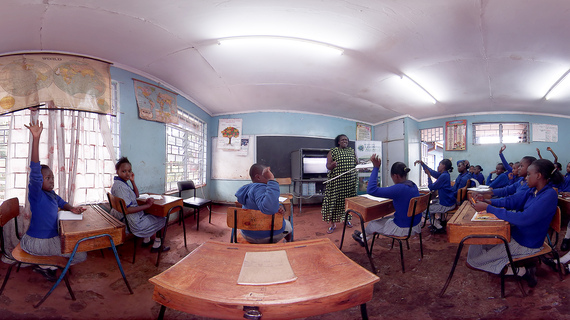 It's clear the Clinton Global initiative has gotten results. Forty-six million children have better educational opportunities, more than 110 million women and children have better access to health care, and clean drinking water is more available to over 27 million people, former President Bill Clinton reported this week.

The next decade will bring even more challenges. "We're in the middle of defining the terms of our interdependence in a world where so much of our identity is caught up in our differences," Bill Clinton said. "So our job, as citizens - those of us who have no political power - is to do what we can to build up the positive forces of our interdependence and reduce the negative ones."
Related
Popular in the Community