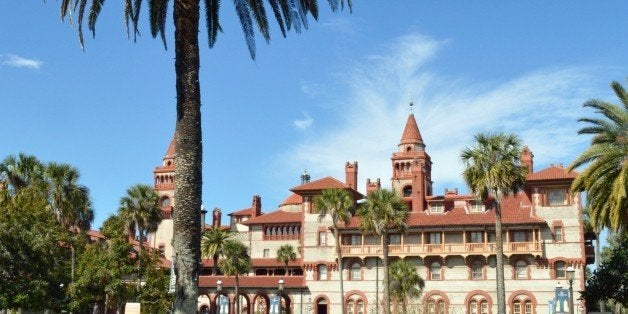 Where can you find a Native American 'smudging' ceremony, a shofar blowing, and a Hindu chanting, all in the same place? If you guessed Saint Augustine, Florida...you'd be correct! If you haven't heard of it, you may be surprised to learn that it's the nation's oldest continuously-settled European city, home to important civil rights milestones as well indigenous and colonial episodes from its days as a former Spanish colony, as well as a British one, before joining the United States. History is alive in Saint Augustine. From the footsteps of Spanish settlers to the echoes of civil rights marchers demanding justice, the nation's oldest city is filled with the stories of people from all walks of life.
Amidst the ambitious schedule of birthday events for 'Celebrate 450!', which honors its founding on September 8, 1565, is an interfaith commemoration slated for September 1, a few days before the multiple music and street festivals, art exhibitions, and historic reenactments dominate the scene. Just as a meal can begin with a blessing, so this event hopes to serve as an invocation to acknowledge the many strands of faiths which are woven into the tapestry of modern Saint Augustine. The city's Spanish architecture, lush tropical landscape, and intriguing historic monuments attract over six million visitors annually, so it's definitely worth taking a look at the latest in interfaith relations in the nation's oldest city.

The Interfaith Commemoration, hosted by the First United Methodist Church, in the heart of downtown Saint Augustine will include diverse groups from the First People to People of the Book (Jews, Christians, and Muslims), from Hindus to Buddhists to New Thought communities to those not involved in organized religion at all.
The program includes the aforementioned pieces as well as a recitation of the Golden Rule from differing faith perspectives, not to mention readings from various scriptures and voices raised in song. As diverse as the event promises to be, the participants will all have one thing in common - the desire to create and live in a community which loves, honors, and accepts each other, in the words of Rev. Martin Luther King Jr., a 'beloved community.'
In its 450 years of history, Saint Augustine has witnessed periods of discord and violence, but also interludes of love and courageous acts of kindness; it is the vision of a more inclusive future for all of its people that this interfaith commemoration chooses to highlight. In 2013 the city of Saint Augustine became the 1st city in Florida to sign the International Charter for Compassion, so the moniker of 'Compassionate City' is completely appropriate as a statement of faith in action for the next 450 years.
Calling all HuffPost superfans!
Sign up for membership to become a founding member and help shape HuffPost's next chapter