Three o'clock used to have such a different meaning for me. This struck me the other day as I was driving to the grocery store to pick up something for dinner. As I cursed the traffic that was delaying me from reaching my destination, I realized it wasn't traffic at all. It was…the daily school pick up line. Oh, how you forget. 
I had a love/hate relationship with the school pickup line. I loved that I was trapped in my car for a few quiet moments with nothing to do… and, I hated that I was trapped in my car for a few quiet moments with nothing to do. I eventually began to treasure those unexpected moments of "me time", when there was no access to dirty clothes or unmade beds and not a grocery store in sight. This was my "time out"! 
Thankfully there is now another reason to love the car line. My latest Morphmom duo, Patti Barrett and Beth Kneebone, have founded "The Pickup Line," a great newsletter for busy moms featuring short recaps of the day's big stories all in one place. Even better — it lands in subscribers' in-boxes as they "shift into park" at school and sports pickup time, when they actually have a few minutes to catch up. The newsletter is divided into two sections. Patti writes "The Rundown," which highlights serious news and Beth handles the "The Lowdown," which provides lighter stories. The goal of the newsletter is to provide a quick-read synopsis of each story with links readers can go to for more information — basically a curation of the most interesting news stories of the day. Patti and Beth also try to include content that will help busy moms get through their own rush hours. My own personal  favorite is "What's for Dinner Tonight?," a daily section devoted to quick-and-easy family recipes.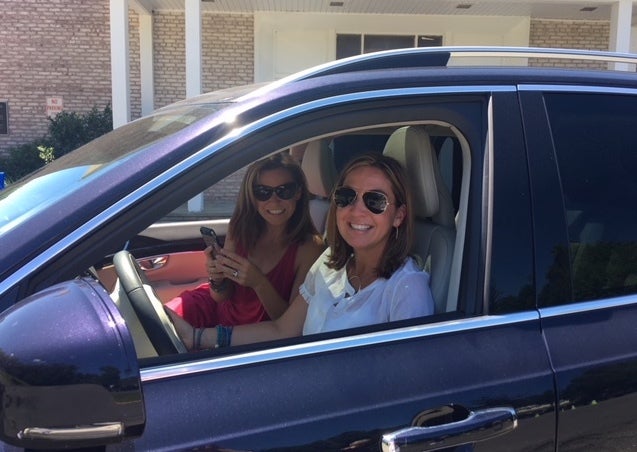 How did these two moms come up with the idea for their new venture? After spending many hours on their own pick up lines, watching others scroll though their phones, they realized that there was an opportunity to connect with drivers that were essentially "trapped" in their cars for at least 15-25 minutes a day. Why not use it to deliver "today's scoop," all in one place, during this short window of 'free time' in the midst of the afternoon craziness?
The idea was a perfect fit for these Morphmoms, both of whom have a background in media. Patti is a former broadcast journalist who spent nearly 15 years in the business and earned her master's from the Columbia University Graduate School of Journalism. She was part of the FOX News and MSNBC launch teams before jumping on camera as a reporter and anchor. Beth worked in the magazine publishing business for 15+ years, heading up marketing and promotion departments at numerous magazines including Glamour, Mademoiselle, and Ladies' Home Journal. Both left their careers years ago to raise children and recently decided that it was time to "morph" once more and return to work on their own schedules.
So, how do they do it while dealing with their own busy schedules and "rush hours"?  "When you have an idea you believe in and it's very easy to explain, you know you've got something. We also love what we do— we've having lots of fun putting this together and connecting with our audience. If you have that, you can make it work."
This Morphmom couldn't agree more. Just wish it was around back when I was on the line.
Calling all HuffPost superfans!
Sign up for membership to become a founding member and help shape HuffPost's next chapter
This post was published on the now-closed HuffPost Contributor platform. Contributors control their own work and posted freely to our site. If you need to flag this entry as abusive,
send us an email
.