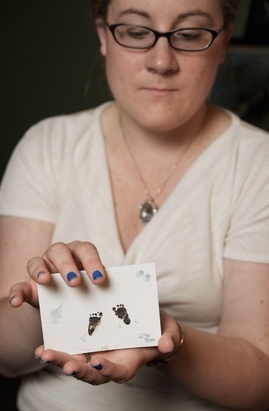 The camera focuses on a man and woman seated side-by-side, a portrait in warm light at the couple's home in Michigan. It's in this simple set up, just David and Alicia Petrucci with their cat, Reynolds, on a Sunday morning, that we can clearly see strength that has moved them through a long and difficult journey.
Several years ago, David was diagnosed with azoospermia, a lack of any sperm count, while Alicia was found to have diminished ovarian reserve, or far fewer eggs and eggs of lower quality than she should have for her age. After a couple of unsuccessful yet harrowing tries at in vitro fertilization, and a lot of soul-searching, they decided to move on to try to build their family using donor embryos.
The process abruptly came to a standstill, however, when Alicia was diagnosed with triple negative breast cancer. Hormones and her particular kind of cancer do not mix, making the process of having children even more of a challenge. Alicia is now cancer free and they are working to find a gestational surrogate to carry their baby.
"I photographed and interviewed them just days before one of Alicia's surgeries," says photographer Elizabeth Walker, who was drawn to their story, and the stories of hundreds of others struggling with infertility. The result is a new art installation, ART of Infertility (IF), a surprisingly moving photography and mixed media exhibit and oral history project that attempts to captures the experiences of infertility.
Ten percent of couples struggle with infertility. This challenge can take on many forms and lead to depression, anxiety, and sometimes overwhelming grief. Grief that is often private and hushed, says Walker. But these women and men often also display enormous resilience in the face of these trials.
The exhibit makes public their private journeys.
Walker originated the idea at a time when she was just coming to terms with her own infertility diagnosis. "I was finally at a point where I felt comfortable enough speaking out about it," she remembers. "I'd been turning to art to help me through my struggles and began collecting stories and images."
Each mirrored and further validated the emotions she was feeling with her own loss.
Walker certainly isn't the only artist using photography to process pain. The Austin-based Homecoming Project, for instance, uses photography and other visual media to raise awareness of veteran issues related to war and combat trauma, from post-traumatic stress disorder, to traumatic brain injury and even suicide.
In Manhattan, for the past 15 years, fashion photographer David Jay, has focused his camera on survivors of breast cancer. "My friend Paulina was diagnosed with breast cancer when she was 29," says David from his studio. "She'd had a double mastectomy, and I knew I had to photograph her. It was my way of processing it all." Today, he has photographed more than a hundred women for The Scar Project, featuring portraits of women and their mastectomy scars. "My goal was to showcase what breast cancer looks like. Really looks like. A truer reflection of what so many experience." He wanted to show that, even given the suffering of these women, extraordinary beauty shines through.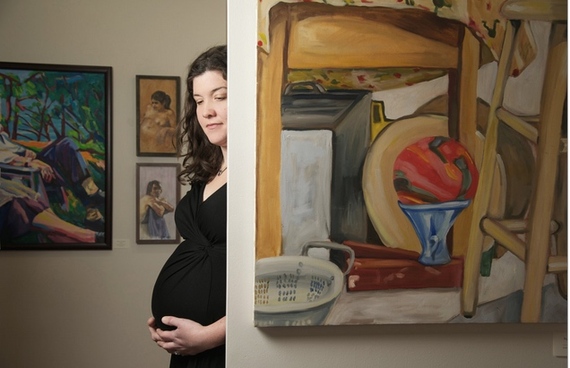 Artists expressing suffering through their work is nothing new. Some would say it's one of the art world's oldest traditions. Art therapy is also nothing new. But, recent years have seen an uptick in the number of exhibits combining the two in innovative and meaningful ways. The purpose of these exhibits is artistic, yes. But they're also intended to help heal the suffering of often overlooked and sometimes marginalized groups -- people who might normally feel pressure to hide their pain.
"I figured that if I was using photography as a creative outlet, maybe this outlet could help others," says Walker. Since launching the exhibit earlier this year, she has taken dozens of portraits of people across the country. "Many of the images show a lot of love, a lot of hope and happiness; but there's also I think a deep sense of grief and pain that comes with the experience of infertility."
Related
Popular in the Community