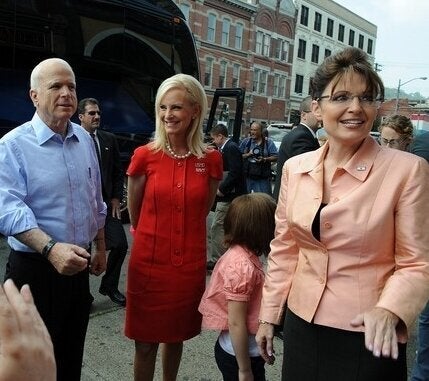 In a new low, not just for this campaign, but for the history of American politics, Senator John McCain's campaign today defended threats against Senator Barack Obama.
Barack Obama's attacks on Americans who support John McCain reveal far more about him than they do about John McCain. It is clear that Barack Obama just doesn't understand regular people and the issues they care about.
Things like crowds shouting:
Sit down, boy! (to an African American)
And John McCain's campaign is defending these kinds of outbursts, saying those like Barack Obama who are bothered "just doesn't understand regular people."
No, what those of us with a soul don't understand is how someone running to be the President of the United States continues to back a strategy that encourages these kinds of outrageous outbursts, and does nothing to tamp down these kinds of racist, violent screams as they become a fixture at campaign events.
And it's not just Democrats who think John McCain is playing with fire.
Republican Representative Ray LaHood says the campaign should make sure this kind of stuff is stopped. Now.
Former Governor William Milliken, a Republican who endorsed McCain even says, "I'm disappointed in the tenor and the personal attacks on the part of the McCain campaign."
This tactic isn't even working, either. FOX NEWS of all places, today found that all the innuendo makes no difference in the way people are planning to vote.
Sadly, there is one thing this riling of crowds, using fear and smear tactics can do. It can accomplish that which none of us wants to even consider.
But it has happened before, in almost this way, exactly. Remembered Leah Rabin, the widow of slain Prime Minister Rabin of Israel:
''They were too silent when the writing was on the wall,'' she said, addressing her slain husband. ''Now the whole country knows that it is no longer possible to stay silent.''

Mrs. Rabin was harshly critical of Benjamin Netanyahu, who was leader of the opposition Likud Party when her husband was killed.

Mr. Netanyahu took part in demonstrations in which Mr. Rabin was denounced as a traitor and portrayed in a poster in an SS uniform. Although Mr. Netanyahu urged protesters to avoid the ''traitor'' label and later said he had not been aware of the poster, Mrs. Rabin insisted that he had helped create the atmosphere that led to the assassination.

''He has incited against my husband,'' she said. ''I will never ever forgive him.'' When Mr. Netanyahu was elected prime minister, defeating Mr. Peres months after the assassination, Mrs. Rabin said she felt like leaving Israel.
So, no Brian Rogers, we do understand. We understand all too well. The question now is, "Does Senator McCain understand? And if he does, why does he continue to sign off on this strategy?"
Calling all HuffPost superfans!
Sign up for membership to become a founding member and help shape HuffPost's next chapter