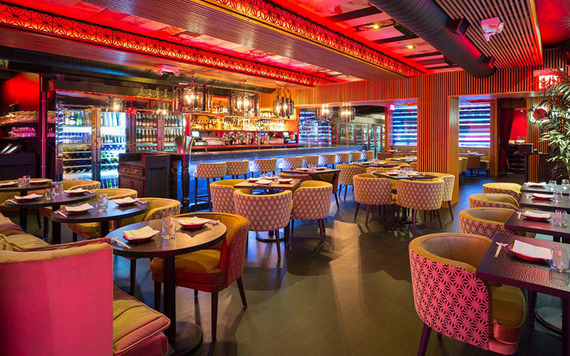 When the first Megu opened downtown more than decade ago, it was easily the most dramatic Japanese restaurant in NYC--$6 million of shadowy glamour spread over 13,000 square feet on two floors, with a huge Buddha ice sculpture that melted down during the evening and an impressive bronze bonshu bell in the center. It was followed by another, less extravagant Megu with a smaller ice Buddha, set near the U.N., bringing fine Japanese cuisine to that area.
Both of those Megus ran their course and closed a while back, and the new installment in the Dream Downtown Hotel has a new owner, John Bakhshi, who also runs Beautique uptown. (There are now Megu branches in Delhi, Doha, Moscow and Gstaad.) The Meat District restaurant is down flights of stairs, but the designers have managed to prevent any sense of claustrophobia by a canny use of mirrors and bright neon colors throughout, with beautiful antique kimonos, left over from the original Megu, used as wall art. There is a sleek sushi bar and private dining room, and the main dining room is set with lighting that can change with the hour or the mood; the well-padded, half-moon chairs are exceptionally comfortable. The noise level, midweek, was quite civilized, the music low, at least earlier in the evening.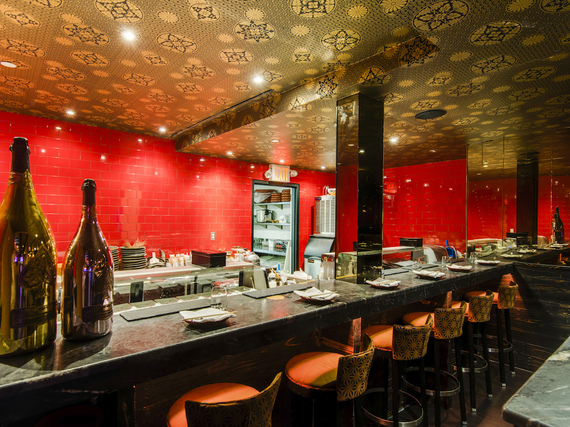 Megu's service staff is more affable than at the previous restaurants (which doted on a celeb crowd that, as always, eventually drifted elsewhere), and the wine and sake lists are admirable. Cocktails run $16-$18.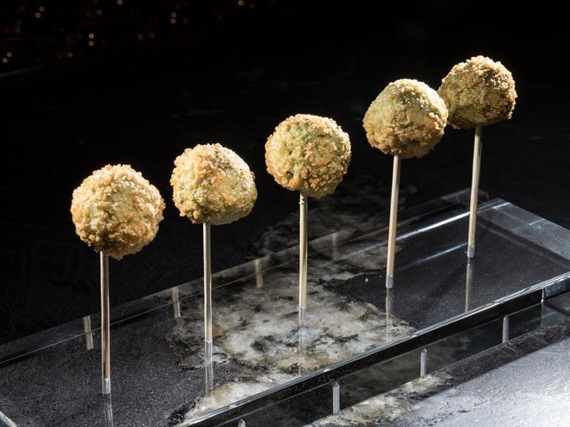 Filipino chef Frances Tariga-Weshnak (left) has come up with a lot of whimsical ideas with her cooked food but never lets gimmickry get in the way of good flavors, like her addictive edamame lollipops with tahini sauce (right).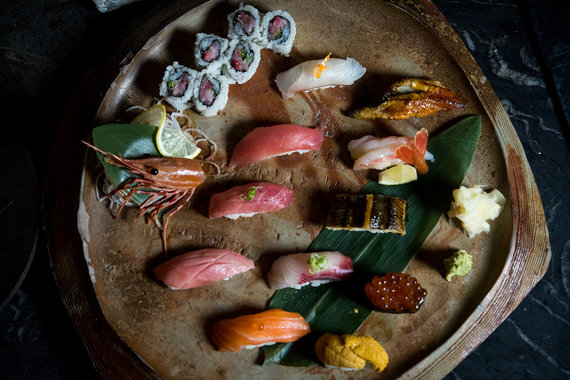 Her sushi and sashimi presentations are elegantly wrought, too, priced between $6 and $21 per piece; there is an omakase of sashimi at $58; Edomae Style Sushi "Sakura" ($95) contains 11 pieces of sushi plus one roll (below), big enough for two or three people as an appetizer. The "house special rolls," including a delicious Megu roll of spicy tuna, scallion, crispy potato, red akami and hot kanzuri-spiked mayo ($18), are all packed with various ingredients whose textures complement each other.

Tariga-Weshnak calls her fabulous sweet potato ravioli "Okinawa style," owing to the inclusion of kombu (kelp) cream, crispy quinoa and basil oil ($18). It's one of the best dishes on the menu. What's not to love about crispy rock shrimp, the interior velvety underneath a crackling batter, served with kanzuri sauce, tobiko and cilantro ($19). The cold soba noodles ($18) were riddled with crunchy peanuts, candied ginger that gave it a nice sweet edge, bean sprouts and a poached egg on top. These are dishes meant to be shared at the table. Greaseless tuna katsu ($35) is impeccably cooked to retain the subtle flavors, added to with bok choy, crisp fennel slaw, herb puree and umami sauce.
The menu goes on and includes a rack of lamb with Japanese curry, miso and eggplant ($49), and a selection of stone grill items, including the now ubiquitous A5 Kobe ($98) I didn't bother with; instead I went with the flavorful, nicely chewy skirt steak harami ($48).
The desserts go beyond what you find at 99 percent of the Japanese restaurants in town, and I enjoyed a dense chocolate tart with salted caramel, chocolate crumbs and gold leaf, but charging $14-$18 for desserts makes them among the highest priced in town. Skip them.
I'm glad to see Megu back, if not in as extravagant a form as before, and I hope that Mr. Bakshi is not aiming to attract a celebrity crowd this time. Megu deserves a long run, competing as it does with nearby Buddakan and Morimoto.
Open nightly for dinner.
MEGU at Dream Downtown
355 West 16th Street (near Ninth Avenue)
212-885-9400