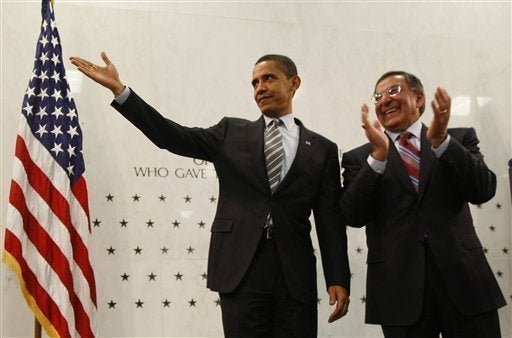 Today, President Obama, who inspired us all with his pledge to "make service a cause of my Presidency" will sign the Edward M. Kennedy Serve America Act. This legislation, which Obama boldly called for in his February Address to Congress, is a milestone for the service movement, and the largest expansion of civilian service since the Depression Era Civilian Conservation Corps. In addition to honoring Senator Kennedy for his tremendous leadership in public service, it received strong bipartisan support with the Senate voting in favor 79 to 19 and the House voting 275 to 149.
But the Serve America Act is more than a service milestone. It contains the seeds for developing a new public philosophy for how we attack an array of persistent societal challenges, from the high school dropout crisis, to poverty and homelessness, to climate change.
For the past 75 years, America has been governed by two major public philosophies. First, in response to the depression and then World War II, Franklin D. Roosevelt (FDR) completely transformed the role of the federal government. He established it as the center of energy, new ideas, solutions, delivery mechanisms and regulation with his whole alphabet soup--for every problem start a new federal government agency--approach.
FDR's governing philosophy lasted until Ronald Reagan, who in his inaugural address, flipped FDR's philosophy on its head when he said: "Government is not the solution to our problem, government is the problem." Reagan tapped into a feeling that government had grown too bureaucratic and resistant to change. Reagan's governing philosophy began to run out of gas with the Katrina disaster of 2005 and then ended with the complete melt down of the financial markets last fall. We've discovered if we simply view government as the problem, we end up with ineffective government.
Further, neither FDR's philosophy nor Reagan's is appropriate for the unique challenges and opportunities we face today. President Obama acknowledged this stalemate when he stated in his Inaugural address: "The question we ask today is not whether our government is too big or too small, but whether it works."
It is not surprising we would be searching for a new public philosophy at this time.
As Arthur Schlesinger Jr. argued, American history moves in cycles between "public purpose" and "private interest," a cycle that begins anew approximately every 30 years. It has been 30 years since the Proposition 13 California Tax revolt of 1978 which propelled the Reagan revolution, to the election of Barack Obama in 2008. And, we are now, at the beginning of a new cycle of reform. Both political parties, if they are smart, will compete to be the party of reform and to define a new public philosophy. The one that does so most successfully will likely govern the country for at least the next generation or two.
What are the key elements of a new public philosophy and how does the Kennedy Serve America Act advance it?
The first key tenet of a new public philosophy should be we need Big Citizenship not Big Government. (My partner in founding City Year, Michael Brown, coined the phrase Big Citizenship 15 years ago.) In developing a new approach to addressing our 21st Century challenges, we need to look to what has always been America's greatest natural resource - We the People. From our revolutionary citizen soldiers, to the numerous voluntary associations that so impressed De Tocqueville, to the abolitionists, the suffragists, trade unionists and the civil rights marchers, it has always been citizens that have led great change in America.
The Kennedy Serve America Act provides for a new citizen army to tackle our pressing problems in education, the environment, fighting poverty, public health and supporting our Veterans. It establishes issue focused corps while growing AmeriCorps from the current 75,000 people a year to 250,000 people a year. It encourages millions of Americans to engage in traditional volunteer service through a new volunteer generation matching fund, Volunteers for Prosperity which will support work overseas, new service learning efforts in schools and on college campuses and more.
Second, a new public philosophy needs to look to entrepreneurs and innovators in both the private and social sectors to create the new solutions for our most pressing challenges.
This has worked throughout our history. Entrepreneurs invented the innovations of first the industrial revolution and now the information revolution that has made our economy the most productive in the world. And social entrepreneurs invented the public school, the public library, the settlement houses and so much more that has sustained our civic life.
The Kennedy Serve America Act recognizes the social entrepreneurship revolution. It establishes a new "Social Innovation Fund" to take promising innovative organizations to scale. It also provides fellowships to seed new generations of social entrepreneurs from Millennials to Boomers, who will invent the next Habitat for Humanity, Harlem Children's Zone, Share Our Strength, Teach For America or Youthbuild.
Third, rather than looking to government alone to address our problems, or relying exclusively on the private marketplace, we need new partnerships among government, the private sector, and the non-profit sector each doing what each does best.
For every issue we confront, we need to ask: What role can citizens play in solving this problem? What role can entrepreneurs play? What role should the government play? What should the private sector do? And what should the non-profit sector do?
21st Century solutions and systems will need to engage all five sectors in powerful combinations, if we are going to invent the new holistic solutions to our challenges.
In particular, the government's role should continue to change from being the primary deliverer of services, to one of setting big goals, establishing the rules of the game, conducting oversight and regulation, and using incentives by growing what works, and eliminating funding for programs that fail.
The Kennedy Serve America Act recognizes this new role for government and the need for new public-private partnerships. Its new programs are not federally run like the 60's era Peace Corps or VISTA. Rather, they will be established through the Corporation for National and Community Service funding the best local, state and national organizations through a competitive grants process that requires matching funds from the private sector.
Fourth, a new public philosophy recognizes that we need to modernize. We need to take full advantage of the myriad of possibilities for new technological breakthroughs to empower citizens, make government more effective and efficient, and new partnerships possible. As President Obama has argued we need "Ipod Government."
Modernization also means while not relying exclusively on the private market to meet our needs, we do need to use time-tested market principles in constructing new solutions. These include: competition, transparency, accountability, choice, standards to measure effectiveness and experimentation. We need to recapture our risk-taking spirit and move beyond stultified bureaucracies.
What should we call this new Public Philosophy for the 21st Century? Perhaps a New Patriotism sums it up best. For, at its heart, this new public philosophy and the Kennedy Serve America Act is an attempt to call on all citizens and sectors to put country before self interest, to say that we need all hands on deck if we are finally to come to grips with our pressing challenges in education, health care, the environment, poverty and more. Another great Kennedy challenged us years ago to "Ask not what your country can do for you, but what you can do for your country." All of us, as individual citizens, as companies and organizations, and as communities, need to reflect upon that "ask not" question and to the best of our abilities live up to its challenge if we are to seize the opportunities and meet the test of our times.
The Kennedy Serve America Act is a major step towards our doing so.
Alan Khazei is the Founder and CEO of Be The Change, Inc. and the Co-Founder of City Year.
Popular in the Community