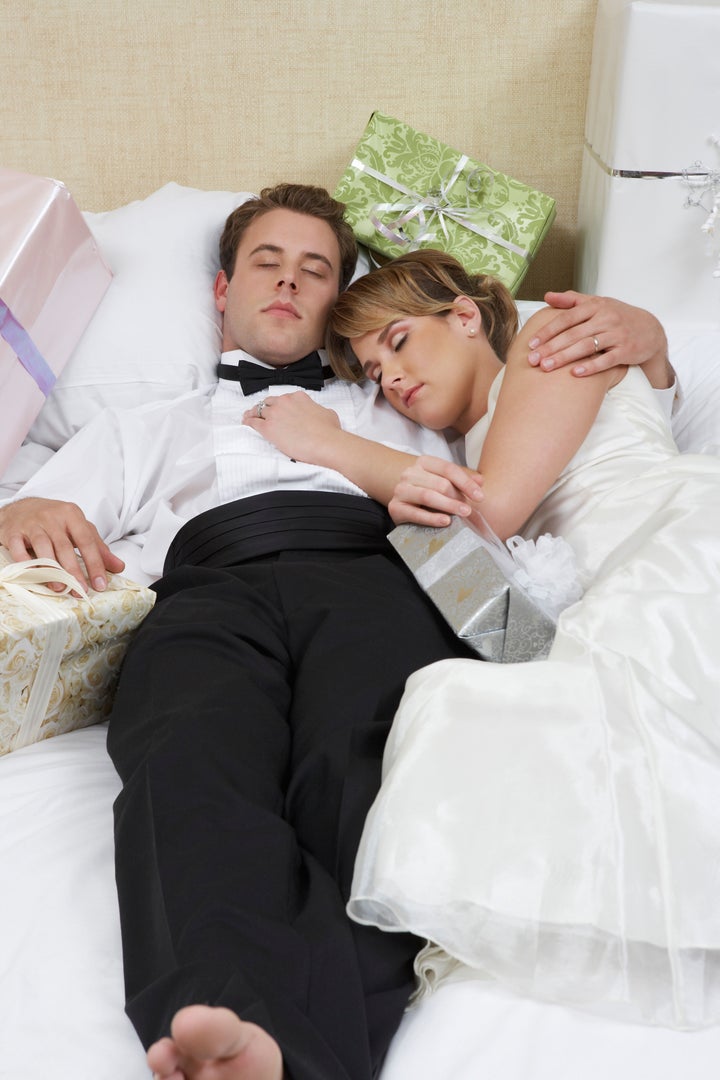 The wedding bells have rung, the bouquet has been tossed, and the cake was cut. Now what? Every couple has a picture perfect image of what their wedding night is going to be like. The groom is going to whisk the bride away from the reception and carry her across the threshold to a candle lit room with rose petals scattered across the bed and Barry White playing in the background. But is that really what it's like?
For some, yes, the wedding night is a magical moment that you will always remember. You will be able to fall in love all over again every time you think back to your first night as a married couple. For others however, it doesn't quite go that way. For some couples the night may end in pure exhaustion. This one day may have just taken a year of planning, maybe more. Perhaps it was full of laughing, crying, and the occasional disagreement. Neither party got a good night's sleep the night before due to excitement, nervousness, and anticipation for the big day. Then, you wake up extra early and your adrenaline immediately kicks in. Both the bride and groom have multiple tasks and activities to do before the wedding. Then finally, you tie the knot; but now, there's a night full of dancing, laughter, and mingling. Once the guests finally go home, there's nothing you would rather do than fall into bed and dream of your future together, not having the famous wedding night sex. That's okay and one scenario.
Others use the "I do" and that special kiss at the end of the ceremony as a symbol to finally relax and let loose. You get to the reception and start to socialize, drink, and dance. As you celebrate, every toast is finished with a sip of champagne, the beers are cold and crisp, and the shots are going down smoothly. As the reception comes to a close you realize you're just a little too drunk to be closing out this joyous occasion with sex. Again, that's another scenario and still okay.
So, how do you still make your wedding night memorable even without the sex? In the end, no one will ever know what you did on your wedding night, that's why it is yours. Do whatever makes the two of you happy. Enjoy your excitement about officially having the rest of your lives together. Focus on the fact that it is your first night in the next chapter of your life -- after all, it's the marriage that's really important, the wedding is just a ceremony and party -- and that for the rest of the chapters you'll have a partner in crime. But no matter what, make your wedding night your own.
If you want the wedding night sex, realize that a little planning is in order. Don't become overwhelmed by the multiple tasks you wake up to the morning of your wedding day. Instead, utilize your wedding party to help you out. If you can afford it, get a wedding planner to take care of those last minute details. Don't worry about the little things, odds are they will fall into place or people won't notice. Plus, they will just stress you out and, in the end, become stressors that you don't need on your special day. Once you're at the reception, try not to become overwhelmed by the amount of guests you think you have to entertain. You don't have to! You may have paid thousands of dollars for a DJ/band, alcohol, a good venue with good food and plenty of dance space. Not to mention the time you spent on configuring a seating chart so that your guests could eat with people they know and like. Let your spent time and money entertain them. On a side note, you should be able to enjoy what your money paid for as well! If you're really worried about seeing all the guests, be sure to visit the elderly guests you may not see on the dance floor; the other guests will most likely make it a point to find you.
Now, the cameras are off, the guests have gone home, and it's just the two of you. There is no need to have to pose or act a certain way. You have no pressure or expectations for what you do on your wedding night, except your own. If you've taken the advice given above and you are energetic and sober enough to enjoy sex, then by all means do it! However, if you do find yourself being tired or too drunk, just be real with one another. Laugh about moments you may have had in your past and imagine what it's going to be like in the future. Share your likes and dislikes with one another, maybe even plan on doing some of those likes the next morning when you're both well rested and sober. In reality, your wedding night is only one night of many thousands. You might have that mind-blowing sex you thought you'd have on your wedding night or you might not. Either way, enjoy the day; but never forget that what's really important is your life together as a couple -- a team -- hopefully for the rest of your lives!
Popular in the Community