It was 12 years ago when D.W. Wilkins first moved from New York City to Philadelphia.
Upon his arrival, he had been living without medical insurance and other safeguards until learning about the services being offered at St. Elizabeth, a health care and recovery initiative of the Philadelphia nonprofit Project HOME.
"I was taking a few computer classes in the community where I live and work," Wilson said. "It was there that I met a young lady who told me about St. Elizabeth and that I could go there and get the care that I needed."
According to Project HOME, roughly 70 percent of households have incomes of less than $35,000 per year in the St. Elizabeth community, and nearly half of adults and children live at or below the federal poverty level.
The idea of having a wellness center placed in the heart of North Philadelphia had first come to Sister Mary Scullion, Executive Director of Project HOME, when civic leader Stephen Klein had approached her about building a community center.
A community center already exists in the Honickman Learning Center and Comcast Technology Labs just a block away from St. Elizabeth, but once Klein began spending more time in the community with Scullion, he thought that building a wellness center would help better address the strategic needs of those living in the community.
"It's a beautiful work in progress," Wilkins said. "It's an outreach component that is definitely needed in the community and I'm proud to be a part of it."
A community advisory board, of which Wilson is a part of, worked together with Project HOME and Jefferson Health System's Family Medicine staff to design an offering of services that extends beyond medical care and focus on a more holistic approach that centers on wellness and prevention.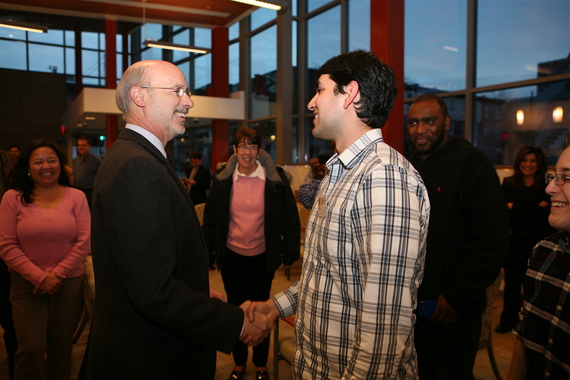 Pennsylvania Governor Tom Wolf shaking hands with Dr. Mudit Mehra Gilotra at a Wellness Center visit.
Opening fully to the public on March 16, The Stephen Klein Wellness Center expands Project HOME's capacity to serve more people in its community, as well as add more services.
"If you look around this community, a wonderful change is occurring, new housing is being built, the Honickman Learning Center is here, Temple is moving west on Cecil B. Moore Avenue, and now the Wellness Center. Times are changing in North Philadelphia, and I'm privileged to be a part of it," said Klein in a press release.
The Wellness Center is located at 21st and Cecil B. Moore Avenues in North Philadelphia, the second-poorest zip code in Philadelphia and a federally-designated "Medically Undeserved Area."
Project HOME looked at various locations to build the Wellness Center but ultimately wanted it to be in the neighborhood that they are trying so greatly to help.
"I think the Wellness Center is quickly becoming a pillar in the community because it's so multifaceted," Wilson said. "Change is going on and people can look at that as a beacon of hope."
The Wellness Center includes many services including primary care, behavioral health, dental care, a pharmacy and a Philadelphia Freedom Valley YMCA with babysitting services. The Wellness Center is committed to addressing the health and wellness needs of people who are currently homeless, formerly homeless, and people living in the North Philadelphia community.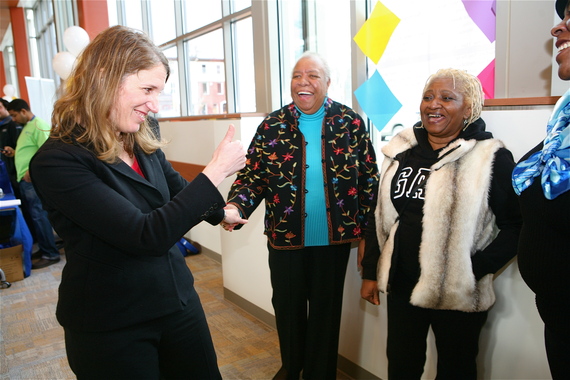 Secretary of Health and Human Services Sylvia Burwell meeting with members of the community advisory board.
"I think the Wellness Center will be a strategic addition to the economic overall health of this neighborhood," Scullion said. "I think we saw a need eight years ago when more and more people didn't have health insurance and more of a need for access to quality health care. We saw that we were not able to give all that people needed at St. Elizabeth."
The Center was established in partnership with Thomas Jefferson University and Hospitals, Jefferson Medical College Department of Family and Community Medicine, Leigh and John Middleton, and the DHHS Health Resources and Services Administration.
Project HOME, with Jefferson Family Medicine, has been providing health care services for almost 20 years.
"Health care is an important part in the issue of homelessness; it contributes a lot to people's homelessness," Scullion said. "People can be poor but if you're physically sick or have some emotional problems it can be the thing that puts you on the street and that's why access to quality health care is important."
Scullion added that one of many challenges of developing the Wellness Center is getting all of the necessary funding and being able to attract people who are passionate about the mission of providing quality access to people that are homeless.
"You know, where people in our community have experienced so much violence that we really want to be a healing place and how to best do that continues to be a challenge," Scullion said. "The Wellness Center is an example of how when many people from all walks of life work together on a common mission, great things can happen."

Photos by Harvey Finkle
Calling all HuffPost superfans!
Sign up for membership to become a founding member and help shape HuffPost's next chapter