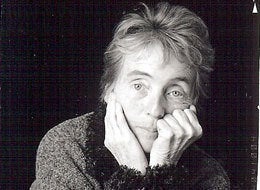 This past Tuesday, The Poetry Foundation awarded its prestigious Ruth Lilly Poetry Prize to Fanny Howe in recognition of her lifetime of accomplishments. The prize includes an eye-opening award of $100,000. And Howe can now count herself in the company of past Ruth Lilly Prize winners, a list that reads like a who's who of great American poets, including Adrienne Rich, W.S. Merwin and John Ashbery.
Fanny Howe was kind enough to take time from her busy week to share an extraordinary new poem, "The Hut," with us. She also sent us the following paragraph, which serves as a sort of guide to the poem and to her poetry in general. It's a great opportunity to get to know one of the most ambitious and rewarding poets writing today.
"This poem is a new and unpublished poem of mine that expresses my wish for every poem and at the same time attempts to reflect that wish in the structure of this poem. It is very simple and shows the narrator, the first person, as someone without attributes, a dream-self really, who can still imagine, and even see, the original form that underlies all other forms, no matter how "brutalist" in design they have become. This structure can't be destroyed or blown away or robbed. It belongs to the world of the unconscious which is the source of all that is solid and sensory. It is air-tight, and still warm, but buried under historical forces." - Fanny Howe
Up the hill is a hut made of sound
because they are nailed to a dream.
The dreamer wonders: Can this be mine?
The floor is solid and straight
The walls don't leak or let out heat
from gray embers in the grate.
This is the original home
at the heart of brutalist design.
No storm can slam its shape apart.
No thief can carry it off like a tent.
It dwells in ashen buildings where the present sleeps.

Fanny Howe has written more than 20 books, including novels, essays and of course, poetry. She currently makes her home in Martha's Vineyard.

Related