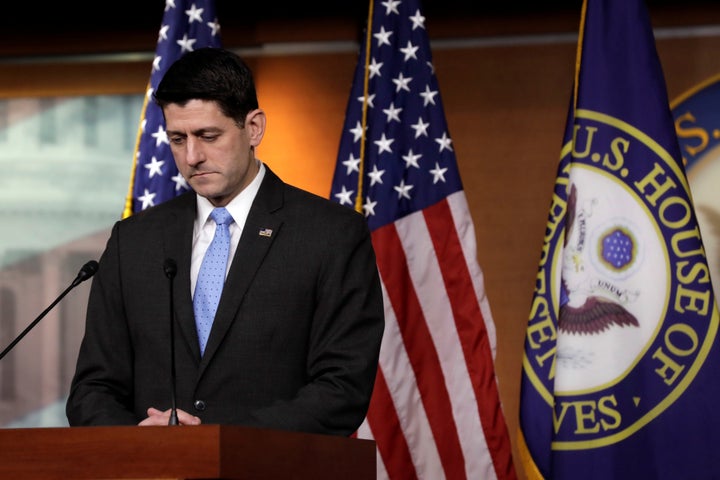 A 53 percent majority of Republicans and Republican-leaning independents say they'd support Trump in a hypothetical political disagreement over Ryan, and just 15 percent that they'd be on Ryan's side. The results are even starker among Trump voters, who say 63 percent to 12 percent that they'd side with the president over the outgoing speaker.
The current occupant of the White House, of course, is a natural figurehead for his party. Whether the president's grip on the GOP will strengthen or erode going forward isn't necessarily clear. Trump is as popular with his base as he's been in some time. But the current poll finds Trump favored over Ryan by a smaller margin compared to last March, when 62 percent of Republicans and Republican leaners, and nearly three-quarters of Trump voters, said they'd side with the president. A new NBC/Wall Street Journal poll also found that, for the first time in surveys dating back to last autumn, fewer than half of Republican and Republican-leaning Trump voters identified themselves primarily as supporters of Trump rather than backers of the GOP.
Ryan is still in his party's good graces ― 56 percent of Republicans and Republican leaners say they approve of the job he did as speaker of the House, according to the HuffPost/YouGov survey, while just 27 percent disapprove. That leaves him with a net +29 approval rating, significantly better than the net +8 rating they give the congressional GOP as a whole. Roughly three in 10 say Ryan is doing better than Republicans in Congress as a whole, 41 percent that he's about the same, and just a tenth that he's doing worse. 
Republicans and Republican leaners are split, however, on their reactions to Ryan's announcement ― 26 percent say they wish he wasn't retiring, and a nearly-equal 28 percent that they're happy to see him go. The rest are unsure or profess not to care either way.
Overall, just 12 percent of Americans say they wish Ryan wasn't retiring, while about a third are happy to see him leave, with the rest unsure or indifferent.
Use the widget below to further explore the results of the HuffPost/YouGov survey, using the menu at the top to select survey questions and the buttons at the bottom to filter the data by subgroups:
The HuffPost/YouGov poll consisted of 1,000 completed interviews conducted April 11-13 among U.S. adults using a sample selected from YouGov's opt-in online panel to match the demographics and other characteristics of the adult U.S. population.
HuffPost has teamed up with YouGov to conduct daily opinion polls. You can learn more about this project and take part in YouGov's nationally representative opinion polling. More details on the polls' methodology are available here.
Most surveys report a margin of error that represents some, but not all, potential survey errors. YouGov's reports include a model-based margin of error, which rests on a specific set of statistical assumptions about the selected sample rather than the standard methodology for random probability sampling. If these assumptions are wrong, the model-based margin of error may also be inaccurate. Click here for a more detailed explanation of the model-based margin of error.
Calling all HuffPost superfans!
Sign up for membership to become a founding member and help shape HuffPost's next chapter