Last month, PopSugar published a story called "The Invisible Double Standard of Being Gay in the Beauty Industry." Immediately, LGBTQ women who work in the beauty space called the piece out for attempting to out someone (references have since been removed), and for its blatant erasure of those who have been queering beauty for the better part of a decade.
The writer of the PopSugar piece should have gone to BeautyCon LA. Created by out lesbian Moj Mahdara, this year's fifth annual convergence of beauty fiends, fans, and influencers offered a revealing cross-section of the industry's buyers and sellers, many of whom are not the cisgender, straight, white women that used to be its target demographic. In 2018, beauty has been revolutionized by (what else?) the internet, with YouTube and other social media platforms offering cosmetics queens of all identities the opportunity to share their individual looks and best practices with others like them.
The Con itself has signage welcoming "all races, all genders, all ages, all countries of origin, all sexual orientations, all religions, all glamazons, all natural beauties, all unicorns," and the vendors follow suit. Beloved brands like MAC boast inclusive messaging on their employee T-shirts, and those employees are as diverse as the crowd itself. Even the celebrities, video bloggers, and other influencers walking the red carpet or coming to the stage vary in their intersectional identities, a highly intentional act of inclusion but also one that is reflective of the beauty industry's dedicated following. This, of course, includes LGBTQs, who not only participate as patrons of beauty but also in paving the way, heading up product lines and launches as well as literally running the show.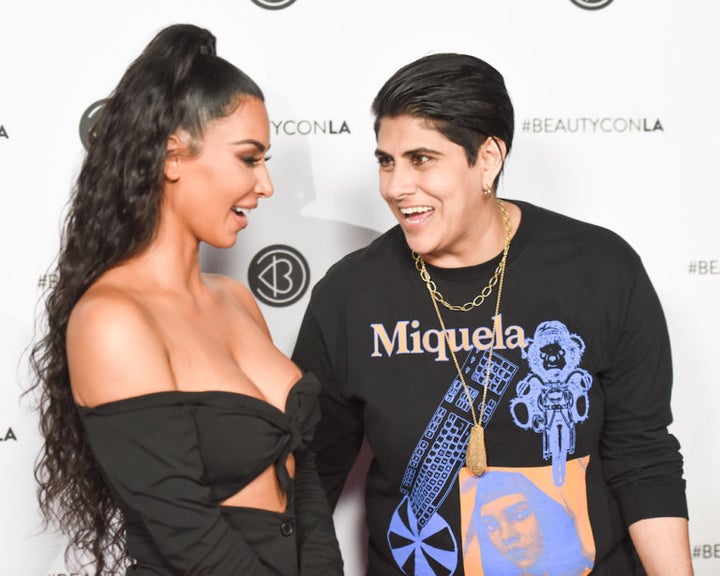 As the creator, brand executive Mahdara led the main event — a conversation with Kim Kardashian West — but at this convention, icons like Nikita Dragun, Manny MUA, and Queer Eye's Jonathan Van Ness were just as big of a pull. Self-made makeup artists, many not only queer or trans but people of color, walked the pink carpet next to actors like Drew Barrymore and Jessica Simpson. Panels like "Redefining Masculinity" and "Gen-Z Realness" brought QPOC to the same stage as Kardashian, centering conversations on a new kind of beauty; the industry is finally looking to cater to a wider audience who will not only pay the entry fee for BeautyCon (anywhere between $49.99 – $549.99), but stand in line for upwards of an hour to buy items from their favorite and most trusted brands.
"You are all welcome here in this space," Nikita Dragun told the audience from the main stage on day two.
"You can be both masculine and feminine, be whatever you want," Jay Versace said during the masculinity panel. "I'm both, look at me. And I'm doing just fine."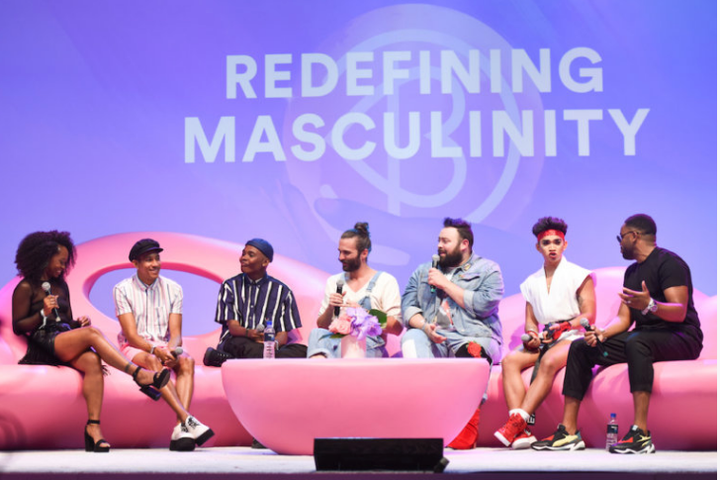 But why is the beauty world now ready to make sure LGBTQs and other marginalized people can take their proverbial seat at the vanity?
"They're listening," model and activist Adwoa Aboah told INTO. "They're looking outside the box. I don't know if it's all the brands — I actually think it's the small people. I think what Instagram and what social media has really done is it's given these people who wouldn't have necessarily had a voice, is giving them that moment."
The English model of Ghanian descent is a global ambassador for Revlon's Live Boldly campaign and is launching her own line with the longtime cosmetics leader in the near future. She said Revlon was an ideal partner for her as she wanted to work with a brand available in every store.
"I almost think of it like backstory," Aboah said. "Like you can do the different shades, you can do the foundations, but let's think in like a bigger, larger scope, like who's the woman that you're trying to make by that foundation, that eyeshadow. Let's not only give them the shade–show them that they're given the woman that looks like them. Let's give them a story that they can relate to."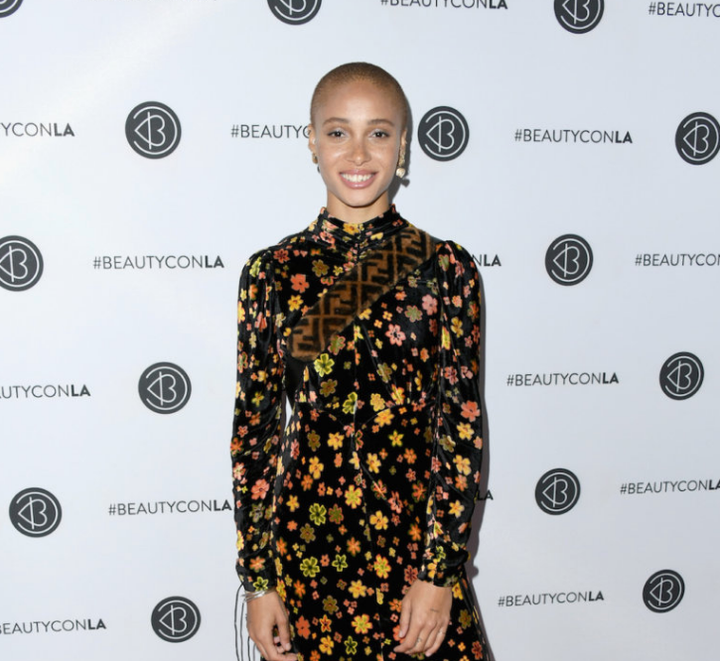 Queer Muslim activist Blair Imani said she sees a direct correlation between beauty and political activism and offers that for many LGBTQs and POCs.
"If you grew up believing that you're never going to be healthy enough or you're going to be killed at 25, you'll never know how to take care of yourself in your 30s," Imani said. "So when there's things like skincare and essential oils and ways that we can yield trauma though beauty — beauty products, essentially — I think that's an important conversation to bring to folks who might not have access to it otherwise."
Imani said she thinks the beauty industry is doing better in its inclusion of non-cis hetero white identities, but that the difficulty for queer women can be how the world reads them. Stereotypes of lesbians often project that they aren't interested in conventional beauty or cosmetics, which is why it's all the more important that queer women in positions inside the industry are made visible and part of the discussion.
"There's tons of queer women in beauty. I think it's a matter of erasure, you know?" Imani said. "It's hard to [read queer if you are femme] unless you have your partner with you and even if you do. I think that people have to uplift and find ways to tell their stories, and we can't make these assumptions."
Outside of Mahdara, many out women are part of the industry, including influencer Ingrid Nilsen, Brandy Hoffman of Volition Beauty, beauty writer Arabelle Sicardi, designer Nicolette Mason, Gloria Noto of Noto Botanics, Patricia Velasquez of Taya Beauty, brand consultant Michelle Violy Harper Shimizu, as well as out brand ambassadors like Kristen Stewart and Cara Delevingne, whose shilling for the likes of Chanel and Dior offer queer women visibility in the luxe lines as well. LGBTQ women like Jazz Jennings, Gigi Gorgeous, Beth Ditto, Kehlani, Ruby Rose, Evan Rachel Wood, Amandla Stenberg, Stella Maxwell, Hari Nef, Janelle Monae, Lady Gaga, Miley Cyrus, and Caitlyn Jenner have all been hired as the face of beauty brands in the last few years, which is worthy of mention. It may still be a small percentage, but it's growing — and being trans or a lesbian or bisexual person is no longer keeping public figures like these from being hired to help push products that are highly aspirational.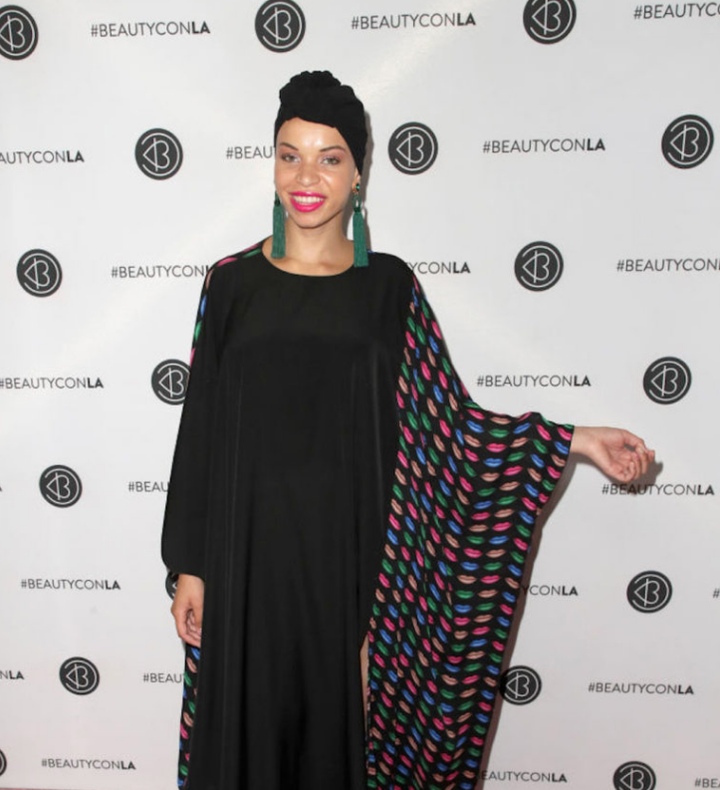 BeautyCon LA is likely only second to DragCon in its amount of glam recognizable figures floating from booth to booth, comparing notes on lipsticks or lashes. Perhaps more visible than queer women were the sheer amount of genderqueer and nonbinary individuals who are utilizing makeup for any kind of look, not just when donning a gown or gearing up for a performance.
Clawdeena (whose bio, in part, reads "I'm just a boy who enjoys Make Up and Dolls!") offers colorful tutorials and reviews on his YouTube channel, which has 433,092 subscribers. He said he started making videos at 14 when he first saw other guys using makeup online.
"That was so shocking and exciting because I knew it was an expressive outlet that I could take and really make my own and inspire other people," Clawdeena said. "So I feel like about four years ago is when I really felt that I could be myself any way I want to."
He said that prior to discovering an online support system, he would try to make himself more masculine in order to avoid negative interactions with his family and friends. Now, his confidence has come not only from those he saw doing it before him, but those who have been inspired by him as well.
"I think that's something that I wanted to represent so long is to represent other, younger kids," Clawdeena said. "I realized so young how hard it can be growing up and being different, so I think that through becoming more confident on the inside, I've been able to represent other people and inspire other people to be more confident."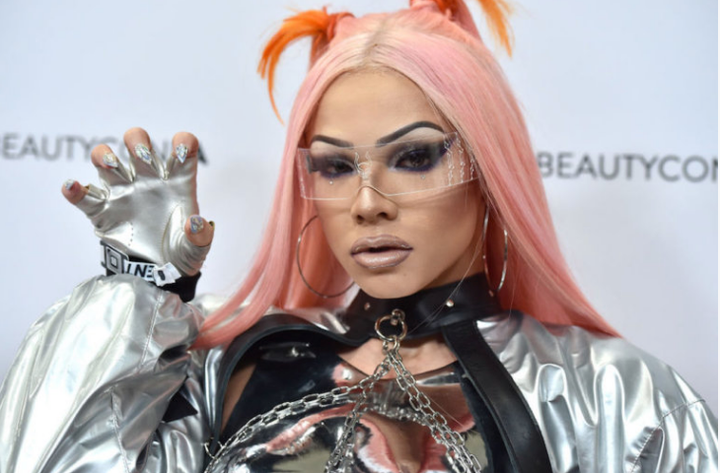 Still, though he's been creating his own content for four years, Clawdeena said that it's only been in the last year that the industry has expanded its mission to be more inclusive.
"I think a lot of people are feeling like they're able to just be themselves and still get somewhere successfully in the industry," Clawdeena said. "I think that people are a lot happier than they have been in the past in terms of the beauty industry and what it looks like."
Aboah said she believes the industry's expansion is going to continue to come from the consumers themselves; the faithful fans who are sharing their own tips and tricks, faves and flops, on social media and off. And because LGBTQs and other marginalized individuals are looking to express themselves without being shrouded in shame or secrecy, 2018 is a perfect storm that inevitably brings in more profit for the brands, should they be looking to make space for those they've previously ignored or made feel unpretty.
"They're the ones that are really kind of like continuing the conversation of diversity, continuing the conversation of being inclusive," Aboah said. "And I think it's really them that is doing a lot of the work and making the bigger brands listen and realize that this is what's going on. This is what people want."