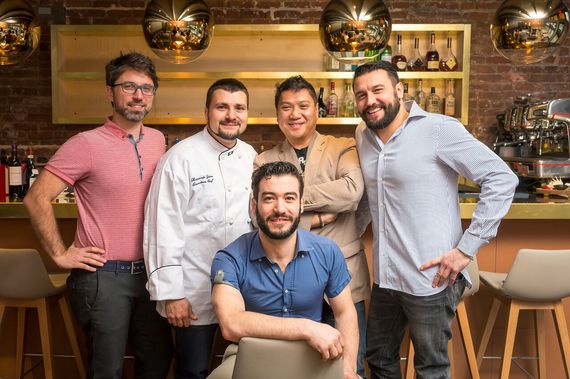 As far as I know, NYC has only two true Piedmontese restaurants--the venerable Barbetta, opened in 1906, and the brand new San Carlo Osteria Piemonte. One could hardly be different from the other in terms of atmosphere, for Barbetta is a townhouse resplendent in baroque and 19th century antiques, while San Carlo, with just 50 seats, is as modern as a new Alfa-Romeo Spider. Yet both share a true dedication to the cuisine of that northern Italian region and its capital, Turin, whose famous broad piazza gives its name to this little osteria in SoHo.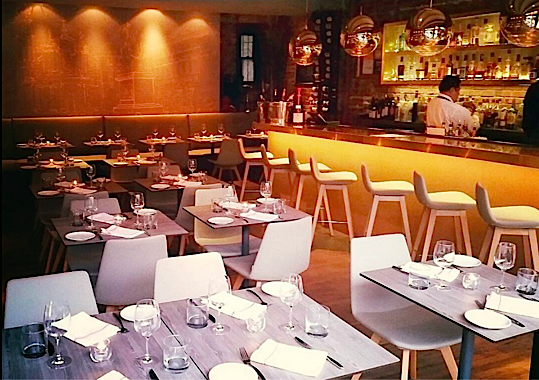 There are three enthusiastic partners behind San Carlo, all natives of Turin (above): CEO Carlo Rolle, a Turin restaurateur; Managing Director Moreno Cerutti, a former marketing executive; and Davide Poggi, former General Manager of the nearby Piccola Cucina. In the kitchen is the ebullient Chef Riccardo Zebro, who trained in notable restaurants like Balzi Rossi in Ventimiglia and Il Milanese Curioso in Milan.
Outside is an engraved brass bull, a Piedmontese symbol for good luck. Inside is a mural of Piazza San Carlo, the now commonplace exposed brick walls, wood floors, and beamed ceilings, with an accent wall made with terracotta tiles, and a brass bar on the opposite side. The chairs and banquettes are exceptionally comfortable, especially for SoHo, where rude wood rules. The lighting is just right, glowing from brass sconces, but the place can get loud when it's full, which means there is no reason whatsoever for the owners to pound in music you can't even recognize.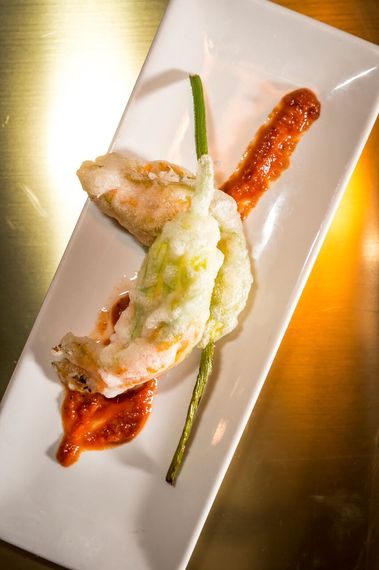 The ambiance is casual and guests are meant to have a good time, but the cooking at San Carlo is very serious indeed. Just the texture alone of the housemade cooked pastas tells you it is as close as you'll find to the real thing in Italy--not merely al dente but light, with the right chewiness and the proper amount of sauce. Moreno Cerrutti bounds around the room greeting, coaxing, recommending and pleasing his clientele, which currently runs to neighborhood people walking in off the street to see what San Carlo is all about. I shudder to think how tough it will be to get a table here once the word really gets out.
Begin with a sip of lightly sparkling Prosecco Foss Marai ($12) and nibble on the crisp, hot fried squash blossoms (above) oozing with mozzarella and basil. A selection of salumi ($14 and $19) goes well with the good crusty bread and green-gold olive oil here, and for antipasti, by all means have one of the classic Piedmontese preparations--vitello tonnato, made with thinly sliced veal in a creamy tuna and capers sauce (below), with the novel addition of pickled onions ($15). You might find this dish elsewhere around town, but at San Carlo it is done to perfection. Capunet ripieno ($12) are stuffed cabbage rolls, lush with a fonduta of melted taleggio cheese.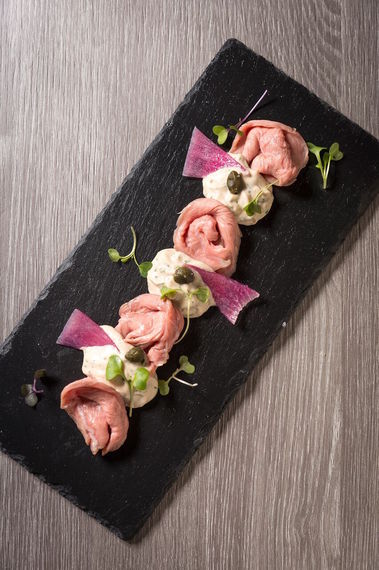 Among the pastas is a good-sized portion of agnolotti with juicy, braised meat and a veal jus ($20) and egg-rich tajarin--the Piedmontese name for tagliarine or tagliatelle--in a quickly cooked sauce of chanterelle mushrooms and veal ragù ($19). Potato gnocchi are airy and lavished with a Piedmontese cheese sauce studded with toasted walnuts ($17). I will return to try their risotto with Castelmagno cheese ($21) and pray they will someday soon serve my favorite Turinese dish, the thumbnail-size agnolotti del plin, which are customarily served in a clean white napkin.
Piedmont's cooks have always taken their time making their meat sauces, and the slowly-braised beef cheek here proves why. All the ingredients and seasonings are suffused throughout meat that falls apart in shreds, accompanied by nutty buckwheat polenta and baby carrots ($27). San Carlo does a fine Cornish game hen alla babi, so-called because it is pressed and grilled and looks like a babi--toad--here served with scented baby potatoes and wild mushrooms ($24). The grilled fish of the day will be pleasant if not thrilling, as Italian-style fish dishes so rarely are in New York.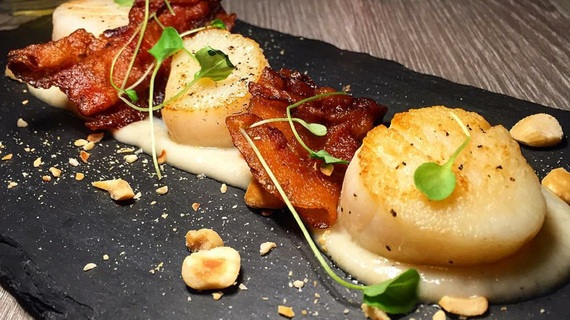 This food is rich but not particularly heavy, so you'll have room for desserts like the egg-whipped zabaione with sweet wine and cookies, or the delicious Piedmontese chocolate custard classic bonèt with amaretti.
San Carlo's wine list is building up to 150 labels, with 10 by the glass, focused on regional wines of the north, not least Piedmont's own great Barolo and Barbarescos. And, since Turin has inspired more than its share of cocktails, like the Milano Torino and the Americano, there is a good spirits list too.
I'm hoping the inevitable popularity of San Carlo does not overwhelm this precious little trattoria, for a good deal of the fun is to intermingle with the staff and sense that life is too short not to take your time eating food of this unusual kind.
Open for lunch and dinner daily.
SAN CARLO
OSTERIA PIEMONTE
90 Thompson Street (near Prince Street)
212-625-1212
sancarlonyc.com