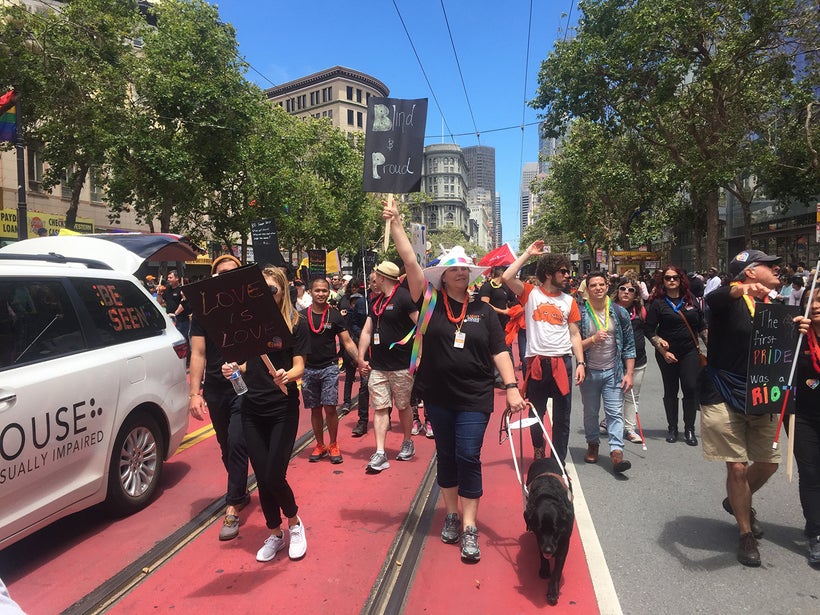 In February, Leah Gardner attended a community dinner at LightHouse for the Blind and Visually Impaired's San Francisco headquarters on Market Street. She was one of 20 or so people who sat around a table and listened to Laura Millar, LightHouse's new sexual health services program coordinator, share her vision of having a contingent in the annual San Francisco LGBT Pride parade.
"I could almost touch the energy in that room," said Gardner. "About 20 people shared ideas, life experiences and excitement; a true community spirit was tangible."
Gardner, who is a lesbian and visually impaired, said that she had always had some hesitation about attending the Pride march, but through the LightHouse's new sexual health program, she was able to tuck away her uneasiness.
"Marching amid the euphoria of Pride, I finally felt part of something purely unique. I was always nervous and rather apprehensive about trying to march in such a gigantic event as a visually impaired person; Laura gave me and so many others a reason to bond together, to feel pride and joy in who we are," said Gardner.
According to lesbian and disability rights activist Corbett O'Toole, LightHouse is the first mainstream disability organization to partake in the Pride festivities and applauded Millar for her effort in making the Pride contingent a reality for many.
"Laura's contingent," said O'Toole, "showed the disability and LGBT communities that queer rights are inseparable from disability rights. Her decision to offer a contingent for the San Francisco Pride parade is unprecedented. No mainstream disability organization has made that commitment before."
In addition to marching in the Pride parade, some of Millar's past programs included a masturbation workshop with Shauna Farabaugh, a trip to Good Vibrations, where Carol Queen and Andy Duran gave workshop participants a tactile tour of some of the store's most popular products – explaining how and why someone might use a specific toy – and a dating workshop cleverly titled: "World of Sex with Jan McClain."
Millar is bisexual and legally blind. She holds both a master's degree in public health and a master's in human sexuality from San Francisco State University. She is also a single parent and believes it is just as important to train parents, teachers, and educators on accessible sexual health practices, as it is to train blind youth.
"I have done workshops and presentations with youth, seniors, and everyone in between," said Millar. "The youngest student so far I've had in one of my workshops I believe was 14, and the oldest in their mid-80s."
But while the events and workshops offered through LightHouse's sexual health program have been well-received by LightHouse students and community members, Millar points to a lack of sex education for young people with disabilities.
"Too often in the blind community, youth will say to me they are tired of not being given the information they need, or treated like young adults," said Millar. "They don't want to be coddled, and they want a lot more independence."
"My programming," continued Millar, "fills in a lot of gaps related to sexual health and health literacy. Educating young adults about how to access their sexual health needs, using resources available to them in their community is an important part of being an independent adult."
LightHouse's sexual health program also offers a monthly youth workshop, which Millar said is similar to what a sighted youth would receive in high school or in an introduction course to sexuality in college.
"Currently, I have a 3-D model of a uterus, vulva, and clitoris, which have been very useful to help educate people about their bodies. It is exciting to see a room full of young folks with shared lived experiences – that often feels very isolating – and to be able to give them the opportunity to learn in a manner that is accessible and designed for them."
As the only full-time employee at a blindness organization that manages sexual health programs, Millar spends a lot of time working with people from across the country.
She explained, "I've had a number of one-on-one conversations and meetings with people who are blind and LGBTQ across the country, and have been able to help link them up with services in their area."
LightHouse CEO Bryan Bashin recognized the importance of further diversifying its programs and in 2016, hired Millar.
"The LightHouse knows that there's more to living a full life than cane skills and screen readers," he said. "That's why when we met Laura, we knew we had found the perfect person to enrich our programming with skills for healthy sexuality, intimacy and relationship building – the stuff that really makes us tick, as people."
LightHouse's sexual health program has built partnerships with the Transgender Law Center, San Francisco Women Against Rape, Positive Resource Center, and the district attorney's special victims unit. You can learn more about LightHouse's sexual health programs and its other services by visiting http://www.lighthouse-sf.org.
Belo Cipriani is a disability advocate, a freelance journalist, the award-winning author of "Blind: A Memoir" and "Midday Dreams," and the spokesperson for Guide Dogs for the Blind. Learn more at www.belocipriani.com.
Calling all HuffPost superfans!
Sign up for membership to become a founding member and help shape HuffPost's next chapter
This post was published on the now-closed HuffPost Contributor platform. Contributors control their own work and posted freely to our site. If you need to flag this entry as abusive,
send us an email
.