Something extraordinary is happening in Colorado right now.
Between now and September 16th, many scientists, conservationists, environmental entrepreneurs, artists, film makers, authors, educators, researchers, educators, business professionals and more will converge in Boulder, Colorado. They'll join an expected gathering of 10,000 people at a huge environmental festival to showcase their latest water access and filtration projects, their research findings, their literature, art and film, their educational programs with a STEM and environmental focus, their innovations to address vexing social and environmental problems and more. Plus, uniquely in the United States, this gathering is hosted by Latino Americans and showcases environmental leadership in many forms from North and South America.



The Americas Latino Eco Festival (September 12-16), now in its second year, is the brainchild of director Irene Vilar. This mother, author, literary agent and visionary urgently wants to accomplish several objectives. She's bringing together leaders from the entire hemisphere to encourage collaboration to accelerate the pace of innovation and solution creation for us all. There's no time to waste for the inhabitants of planet Earth suffering from undeniable climate change that threatens not only economies and animal species but also human life itself. As a mother, she's in touch with the probability that her grandchildren will live in a highly depleted world, with less of everything and more danger to their health, their air, their environment and their lifestyle. Irene knows we don't have the luxury of waiting to act another decade or so.
Importantly, Irene and the vast array of participants her team has arranged are very deliberately stepping onto this highly visible platform of leadership, demanding inclusion into the environmental movement in the USA. It's a field where many believe you have no credible role in the environmental movement unless you have a Ph.D. That elitist attitude serves to keep the circle of perceived environmental leaders tiny and white, in a nation where this fall, our K-12 classrooms are now majority populated by so-called minority groups (a.k.a. people of color.) Many prominent environmental organizations operate as if only the people they know are qualified to do conservation work and research. While there are indeed Latinos with Ph.Ds attending and presenting at this festival as you'll see by perusing the many speaker bios, there's very important work being done by other educated Latino leaders in their communities.
Jose Gonzalez, founder of Latino Outdoors in the San Francisco Bay Area, is leading a growing group of Latinos practicing conservation by introducing families to state and national parks on the West Coast. Latino Outdoors members arrange for families to get to natural spaces they would otherwise struggle to reach because of the resources required to get there. They organize families in their churches, neighborhoods, schools, arrange for transportation and go.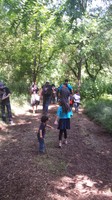 Rod Torrez will represent HECHO (Hispanics Enjoying Camping, Hunting and Outdoors), a group of Latinos "who enjoy fishing, hiking, hunting, camping and other outdoor activities" with a special focus on the conservation of our nation's public lands. HECHO does advocacy, community outreach and environmental education work in New Mexico.

One of many coming from South America, Daniela Benevides of Peru started an environmental education organization called ConCiencia, a play on words that means both "with science" and "consciousness" to encourage healthy living and outdoor play.
The role just these three organizations play to get thousands of urban inhabitants outside and appreciating the gifts of nature is laying the groundwork for yet another generation of conservationists and scientists. Because being able to directly access parents and children within a community, in whatever language they prefer, is step one in developing the conservationist mindset for the long term. It's not the guys with the Ph.D.s doing this critical community outreach and teaching - it's the grassroots organizers and conservation leaders like those listed here having this huge impact in their communities. Imagine if these Ph.Ds and community conservation leaders joined forces and collaborated creatively.
On the business end of things, this festival showcases the work of environmentally-conscious entrepreneurs like Elizabeth Perez-Halperin and Sandra Artalejo, both of whom will be part of the lunchtime keynote forum Tuesday, September 16th at the Latino Chamber event at the festival. Both of these innovative women are being featured in a series of case studies of Latino innovators and business owners titled Latinnovating: Green American Jobs and the Latinos Creating Them. Artalejo's story of innovation as an eco-fashion designer and owner of Sola Studios, creating lovely lifestyle items from throwaways, appears in the first volume of the series.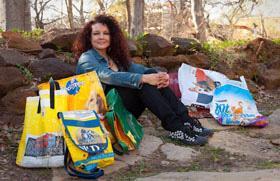 At the festival, Artalejo is launching the first book in her bilingual children's series about Chulita, a young Latina who loves the Earth, loves fresh food, makes designer jeans out of thrift store jeans, teaches her family how to recycle and more. Chulita and the Very Hot Pickle is a hilarious story about mistaken food identity (think pickle and jalapeno.)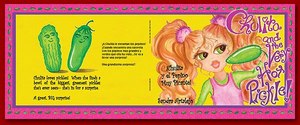 Perez-Halperin is the President and Founder of GC Green, a company at the intersection of renewable energy and energy efficiency projects and workforce development for military veterans. A U.S. Navy veteran who lost a dear friend to a terrorist attack in the Middle East, she knows that the price of a fossil fuel economy goes way beyond money. It costs us dearly in many, many lives, like the life of her friend Nicole Palmer. As the renewable energy economy develops, Perez-Halperin is in the thick of it and through her company, ensuring that our military veterans are well-trained to participate in those professions.
The White House recognized her last year as a "Champion of Change" for her leadership in renewable energy space.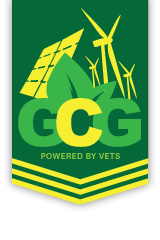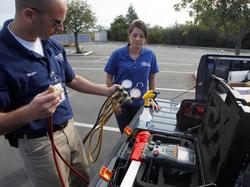 To be truly effective and powerful, to have the social impact needed to reverse dangerous environmental trends impacting climate, ocean life, human life, forests, energy resources and all of Earth's ecosystems, collaboration and inclusion are essential. The gathering of accomplished, respected thought leaders at ALEF make it obvious and easy to find Latino leaders with whom to partner, to invite for board participation and more, for organizations serious about inclusion. No more can the tired excuse be used - the one that says "there are no qualified Latino leaders." They're now very easy to find, across the USA and up and down North and South America, beginning with this extensive list of speakers participating in the event. Read their biographies and see the program schedule here.

If you'll be in Boulder, please tell us what is drawing you to the ALEF. Which events will you be attending? What do you hope to learn by attending? I'd love to hear your questions about this event and its intention to showcase the many faces of highly educated Latino leaders in conservation and environmental work, to benefit us all.
Related