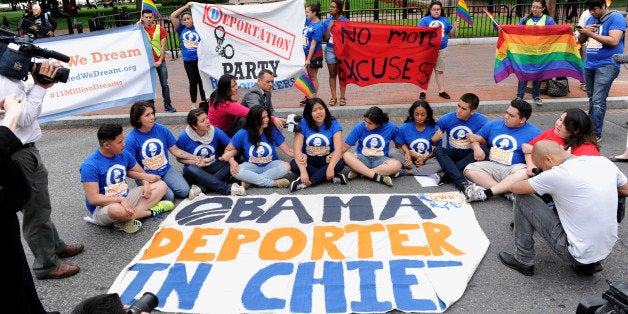 "Yesterday is but today's memory, and tomorrow is today's dream," once said Khalil Gibran. When it comes to immigration reform, I think of these words and yesterday's lessons. What does tomorrow have in store? Specifically, I look at the lessons we might learn from those that call themselves dreamers or DREAMers -- the inspirational young leaders who have mobilized a movement to push immigration reform to the national and public spotlight. This first became clear in 2010 with the near passage of the DREAM act (Development, Relief, and Education for Alien Minors Act), which fell short by a handful of Senate votes, but if passed would have certainly been signed into law by President Obama.
Today, as the legal battle over the President's November executive order unfurls, advocates are focused on a defense approach, while readying themselves for implementation of two of its programs. The DACA/DAPA programs are poised to ease stress for some undocumented individuals through a deferred action on deportation and by providing work permits for those who are approved. As we've seen, these programs (in addition to the Department of Homeland Security funding approval) have become the center of political and funding cross-roads. Although the President's executive actions are set to alleviate pressures for certain immigrants and are a step in the right direction, we can't lose sight that these programs are temporary answers to an outdated system -- the only lasting solution is legislative reform.
Since 2004, comprehensive immigration reform (CIR) has been championed as the preferred strategy to fix a system that has let down businesses, communities and national security. While the notion of a "comprehensive fix" is appealing, the fact remains that this strategy has failed. Since 2004, every CIR bill introduced has fallen far short of comprehensively addressing the needs for business, immigrants and municipalities across the country. This was made dramatically clear in 2013 with the introduction of S744. S744 eliminated some family preference categories and had a last-minute funding injection of over $40 billion for increased security programs (most of which was focused on the southern border with Mexico): a compromise for the pathway to citizenship for some undocumented individuals, and to garner a sufficient number of votes for passage of the bill.
It is time for immigrant advocates to define a new strategy for immigration reform and this strategy lies in an incremental approach. Indeed, experts from the Immigration Policy Center state that "as a practical matter, immigration law should be something that is updated and revised constantly to reflect current economic and political conditions, to reflect changes in social issues, and to respond to foreign policy and humanitarian concerns." The notion of an "all or nothing" touted for years by CIR advocates is simply impractical and unfounded, especially given Republican leadership on the issue since 2013. As noted, each comprehensive immigration reform bill introduced since 2004 has been one that has been at cost to large pockets of the immigrant community with major concessions. Again S744, noted a thirteen year "labyrinth" to citizenship for undocumented immigrants that included substantive fines as well as a period of probation.
A New Strategy for Immigration Reform
Two policies, if adopted can impact a large group of immigrants currently living in limbo. These policies have either existed in the past, or have enough political and public support to make them a strong possibility in the near future.
In 1994, Section 245(i) -- a provision of the FY1995 Commerce, Justice State Appropriations Act -- created a path for many undocumented immigrants to apply for legal residency without leaving the country if they paid a penalty and had access to an adjustment of status (familial or employer), the program ceased in 2001. Legal experts have noted that reestablishment of the 245(i) program would be a realistic policy that could assist many in the undocumented community. Those with valid visa petitions would be able to take advantage of the program and not be subject to the harsh penalties (3 and 10 year bars) associated with leaving the country to adjust their status. Reinstatement of the 245(i) program would not only allow many individuals already eligible for a green card a simpler way to adjust their status, it would simplify policy proposals and paperwork for USCIS.
The DREAM Act was last reintroduced by Senators Richard Durbin (D-IL) and Richard Lugar (R-IN) in 2010, where it fell short of passage in the Senate by five votes. Where would we be today if it had passed?
It has been extensively reported that fixing the immigration system is not just good for immigrants, but will provide tremendous benefit to the U.S. economy. Reports have found with immediate legalization and citizenship, the U.S. Gross Domestic Product (GDP) would grow by $1.4 trillion in 10 years while an enforcement-only approach would decrease the U.S. GDP by $2.6 trillion over the same period. The need to update and fix the immigration system continues to be a legislative and economic priority for the country.
By outlining an incremental reform agenda, immigrant advocates can begin influencing legislation that will align with current political realities while making significant gains for the undocumented community and U.S. economy. It's time Latino and immigrant advocates move beyond the rhetoric of "comprehensive immigration reform" to champion sound policies that will immediately improve the lives of undocumented immigrants.
Para un análisis más comprehensivo para los lectores españoles, por favor lee
"Redefinir la estrategia de activismo inmigrante en 2015: el enfoque incremental" en la revista contraTiempo (febrero, 2015) Inmigración: ¿Una Tibia Reforma?
Popular in the Community